Post-level sports return to Okinawa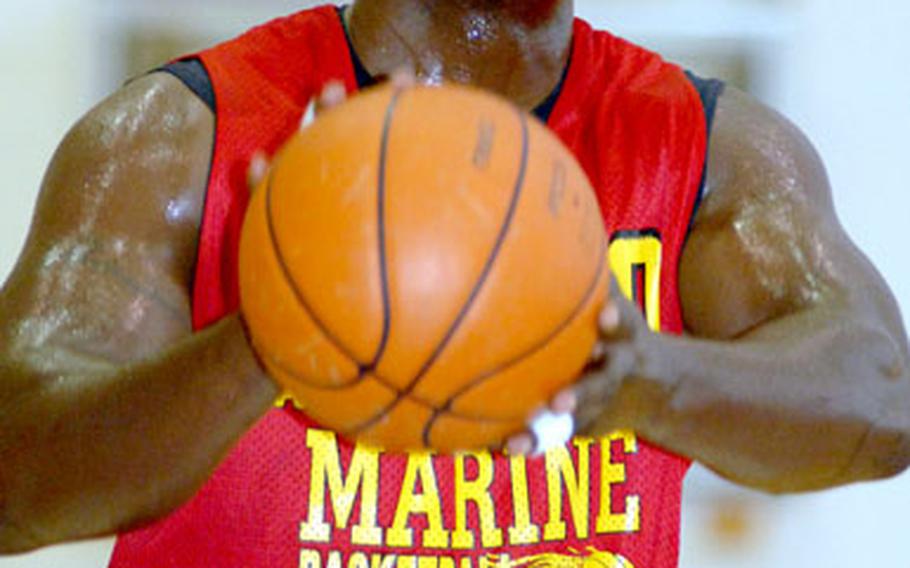 KADENA AIR BASE, Okinawa — After an absence of more than 15 years, post-level sports leagues have returned to Okinawa with the formation in August of a Joint Military Athletic Conference offering varsity seasonal play in basketball, softball, volleyball and soccer.
JMAC, the brainchild of Kadena's 18th Services fitness and sports director Gerrard Barnes, got off the ground with a basketball season that began in August and will run through late November. Its nine teams represent commands from all four services.
"It's just bringing … Okinawa up to par with other areas that have varsity sports leagues," said Barnes, a retired Air Force senior master sergeant who's been involved with Pacific Air Forces athletics since the mid-1970s.
JMAC basketball is composed of the Air Force's Kadena Falcons; 3rd Marine Division, 3rd Marine Logistics Group and 1st Marine Aircraft Wing; Naval Forces Okinawa; and Torii Station, plus the Okinawa Suns, Unified and Hardwork club teams, with servicemembers and Defense Department civilians.
Barnes likens JMAC to the Korea Traveling League circuit for basketball and softball and the former Okinawa interservice and U.S. Forces Japan leagues.
Emphasis over the years has shifted to fitness. On average, 75-80 percent of a base's MWR funds are dedicated to fitness. Most of the rest goes to "core" programs such as intramural and youth sports. What's left over, if any, goes to varsity sports.
"What we're trying to start," Barnes said, "is a post-level circuit" for competitors with potential to play at the All-Armed Forces tournament level. "There has to be something for the advanced, elite athlete."
Forming JMAC was among Barnes' stated goals after he arrived at Kadena in October from Andersen Air Force Base on Guam. JMAC has two purposes, he said: Helping players prepare for All-Army, All-Air Force, All-Navy tryout camps and bringing entertainment to the bases.
He and his staff will oversee JMAC, with basketball games being played at Kadena's Risner Fitness and Sports Complex and Torii Station's gymnasium. Each team is guaranteed eight regular-season games. The top six will qualify for the double-elimination playoffs.
Support from the other services, particularly the Army, which offered up Torii's gym, has been "unwavering," Barnes said.
Marine Corps Community Services' Semper Fit Athletics facilities, such as the Foster Field House, were unavailable due to other commitments, said Semper Fit's Sonny Jones. Also, he said, Semper Fit offers its own line of command and open tournaments.
But "we have no objection" to Marine teams playing in JMAC, Jones said. "It's a good thing for them."
Basketball season ends with the Nov. 29-30 championship games. Volleyball season follows from November-January 2007. Softball is January-April 2007; April-June will be soccer.
Already, Barnes says, JMAC hoops have attracted weekend crowds in the hundreds.