Polarchy eager for more traveling calls
by
Dave Ornauer
December 20, 2007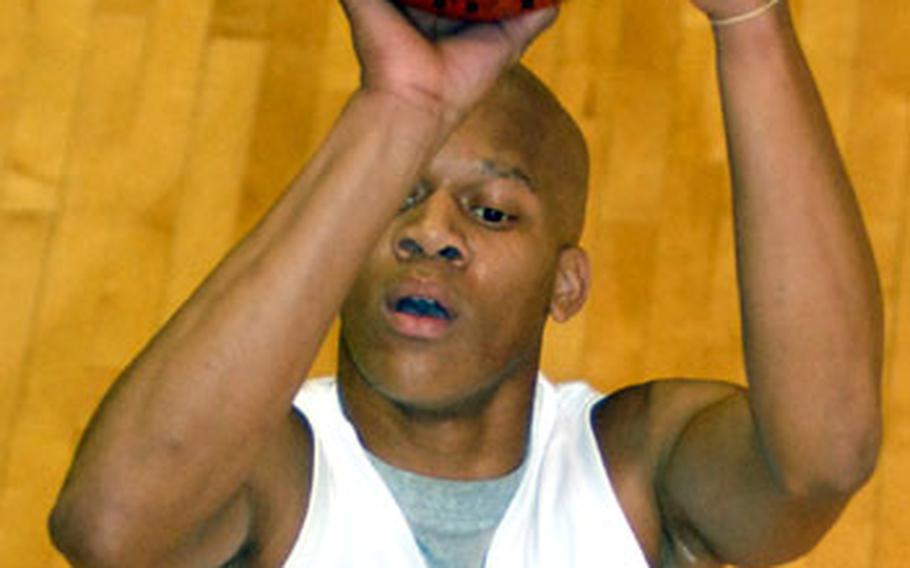 OSAN AIR BASE, South Korea — Growing up in Lake Alfred, Fla., Marcus Polarchy envisioned playing basketball as an adult … but not where he's been playing the past year.
From Camp Henry in Daegu, South Korea, to Mons, Belgium, and many points in between, Polarchy has logged oodles of frequent flier miles toiling as a swingman for the All-Army and All-Armed Forces teams.
"I didn't think I'd be playing ball in the military. And I didn't think there were these kinds of opportunities to play ball in the military," said Polarchy, 25, a private first class assigned to the 25th Transportation Battalion at Camp Henry. "It's amazing."
Polarchy spoke about his experiences of the past year during this week's 21st Osan Pacific-wide Open Holiday Basketball Tournament here.
He played ball for his hometown Auburndale High School and also a season for Polk Community College in Florida before joining the Army.
After arriving in South Korea almost a year ago, he quickly established himself with Daegu of the nine-team post-level Korea Traveling League.
Polarchy applied for the All-Army tryout camp in October at Fort Bragg, N.C., and made the team. That was the start of his journey 'round the military basketball world.
Next stop the first week of November was Marine Corps Air Station Cherry Point, N.C., for the All-Armed Forces tournament. Polarchy and the All-Army team finished third behind the Marine Corps and two-time champion Air Force.
Then came selection to the All-Armed Forces team. That meant a journey to Kaiserslautern, Germany, for two weeks of rigorous training for last month's Supreme Headquarters, Allied Powers Europe tournament at Mons.
"It's a lot of wear and tear on your body," Polarchy said of six total weeks of practice and 11 games in two tournaments. "It's tiring."
Still, Polarchy viewed the chance as a "wonderful experience," citing the bonds he made with his Army and Armed Forces teams as the best part of everything.
"They're all good guys. We connected well. No jealousy," Polarchy said. "We clicked right away. We still e-mail and call each other. A great group of guys."
Polarchy also took back to Korea with him a hunger to improve on what's becoming a frustration — Team USA has finished third in the SHAPE tournament the last three years, after taking gold in 2004.
"Every member of our team felt the gold was ours," Polarchy said.
Team USA beat France 105-43, Turkey 84-38 and England 101-49 before coming up against the team that's denied Team USA a gold medal the last two years: Lithuania.
"I felt we were the more athletic and quickest team there," Polarchy said. Adjusting to international rules, not used at Armed Forces and to which European teams are already accustomed, "made a difference," Polarchy said, in Team USA's 70-67 semifinal loss to Lithuania.
Team USA went on to win the bronze medal by beating defending champion Latvia 78-58.
Polarchy says he's already looking ahead to a chance to settle the score next year – "That is a must," he said – but plenty more challenges lie ahead before that.
His Daegu team, 1-5 so far this season, still has six weeks of play left in the KTL, followed by the Korea-wide post-level tournament in February at Yongsan Garrison.
Polarchy will then return to the States for the International Military Sports Council tournament in April at Fort Hood, Texas. Then there'll likely be a return engagement with All-Army camp next fall, hopefully leading to another shot at a SHAPE tournament title next November.
"No doubt, I wouldn't want to miss the All-Army camp or All-Armed Forces for anything in the world," Polarchy said.
---
---
---
---