Point guard Tuck a dual threat for unbeaten Aviano
by
Kent Harris
January 28, 2010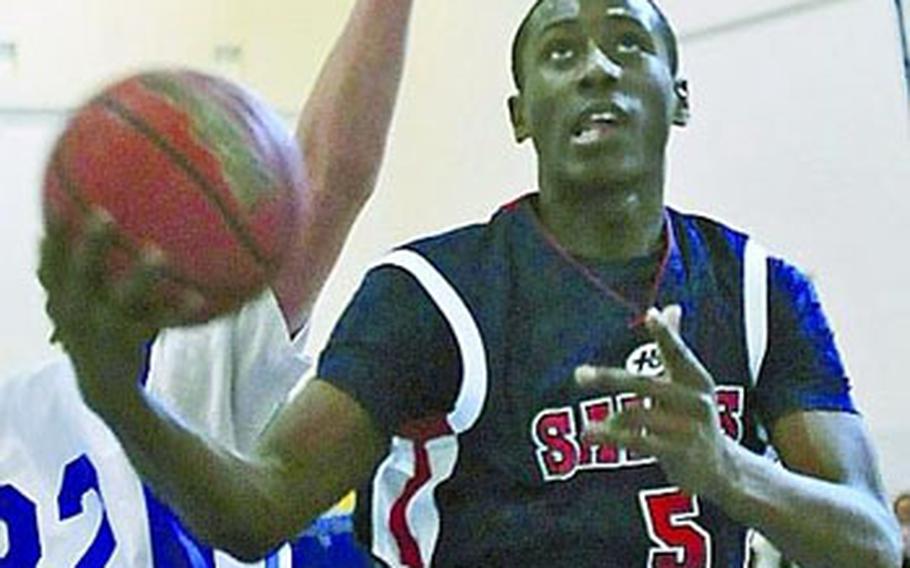 AVIANO AIR BASE, Italy — As a junior, Jamal Tuck was a key player for the Aviano boys basketball team as it claimed the DODDS-Europe Division II title. His efforts earned him a spot on the All-Europe basketball squad.
Aviano is a long way from repeating its feat, but the undefeated Saints could be on their way. And Tuck is again one of the reasons.
His numbers this season heading into a weekend matchup with rival Naples: 27.5 points a game, 7.1 rebounds, 6.5 steals and 6.4 assists. Those statistics come despite the fact he's spent a lot of time on the bench with the other starters in most of Aviano's lopsided victories.
"Quite clearly, he can play at the next level," said longtime Aviano coach Ken McNeely, who has sent numerous players on to college programs across the States over the years. "He rebounds, he assists, he steals and plays defense and he can certainly score."
Playing mostly on the wing last year, Tuck said he knew he'd have to improve his outside shot while moving to point guard this year. So he worked out twice a day during the summer, trying to improve his strength and his range.
"I think Jamal shoots the three a lot better this year," McNeely said.
That's not good news for opponents, who face the choice of leaving him open from long range or playing close enough for him to drive around them and into the lane for layups.
"I think one of my strengths is penetrating and finding the open man," Tuck said. He also plays a lead role in the team's pressure defense and often ends up with quick baskets after turnovers.
Though he hadn't played a lot of point guard during his first three years at Aviano, Tuck didn't have a very rough transition. At 6 feet, 2 inches, he figures that's the position he's most likely to play in college — though McNeely said he thinks he could handle either guard position.
Especially if he adds a few inches. He grew two inches between his junior and senior years and has several relatives that are taller. Many of those relatives are athletes, including cousin Justin Tuck (6-5, 274 pounds) of the NFL's New York Giants.
Tuck, 17, has also starred in football at Aviano, though he hasn't enjoyed the team success on the turf that he has on the hardwood. However, at the end of last season he was named to the All-Europe offensive team as a wide receiver.
"I like both (sports) equally," he said. "If I had an opportunity to play either at the next level, I would."
He's been looking at colleges in his native Alabama. He hasn't spent a lot of time in any state lately, though. His father, Frank, is a senior master sergeant in the Air Force and the family spent eight years in Japan before the last five in Aviano.
So he said he's willing to take a look at any university that shows an interest. He's already proved he can make adjustments on and off the court.
"He's obviously athletic," McNeely said. "And he knows the game of basketball. He's a student of the game."