Plenty of wrestlers looking to crash Ramstein/Stuttgart party
by
Gregory Broome
February 13, 2020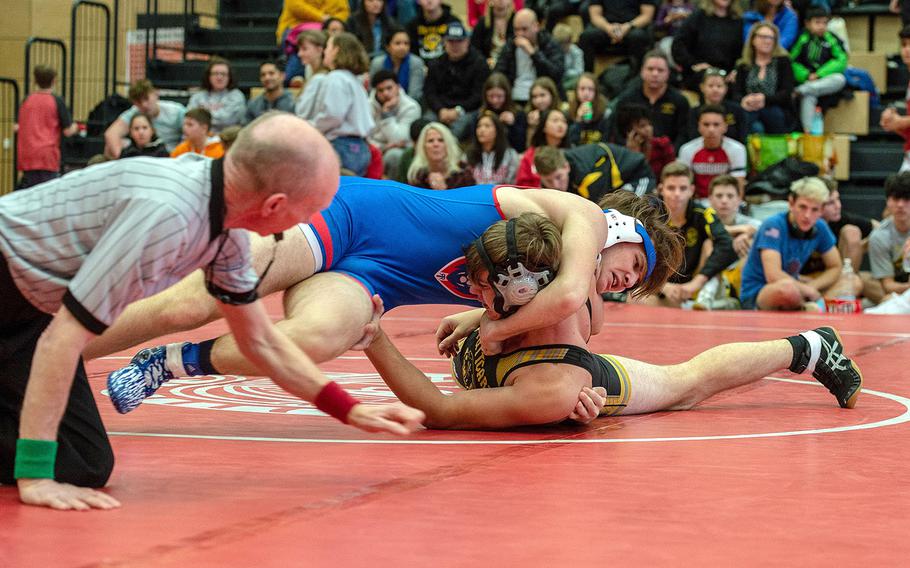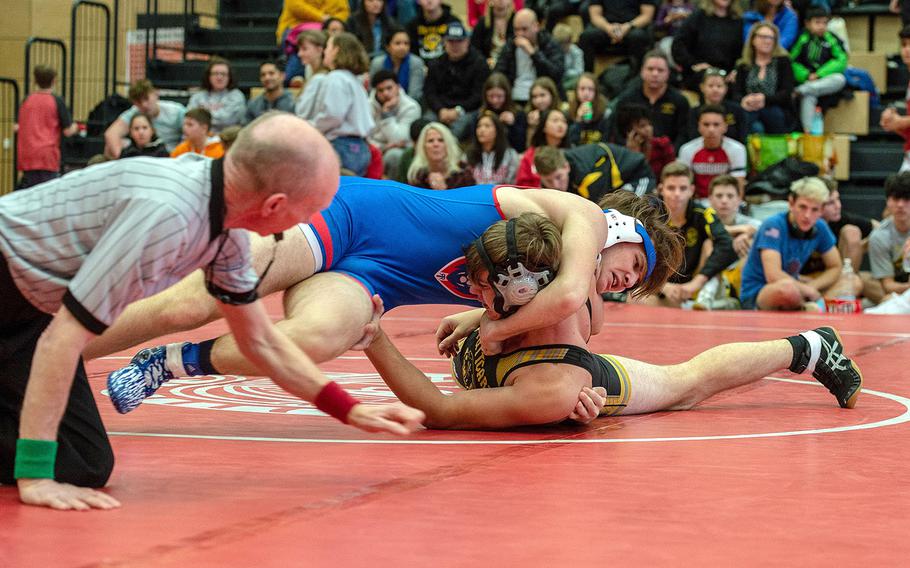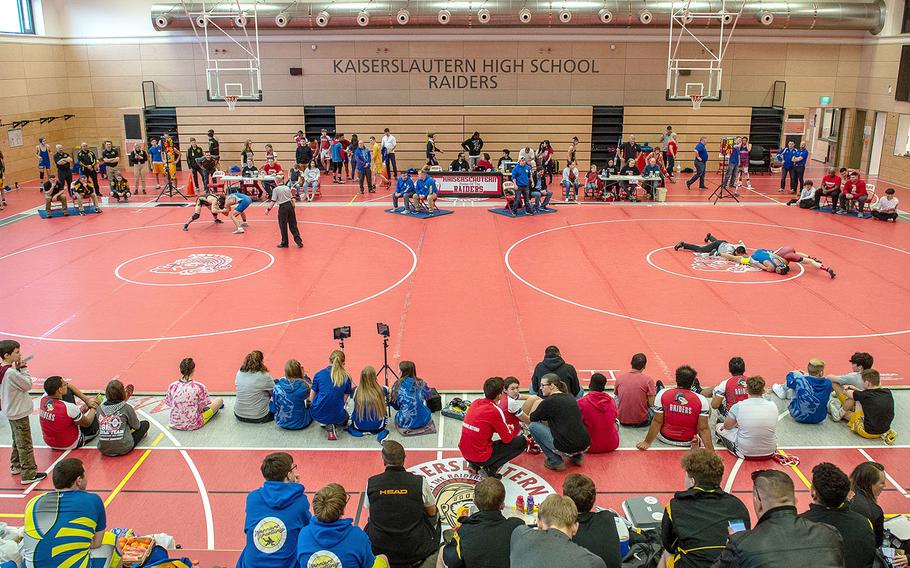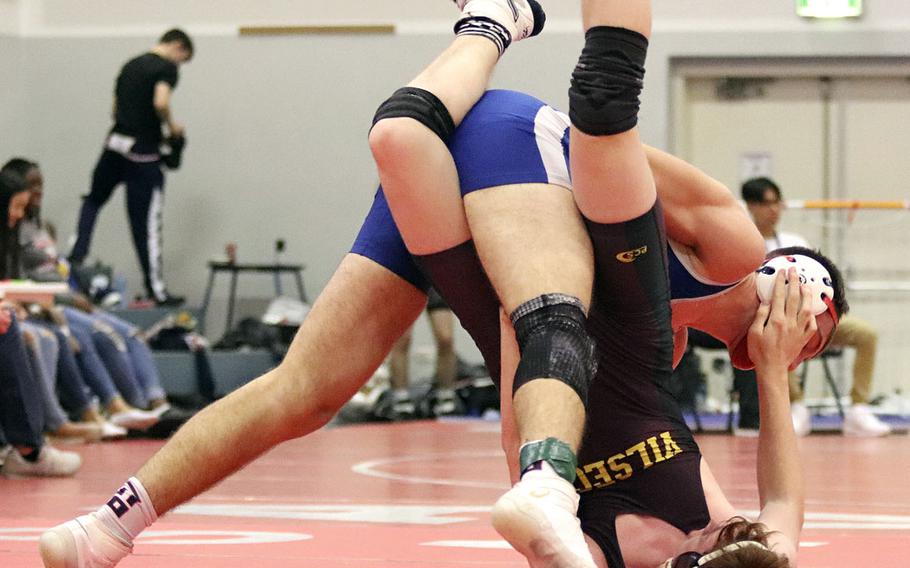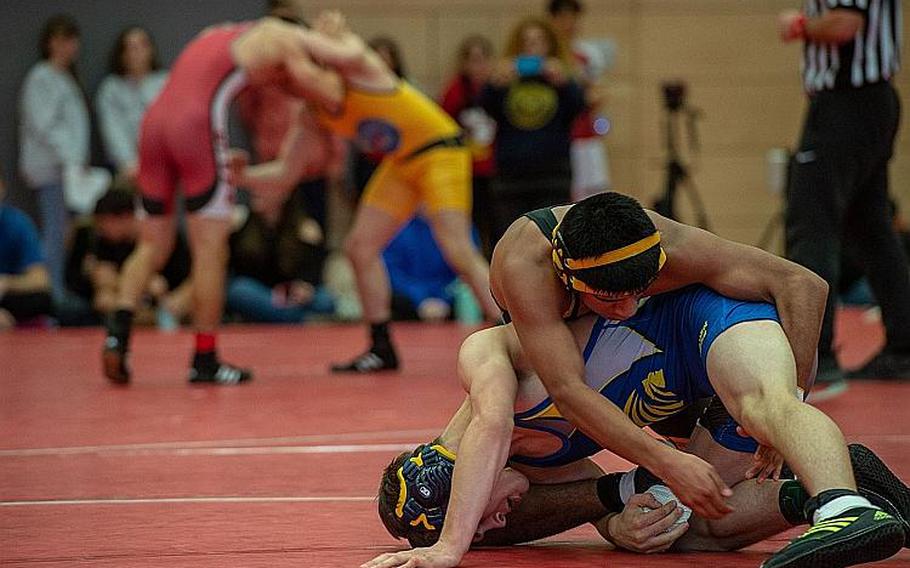 The main event of the 2019-20 DODEA-Europe wrestling season arrives this weekend as close to 150 contenders take to the mats of Wiesbaden's Clay Fitness Center on Friday and Saturday.
The six-time defending champion Stuttgart Panthers remain the team to beat until an opponent officially ends their grappling dynasty. The Ramstein Royals, the Panthers' perennial challenger, will try again this year armed with an edge in both raw numbers and championship pedigree.
Individual titles in 14 weight classes are at stake over the two days as the teams also compile points in pursuit of divisional team championships.
The event starts Friday with four preliminary rounds. Saturday holds a fifth and final preliminary round, followed by semifinals and third-place bouts and, finally, a slate of 14 European championship matches.
106 pounds: Stuttgart co-captain McKinley Fielding returns for another shot at history this season. The junior has finished second in this class in the last two European tournaments, falling just short of becoming the first female wrestler to win a DODEA-Europe individual championship.
Fielding is facing as tough a bracket as she's seen over her three-year run. Among her rivals are sectional champions Jacob Rivera of Rota, Ethan Bell of Brussels and Skyler Hickman of Spangdahlem, the latter of whom edged Fielding for first place in last weekend's central sectional qualifier.
113: This 11-wrestler bracket might be the first to produce a head-to-head showdown between the Royals and Panthers in Saturday's elimination rounds. And there's a narrow margin separating the two: Ramstein has 24 wrestlers in the tournament to Stuttgart's 22.
Ramstein's Brandon Lapitan and Stuttgart's Connor Swaim will seek to swing those valuable points in their respective school's favor, while Rota entry Evan Gantt attempts to aid the Admirals' chase for a repeat Division II championship. 120: Spangdahlem sophomore Carson Hicks is coming off a dazzling, undefeated debut as a 113-pound freshman champion and looking for an equally dominant run to another title this weekend.
Fellow sectional champions Ethan Gumabon of Naples and John Odom of Ramstein join Hicks as top seeds in the bracket, while Stuttgart's Brogan Fielding, the latest entry in the remarkable family wrestling dynasty, lurks as a contender.
126: Ramstein senior Conner Mackie is back to defend his crown in this class as one of two reigning European champs for the Royals. The younger Panthers enter the tournament without an incumbent champion.
Mackie will be challenged by fellow sectional winners Brenden Castillo of Spangdahlem and Phillip Rivera of Rota.
132: A pair of 2019 runners-up are on the short list of top contenders to win this competitive class.
Atreyu Allen of the hometown Wiesbaden Warriors is eying another gold medal to go with the 113-pound title he won two years ago. Allen lost to Mackie in a 126-pound bout a year ago that was among that tournament's most evenly matched finals.
Ramstein senior Matthew Oreskovich finished second at 113 pounds a year ago.
138: Another Stuttgart-Ramstein showdown is a strong possibility in this class as each school fields wrestlers with elimination-round tournament experience. Ramstein's Christian Griffith lost by decision in the 132-pound championship bout, while Stuttgart counterpart Carter Hanes was a 2019 semifinalist at 126.
Fellow sectional winner Caleb Debeltz of Vilseck ranks among the top candidates to prevent Royal-Panther final.
145: Aviano's Michael Hauser headlines a field of 11 in this unpredictable bracket.
Hauser is the most accomplished of the group with a semifinal appearance in this class in 2019 and a southern sectional triumph last weekend.
Fellow sectional winners Jack Engelke of Stuttgart and Phillip Severance of Lakenheath join Hauser as top seeds in the bracket.
152: A well-traveled new contender ranks atop this bracket after an impressive season on the DODEA-Europe mats. Jacob Caricato, an American enrolled at Finland's International School of Helsinki, became a mainstay in regular-season meets this winter, won the central sectional last weekend at Stuttgart and is now in line for a European title run.
Caricato will meet resistance from Aviano's Xavier Wells, Ramstein's Tyler Worley and Stuttgart's Noah Moten, among others.
160: Roberts Swart fell just short of delivering a European title to the distant DODEA-Europe school of Ankara last year, dropping the 145-pound title bout on a technical fall. Swart is back at a bulkier class this year for another shot at the crown.
This class also contains a Royal-Panther subplot as Ramstein's Dominic Marts and Stuttgart's Christian Just won their respective sectional brackets and are in position to earn valuable points for their squad.
170: A strong defending champion sits atop this bracket in the form of Sigonella's Amari Pyatt, who claimed last year's 170-pound crown with a convincing pinfall win in the title bout.
Jimmy Birchfield of Wiesbaden also returns after a strong semifinal showing in this bracket a year ago, while Lakenheath's Nick Scifo, Ramstein's Oliver Seelig, Aviano's Nick Smith and Stuttgart's Tyler Savage try to bring new blood to the finals.
182: Rota expects to further add to its Division II points total based on the efforts of Brenon Colvin, a favorite to claim victory in this 11-deep bracket. Colvin, who finished third in this bracket a year ago, beat out Vilseck's Hyrum Draper, last year's 160-pound European runner-up, for the southern sectional's top seed last weekend to claim a top seed.
Wiesbaden's Daniel Iverson, Ramstein's Caleb Hill, Stuttgart's Noah Carges and SHAPE's Samuel Hennig round out the top half of the field.
195: Ramstein's Nick Mooney is the heir apparent to win this weight class after dropping a 7-5 decision in last year's final.
Stuttgart's Cameron Wolfer will look to keep this title on Stuttgart's side of the ledger, while southern sectional champ Nick Luminarias works to improve on last year's solid showing.
220: Ramstein hopes to finish strong with powerful contenders in the event's two heaviest classes.
Gabe Davis is the favorite to win this bracket after a frustrating loss by default in last year's 182-pound championship match.
Vicenza's Alex Ramos and Alec Meno of the hometown Warriors are among Davis' primary obstacles.
285: Teddy Ward, the 2019 European champion at 220 pounds, will look to add a heavyweight title to his resume on Saturday. He'll face two other foes in search of important last-minute points in Stuttgart's Danny Rodriguez and Rota's Charlie Everhart.
broome.gregory@stripes.com Twitter: @broomestripes