Playoffs at stake already for many D-II teams
---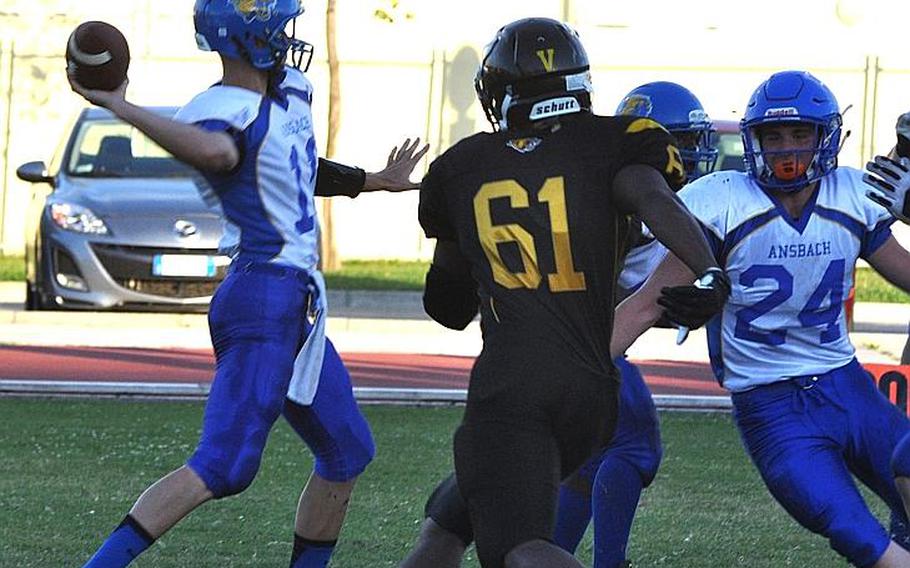 The 2015 DODDS-Europe Division II football season is divided into two distinct portions: non-regional games and regional games.
The division's 12 teams played their non-regional games over the first two weeks of the season. Their regional schedule begins this weekend.
But in terms of the postseason, the distinction doesn't matter.
Despite some shuffling of teams from last year's 13-school lineup, the intricate points system that determined the eight teams to reach the 2014 playoffs remains intact for 2015. All five regular-season games will count equally under the system, DODDS-Europe Athletic Director Karen Seadore confirmed this week, and the top eight teams regardless of region will advance to the quarterfinals the weekend of Oct. 23-24.
To recap, the system works like this.
Teams with winning records at season's end are considered first-tier teams; losing teams are considered second-tier teams. Teams are awarded points based on wins, losses and quality of opponents: 50 points for a win over a first-tier team, 45 for a win over a second-tier team, 30 for a loss to a first-tier team and 25 for a loss to a second-tier team.
At season's end, each team's point total is divided by the number of games played. Three and a half bonus points are then awarded to any team with an undefeated overall record, and three and a half points are deducted from any team with a losing record.
In practical terms, that means the stronger central region, with all four of its teams entering the weekend at 2-0, could gobble up all or some of the playoff spots eyed by teams in the north, which features three winless teams alongside unbeaten defending champ Ansbach, or the south, in which every team is either 1-1 or 0-2.
So while this weekend's six Division II games aren't mathematically more or less important than the ones before or after on the schedule, they do represent the crucial midseason tipping points for teams already risking elimination.
The loser of Baumholder's homecoming date with AFNORTH/Brussels on Friday will fall to 0-3, lock in a losing record and all but fall out of playoff contention. Same goes for Saturday's Italian battle between 0-2 squads Naples and Vicenza, two 2014 semifinalists staring at a sideline seat for this season's festivities.
The marquee matchups in the central – SHAPE at Bitburg and International School of Brussels at Rota – will see the two victors clinch winning records and likely assure playoff berths.
Twitter: @broomestripes
---
---
---
---