Players use tournament as 'stepping stone'
by
Dave Ornauer
January 18, 2004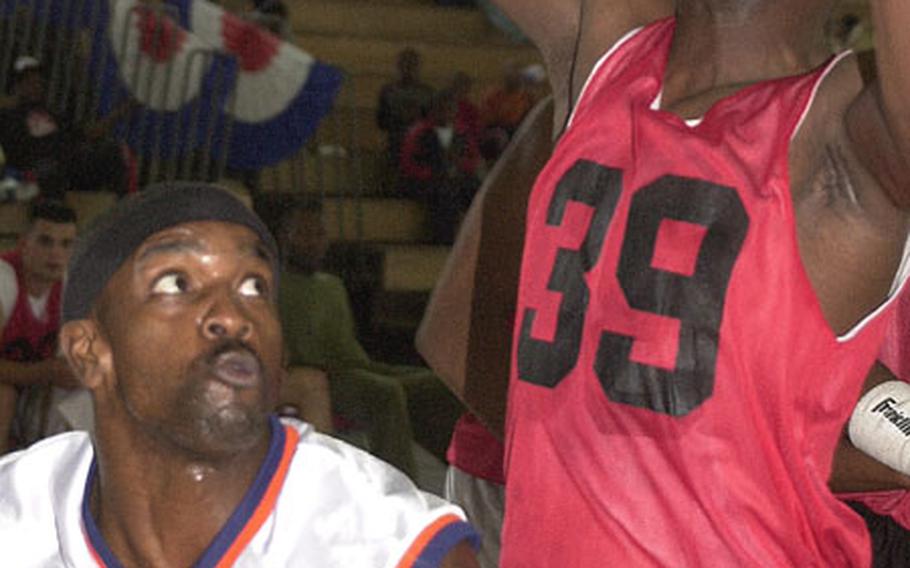 CAMP FOSTER, Okinawa — Some players in this week's 13th Martin Luther King Pacificwide Open Basketball Tournament say the play compares to that of all-service tryout camps, even the All-Armed Forces tournament.
Taurice McMillan of the Okinawa Heat says he's convinced of that. He would know.
The two-time All-Marine from Washington has played from company level to Marine Forces Pacific Regional tournaments in his four years on Okinawa.
His team rallied to beat Okinawa's Torri Army Knights 63-59 on Friday, the second day of round-robin play.
"That game there, that was gutted out on experience alone," he said. "Understanding the situation and coming through at the end."
He also credits his teammates, including the other three former All-Marines, coach Kevin Spivey among them, and two players who've attended All-Marine tryout camps.
Former All-Marine Yonnes Sanders scored 19 points and guard Kevin Cochran, who has attended two tryout camps, added 15 against Torii.
The MLK, McMillan said, reminds those who have "been there, done that" of what it takes to overcome the best teams from on Okinawa and the rest of the region, while giving players new to varsity ball a taste of higher-level competition.
"You have base-level teams from all around the Pacific," McMillan said. "It takes all you have to be able to stay ahead of them. MLK teams get up to play."
McMillan, noting that the Marine Forces Pacific Regional tournament, the first stage toward a berth on the All-Marine team, is five months away, calls the MLK a "stepping stone" toward the regionals.
"For players who've never played at that level, this tournament sends a message: It's just like the regionals. Same type of competition," he said.
Spivey feels there are about "10 to 15 players out of the 17 men's teams here" who have the potential to play at the All-Armed Forces level.
One of them could be Chris McKelvey, a 29-year-old Army private first class playing for the Yongsan Runnin' Rebels of South Korea.
He's played in national tournaments for Chattahoochie Valley Community College in Alabama, went to Tuskegee University, then left to pursue a pro career and has played international ball, in Mexico and Germany.
McKelvey says he enlisted in the Army partly to finish the 30 credit hours he needs for a political science degree. And the thought of playing All-Army ball crossed his mind, he says.
"It intrigues me," he said, adding that playing in the Korea Traveling League and the MLK helps keep his desire and drive alive. "It helps keep your skills sharp."
Kadena girls send Andersen home
Theresa Gittens had 29 points and six assists to lift Kadena High to a 44-36 victory over Guam's Andersen Bombers.
Andersen became the first base varsity team to lose to Kadena and Kubasaki in one MLK since the tournament began admitting high school teams in 1997. And it's the first time that both prep clubs have earned their way into the MLK's double-elimination playoffs, which start Sunday.
Gittens also had 18 points and four steals in the Lady Panthers' 62-46 regular-season romp over the Lady Dragons earlier Friday.
"I'm tired," she said afterward.
"It's been a great day of basketball for the Lady Panthers," Kadena head coach Ken Hudson said. "We needed to come in here and execute the things we worked on. And we did."