Phelps aces opening day
by
Rusty Bryan
March 26, 2009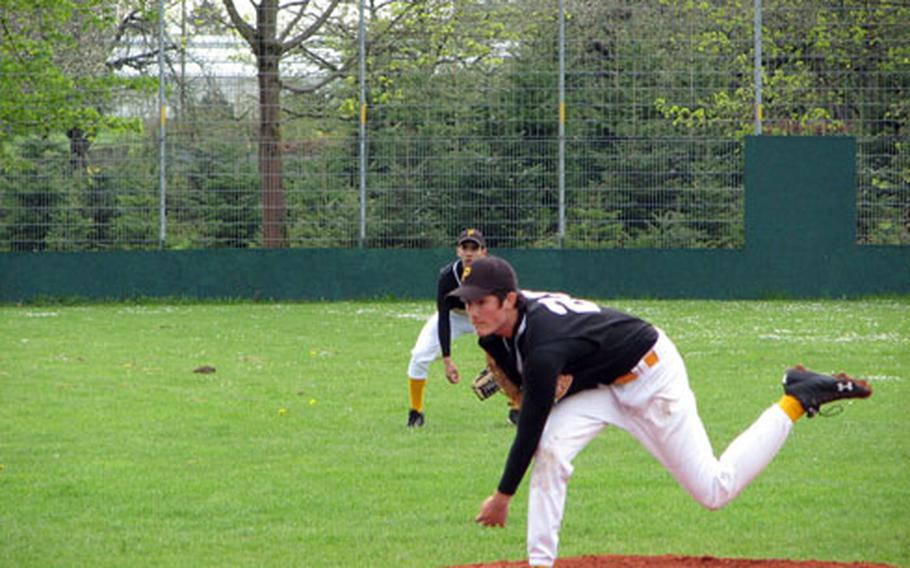 For anyone with a sense of DODDS sports history, the atmosphere last Saturday at Dexheim, Germany, was supercharged.
On a perfect day for baseball, the Wiesbaden Warriors and Patch Panthers were about to take the field for the first official DODDS-Europe baseball game for each school.
The game was the culmination of years of work by interested parents and coaches to have the national pastime become a part of the school system's athletic program. The school system's athletic director, Karen Seadore, was on hand to throw out the ceremonial first pitch. Patch volunteer coach Shawn Phelps, one of those working hardest to have the sport adopted officially, looked on. And when the Panthers took the field in the bottom of the first, the ball would be in the hand of the Patch ace and Shawn's son, southpaw Justin Phelps.
Had to be some special butterflies with all that going on, right?
Wrong, the younger Phelps said by telephone Monday.
"I just looked at it as a normal game," the 17-year-old junior said. "I just went out and gave it my best."
Here's what "the best" was for Phelps, a pitcher of serious potential: no hits allowed in the four innings the 15-run courtesy rule permitted the game to last, and a grand slam among his 5-for-7 day at the plate. Patch won 25-0.
Phelps was blasé about a day the rest of us have only in our sleep.
"I've never thrown a complete (seven-inning) no-hitter," he shrugged, as if that somehow diminished his performance on Saturday. "I pitch every game the same way."
One who wasn't blasé was Wiesbaden's Steve Jewell, whose Warriors are probably glad to have seen the last of Phelps. Wiesbaden is a Division II school; Patch plays D-I.
"Justin Phelps is a definite college prospect," Jewel wrote Monday in an e-mail. "There is always a search for good left-handed pitchers, and Justin not only has a good fastball, but a solid curve as well. His fastball comes in with a little bit of a natural cutback, which enhances the effectiveness of the pitch."
Jewell probably was watching Phelps' cut fastball.
"Last year, the bullpen coach of the Seattle Mariners showed me how to throw a cutter," Phelps said. "It breaks more than my curve ball, so I use it."
If learning from major-league staffers seems unusual for Europe-based high-schoolers, it's almost old hat for Phelps.
"Last summer, I went to a camp in Canada," Phelps said. "Don Archer, a scout for the Angels, and scouts from the Brewers were there."
Phelps, who batted .576 and .592 the last two seasons when high school baseball in Europe was run by the Army's Child, Youth & School Services, added that he's also been to camps at two-time NCAA champion (2006-07) Oregon State and at Cal State-Fullerton, College World Series champs in 1979, 1995 and 2004
"It gets a lot more challenging," Phelps said about pitching against the type of hitters who dig into the batter's boxes at college Division I-level camps.
Challenging, but manageable.
"I won the Cy Young award at the Cal State camp," he said.
Phelps, a football quarterback and a double-digit scorer in basketball for the Panthers, began playing baseball first and says it's still No. 1 with him.
"He started when he was four," Shawn Phelps said. "He's always had a pretty good arm and hit the ball well."
Jewell called Phelps a complete ballplayer and a stand-out performer.
"I have seen baseball here in Europe for nine years," Jewell wrote. "He is one of the top five players I have seen over here, and all of those players went on to college careers."