Perry's arms carry it to tourney triumph
---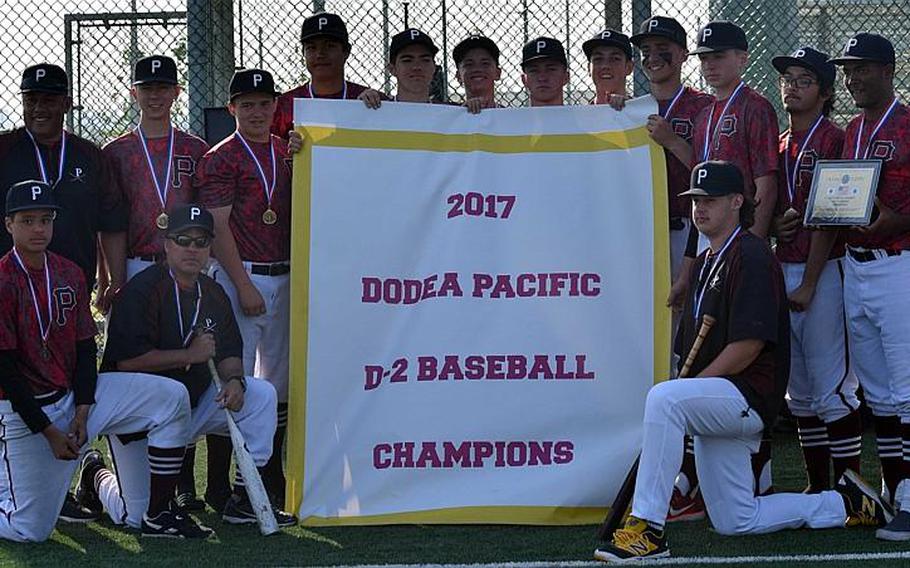 CAMP HUMPHREYS, South Korea – Call Dominick Whitener and Matthew C. Perry's baseball team the Comeback Kids, especially where their arch-rival Yokota is concerned.
For the second straight day, Whitener drove in the game-winning run, this time getting hit by a pitch with the bases loaded and none out to plate Elijah Lebron with the winning run as the Samurai rallied for a 2-1 win and their first Far East Division II Baseball Tournament title.
With the win, the Samurai avenged their D-II final loss a year ago to two-time defending champion Yokota. And for Macias and his son Garrett, it was the second D-II banner Perry won this season, to go with their football title in November.
"This was pretty awesome," coach Frank Macias said after his son got the win in relief and earned his second D-II MVP in three seasons. "Having my son lead the charge, it doesn't get any better than that."
Wednesday's title clash was a pitchers' duel throughout. Perry's threesome of Peace Gates, Chad Schuch and Macias and Yokota's starter Sean Caffrey combined to strike out 19 total batters; the two sides combined to walk just four batters.
It was the Samurai's pitching threesome that outlasted what the elder Macias called a balanced Yokota squad.
"Hard work sometimes beats talent," Macias said. "Yokota has some talented kids, but we kept working hard and made the most of it. Hat's off to Yokota."
Perry also had some players who helped the Samurai fight the football battles last fall, Macias said.
"We have eight football players on my team," he said. "We had guys who've been through the battles and had courage to win, eight guys who were ready to go to war with me. The super three were dominant on the mound."
The Panthers struck first in the fourth inning when Troy Barnes scored on an error. The Samurai answered in the sixth on Schuch's double that scored Macias with the tying run.
Lebron led off the seventh with a walk, Eli Perez singled him to second, then Kristian Irons hit an infield single to load the bases. Whitener got hit by the first pitch from reliever Glen Willingham to bring Lebron home.
The day before, Yokota led 2-0 in the bottom of the seventh when Irons got hit by a pitch and Lebron and Whitener loaded the bases on walks. Lewis Billups walked to drive in a run, then Macias and Schuch each hit infield singles to bring in two more, including Whitener with the winner.
---
---
---
---