Perry playing numbers game knowing odds are against it
by
Dave Ornauer
February 27, 2004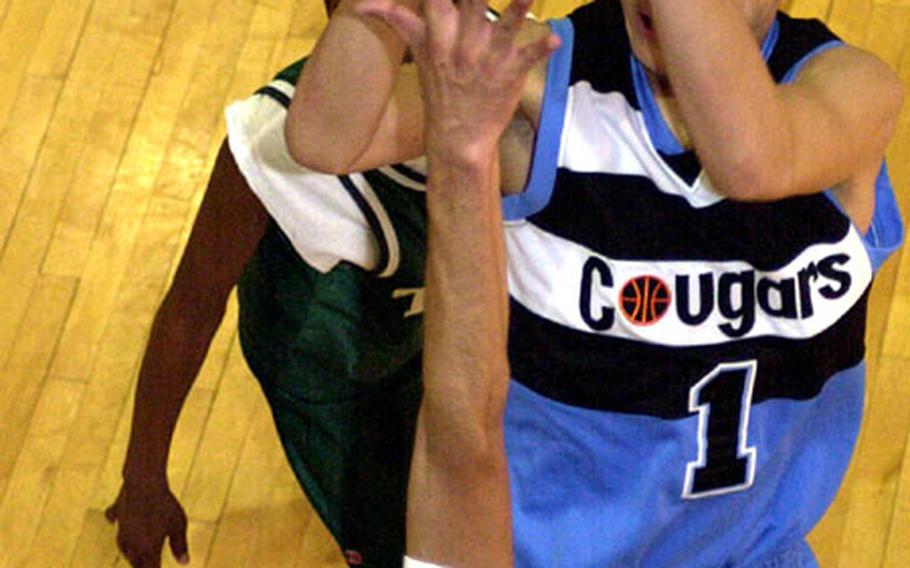 OSAN AIR BASE, South Korea — Matthew C. Perry had just enough bodies to put a team on the court.
Three players injured in a car accident four days before the tournament stayed in Japan. Four others declined to make the trip.
So five Samurai players took their lumps Wednesday on the first day of the Far East boys Class A basketball tournament, losing two of three round-robin games.
Yet they took pride in participating.
"It's all about character and leadership," said Eugene Clark, third-year coach of the Matthew C. Perry.
Like Matthew C. Perry's girls team that had only five players and finished fourth in last year's Class A tournament, the boys team is at a massive disadvantage against deeper and more rested teams.
"We knew pretty much the odds were stacked against us," sophomore Keith Aubert said. "I came here for the experience, to have a good time, so I can look back and say that I did this or I did that, and this will make me a better player.
"I'm hoping to come away with my integrity. I've been doing this for two years. I'm not quitting on myself or the team. It's frustrating. Some of the guys haven't played all season. Trying to get them to learn the plays. But we're here and we'll make the best of it."
The decision to travel to Osan for the tournament was a last-minute call, Clark said.
"We told school administration that if we had five kids who wanted to make the trip, we would come," he said.
Perry (3-18) began the season with 26 players to fill its varsity and jayvee teams. But academic problems, injuries and other factors left only three varsity players willing to make the trip to Far East, Clark said.
He combined those varsity holdovers — Aubert, junior Nate Albia and freshman Daniel Clark — with freshmen jayvee players Luke Bingham and Rainier Antiqiuere to field a team.
"We had five players who wanted to come," said Clark, a 48-year-old retired Marine master sergeant and former All-Marine coach who runs youth activities programs at Iwakuni Marine Corps Air Station in southwestern Japan.
"They're giving me 100 percent, and I told them I'd give them a lot more. I wasn't going to end the season that way."
The Samurai were rewarded Monday, opening a 15-point lead against Korea Kent Foreign of Seoul before winning 50-47.
"Even if we don't win a single game, we're winners," Clark said. "I'm very proud of them."
First day provides a dose of the unusual
A brief power outage, a scheduling mixup that led to a forfeit, and an injury during warmups highlighted an unusual opening day.
Just 15 minutes into Wednesday's openers, the lights and scoreboards flickered off during what base officials said was an unscheduled power outage that covered about half the base. Power was restored in 25 minutes.
International Christian-Pyongtaek, thinking their game against E.J. King of Japan started at noon instead of 11:30, arrived 15 minutes after scheduled tip-off time, leading to a forfeit victory for the Cobras of Japan.
During warmups, Cobras center Carlos Solorzano sprained his right ankle, coach Mark Rozic said. Solorzano, who arrived on crutches just after E.J. King's victory over Seoul International on Monday, hopes to play Thursday.
---
---
---
---