Far East D-II girls soccer
Perry breaks through, dethrones Osan
---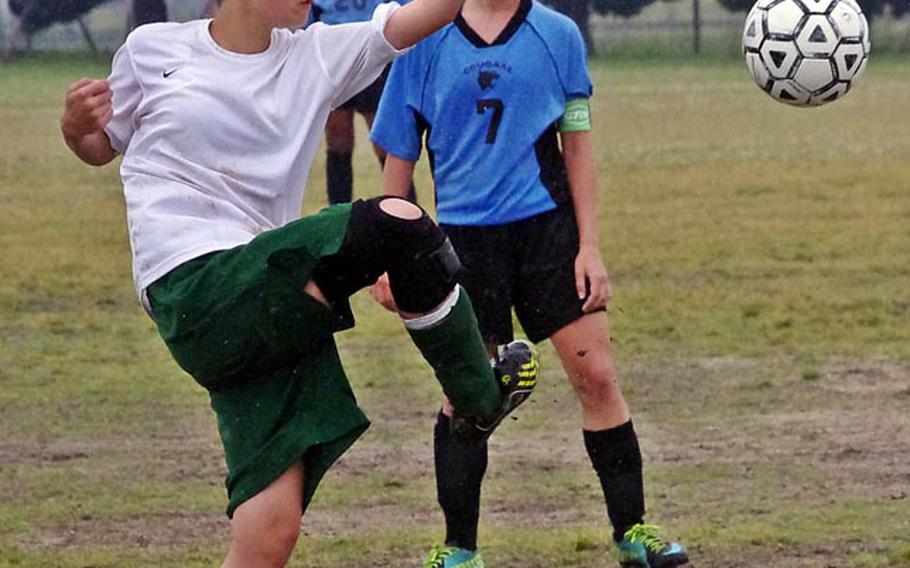 Stymied in three previous trips to the final, the fourth time was the charm for Sam Herritt and Matthew C. Perry's girls soccer team.
Herritt, a junior forward, scored four goals and freshman Sierra Apple had three assists as the Samurai avenged last year's heartbreaking two-match finals loss to Osan American, beating the Cougars 5-2 Friday at Marine Corps Air Station Iwakuni's Penny Lake Field.
"We got the monkey off our backs, didn't we?" coach Rick Stanford said.
The title was triply sweet for the Samurai, who also lost a two-match final to Osan American in 2009 at Camp Walker, South Korea, and fell 2-1 to Daegu in golden-goal overtime in 2007 on Penny Lake Field.
"That went through all of us. We weren't going to go two matches. We were going to leave it on the field and take care of business," said Stanford, who also coached Kadena to a Division I title in 2000.
Perry wasted no time seizing the initiative. Herritt scored in the fourth and 16th minutes, and assisted on Anne Naseer's goal in the 12th minute.
Janel Fagaragan got the Cougars back in it with goals in the ninth and 44th minutes, trimming the gap to 3-2.
With a penalty-kick goal in the 56th minute and an insurance marker in the 66th with an assist from Apple, Herritt slammed the door on any hope for the Cougars to win their fourth straight title and Pacific-record eighth overall.
"It wasn't until toward the end we finally broke it open, sigh of relief," Stanford said.
This was a Samurai team thought to be rebuilding with mostly freshmen and sophomores and which lost scoring star Bre'Onna Ray to graduation.
"We had the right people to fill the right spots and came together as a team," Herritt said. "These girls made it happen. Everyone contributed. We relied on every person. Everyone had their own part."
It was the first time for Osan to reach the championship match and lose. "I thought it would be a repeat, but we just ran out of luck and energy," Cougars coach Sung Plourde said. "Give Perry credit. They wanted it more. I'm proud of our girls."
Matthew C. Perry High student-reporters Ashley Starnes, Katelyn Luke and Danielle Rosales and tournament organizer Victor Rivera provided information for this report.
---
---
---
---