DODDS soccer preview
Perry boys, Osan girls look to repeat despite lost stars
by
Dave Ornauer
March 10, 2011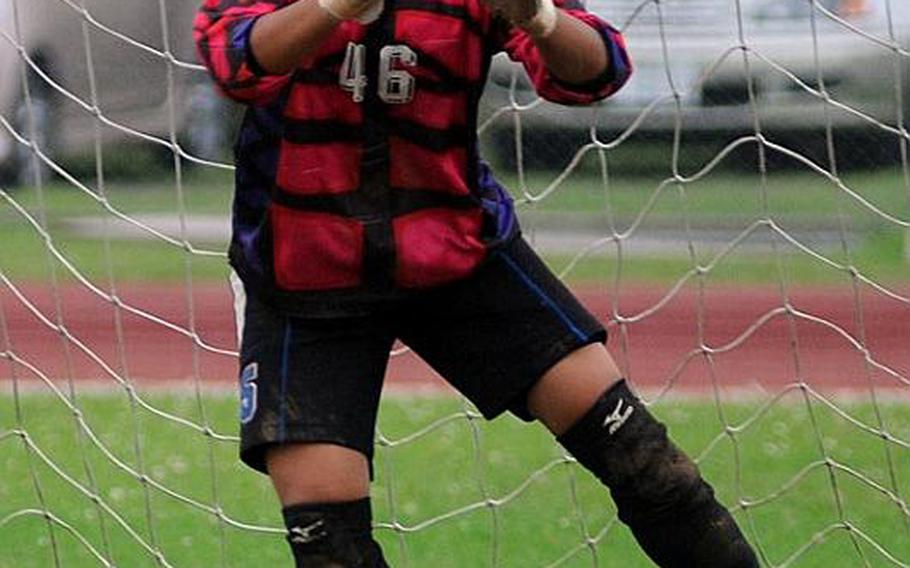 Losing the Pacific's leading goal scorer and the Far East Division II Tournament's defensive MVP of a season ago doesn't seem like a formula for success.
Or does it?
"I think it's possible; we're doing it," said Mark Lange, whose Matthew C. Perry Samurai, champions a year ago, broke out of the gate this season at 7-0 despite Andre Bugawan and his 37 goals and Matt Villalino's defense having graduated last June.
Bugawan's former sidekick, Tyelor Apple, has picked up where his pal left off, with 13 goals already, while a solid returning supporting cast that includes Sean Barker (10 assists) have the Samurai in position to meet or perhaps exceed last season's 32-8-3 mark.
Prior to last season, Lange never had a player score more than 18 goals; in Bugawan and Apple, he had two.
"There's a big target on Tyelor's back," Lange said. "And it's not the other teams. He puts pressure on himself. But he's stepping up and doing what we need him to do. We lost Villalino and Bugawan but we've had players step in and do the job."
If the Samurai are to make it back-to-back D-II championships, they'll have to do it on the road this time, May 16-19 at South Korea's Camp Humphreys. "I'm excited. I'm optimistic," Lange said. "It seems like it's working so far."
Whether it's working or not for two-time defending Girls D-II champion Osan American could be revealed this weekend, when the Cougars host Seoul Foreign on Friday and visit defending Girls D-I champion Seoul American on Saturday.
The Cougars must make do without key midfielder Courtney Ouellette, who injured a knee last month. And they're also without their leading goal scorer, Angela Frisby, who graduated.
Coach Sung Plourde says he's making adjustments in his lineup, such as moving All-Far East sweeper Alina Hauter to midfield, and try to get by the first six to eight games until Ouellette returns.
"By the time we get to May, if everybody stays healthy, we could be contending," Plourde said. "It's going to take a lot of work. But we'll find out right away what we need to do to compete."
Competing for Seoul American last year in many respects meant keep the match scoreless or tied and send it to a penalty-kick shootout where athletic goalkeeper Liz Gleaves would shut down opponents.
New Falcons coach Scott Bittner says the Falcons have changed much from the unit that scored just 42 goals in 26 contests. Gleaves is playing up front and already has six goals, while freshmen Amanda Jackson and Tori Roberts have added scoring punch along with Gloria Patterson.
The new goalkeeper: Tammi Garman, a junior who has "learned very quickly," Bittner said. "She brings a kind of athletic ability … She moves well around the goal, she knows when to come out. And it frees Liz to come out of the goal."
---
---
---
---