Penalty kick sends unbeaten Patch girls past Heidelberg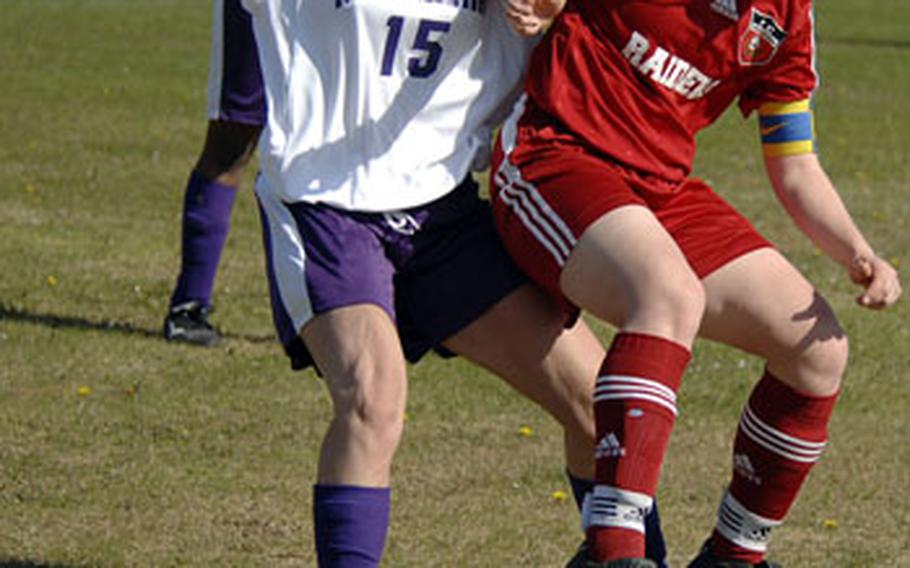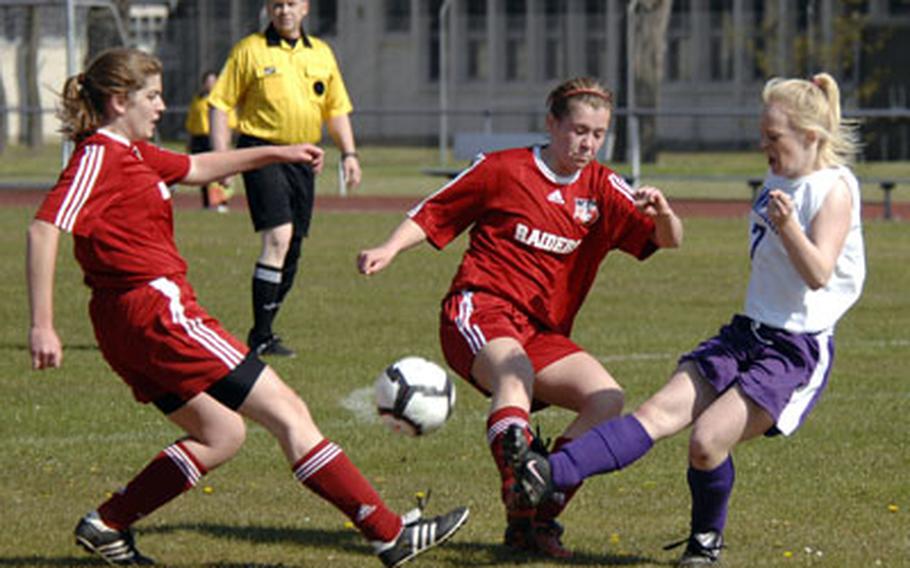 Goals in the first two minutes of each half and a second-half penalty kick lifted visiting Patch to a 3-2 girls soccer victory over Heidelberg on Saturday and kept the Lady Panthers undefeated.
Rachel Masset, off a pass from Carolina Rivera, scored the game-opening goal. All-Europe striker Nellie Loney took a pass from Emma Murray and duplicated Masset's feat to start the second half. Elysia Verones then beat Lady Lions keeper Melanie Stordahl on the penalty-kick winner for Patch (4-0 overall and 3-0 in Region III).
Heidelberg's Melissa Fry answered Masset's goal to make it 1-1 at halftime, and Katelyn Garner scored on a penalty kick after intermission for Heidelberg (2-2 overall and 2-1 in the region).
In other girls games of note:
Ramstein 7, Bitburg 0: Saturday at Ramstein, Josie Seebeck scored three goals and assisted on two as the defending European Division I champion Lady Royals pinned a courtesy-rule defeat on their D-II guests.
Ramstein coach Ricardo Buitrago praised his defenders — Bryonna Bowen, Amber Callan, Mackenzie Crews and Sydnie Reynolds — for keeping Bitburg at bay throughout. He also lauded centers Alana Sciuto and Keily Herron and wings Seebeck and Laura Welch for their control of the game, and his team's fluid and solid passing, which he said generated numerous scoring chances.
Ramstein improved to 4-0-0 overall and in Region II. Bitburg fell to 0-2-1, 0-1-1.
SHAPE 4, Lakenheath 2: Saturday at Mons, Belgium, Kathryn Bell and Jennifer Dargie each had a goal and an assist, and Megan Fleet turned aside 11 Lakenheath shots, including two penalty kicks, as the Lady Spartans won their Region I opener.
Despite being short nine players who were unable to return in time from spring break because of travel delays caused by the eruption of the volcano in Iceland, Lakenheath (1-2-0 overall, 1-1-0 in Region I) had defeated AFNORTH 5-2 on Friday. Amber Buckingham fueled that victory with two goals.
Saturday was a different story as Fleet got hot in the nets. "SHAPE's center midfielders, Melyssa Gomez and Andrea Dargie, also deserve mention for winning the ball and calmly distributing it," SHAPE coach Shawn Whitehurst said.
SHAPE (1-1 overall and 1-0 in the region) got its other goals from Gomez and Elizabeth Burden.
Naples 7, Florence 3: Saturday at Naples, Italy, Demi Holbrook pulled off the hat trick as the Lady Wildcats evened their overall and regional records at 2-2-0.
Naples, which also got two goals from Haylea Witz and single scores from Sofia Cianciaruse and Abby Walker, led 7-0 at the half.
Kaiserslautern 2, Mannheim 1: Saturday at Mannheim, Olivia McQuail handed out scoring chances that Ally Murphy and Emily Crawford converted to lift the Lady Raiders (2-1-0 overall and Region II).
Both goals came after a scoreless first half. Katie Jackson made them stand up with 12 saves. Mannheim's goal was scored by 2008 All-European Alana Crockwell.