Baseball Player of Year
Paul's leadership helped Dragons triumph
by
Dave Ornauer
June 3, 2013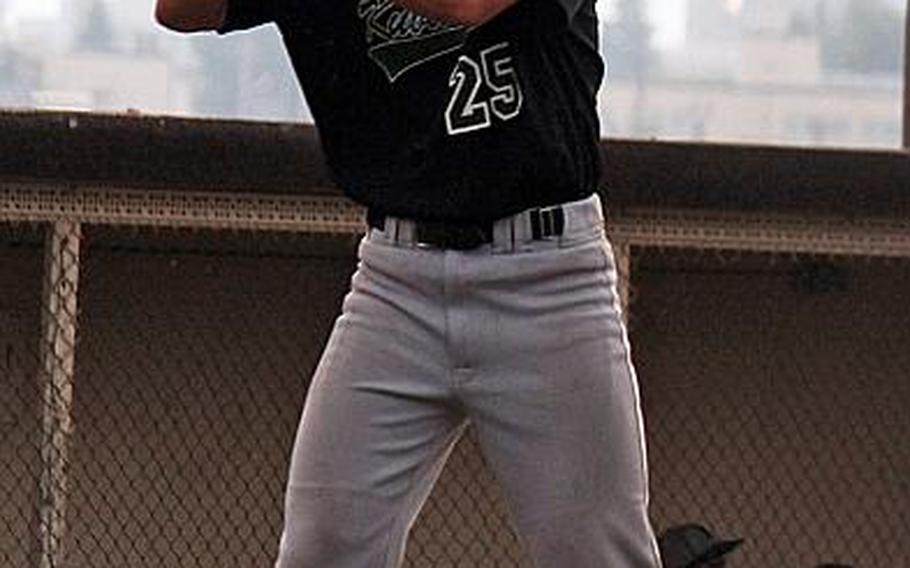 Other players sported higher batting averages than Jared Paul's .300. And his 12 RBIs seem pedestrian when held against Tommy Warren's 38 and Angelo Bourdony's 21. Home runs? Paul hit just one, compared to Warren's 10 and Bourdony's five.
But some key ingredients to a team's success don't necessarily show up on a stat sheet. On a Kubasaki baseball team loaded with sophomores and juniors, Paul was that rare senior who provided veteran blood and might have been the key piece of the Dragons' championship puzzle.
He transferred to Kubasaki from cross-town Kadena, where Paul and the Panthers played second fiddle to the Dragons' run of seven straight Okinawa titles, as well as runner-up finishes in three straight Far East Division I tournaments.
"Best decision I ever made," Paul said of the transfer.
Turned out, Kadena's loss was Kubasaki's huge gain.
The Dragons went 10-1 in the regular season against American opposition, their only loss, 1-0 to American School In Japan, coming on March 15 at Yokota. That was followed by Kubasaki winning its eighth straight Okinawa finals series.
Then came the Far East D-I tournament last week at Yokota, where Kubasaki went 5-1 and Paul played a huge role in a 1-0 upset of favorite ASIJ in the semifinals, then went 4-for-5 with two doubles and that lone home run of the season, with six RBIs in a 19-1 finals rout of St. Mary's International.
"We're glad he came over; he contributed a lot during the season," said Kubasaki's eight-year coach Randy Toor of Paul's decision. "He's very humble, he works hard and plays very well."
For his and the Dragons' accomplishments, Paul has been named Stars and Stripes' Pacific baseball Player of the Year.
Paul was a first baseman for Kadena, but moved to the outfield from the start of the season and "didn't say a word" about changing positions, Toor said. As much as he contributed on the field, he also helped mentor a team that had just two seniors in the starting lineup.
"He's a good teammate, he's a team player, he's very energetic," Toor said. "He came in and fit in very well with the boys. He's a good student, he does well in school, too."
Most of the ones Paul worked with were sophomores and juniors; most, if not all, will be back next year. But Paul's leadership and veteran presence will be missed, Toor said.
"His will be hard shoes to fill."
---
---
---
---