Patriots fans get last hurrah at Pacific Super Bowl parties
by
Dave Ornauer
February 4, 2004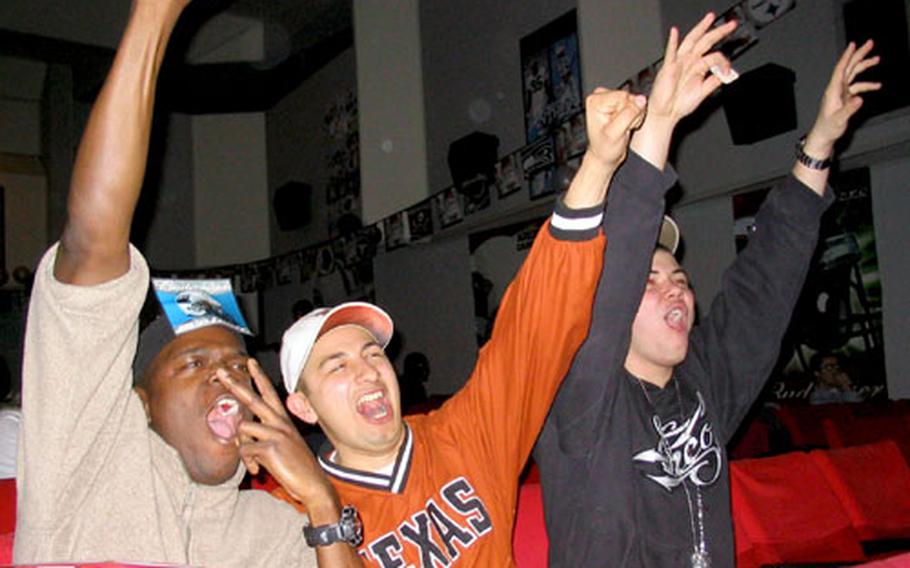 ATSUGI NAVAL AIR FACILITY, Japan — "C'mon, Adam!" Phong Nguyen said, quietly imploring New England Patriots placekicker Adam Vinatieri.
With nine seconds left in Super Bowl XXXVIII and the score tied 29-29, Nguyen and a few hundred other sailors at Atsugi's Club Trilogy waited for the game's decisive moment. Patriots and Carolina Panthers fans at the club's "tailgate party" were divided on whether Vinatieri could duplicate his Super Bowl-winning field goal against the St. Louis Rams two years ago.
"He's not going to repeat history," Michael Ehrsam vowed. "He's going to choke. He's going to slip and get hurt."
As Vinatieri split the uprights, Nguyen and his fellow Pats fans began a wild celebration.
"I'm going to call home, where everybody's cheering now," said Nguyen, 23, a petty officer second class from Worcester, Mass., where many of his friends and family gathered to watch the game.
"I've never felt better. People frowned on us when we lost twice this season. Not any more."
Meanwhile, Ehrsam and a table full of Panthers fans stared down at their feet glumly as their team's fate was sealed.
"If they don't win, they don't win," said Ehrsam, a petty officer third class and a native of Indianapolis, wearing a Colts cap.
He said he was pulling for the Panthers "because the Patriots knocked the Colts out" in the AFC championship game.
Ehrsam could take solace in the door prizes he won at the party: A sweatshirt and a Super Bowl T-shirt, autographed by three Atlanta Falcons cheerleaders who visited the sailors and performed at halftime.
"I got to hang out with some beautiful women. And I won a T-shirt and a sweatshirt. That's what it's all about," he said.
From Misawa Air Base to Sasebo Naval Base, thousands of servicemembers gathered at base clubs and community centers.
The Showboat Theater at Sasebo was decked out to create a stadium-like atmosphere, with banners, balloons and a goalpost. Staff, including vendors selling drinks and snacks in the aisles, walked around in referee shirts.
"Being from South Carolina, I have to pull for the Panthers," said John West, a petty officer second class. "And the setting is great for watching the game. On this big movie screen, it reminds me of settling in at home and watching on a big-screen television back there."
"I was in San Diego for the last Super Bowl," Ehrsam said. "Not being in the States, having to get up in the morning to watch this. It's different."
Another difference was the cheerleaders serving as special guests. The Falcons sent three cheerleaders each to Atsugi, the Fleet Theater at Yokosuka Naval Base and the Navy Club at Yongsan Garrison, South Korea.
Houston-based Lone Wolf Entertainment and Navy MWRs in Japan and Korea brought the women to the Pacific instead of NFL players, as they had the past two years.
"The sailors really didn't want players who they didn't know because they're young," said Lone Wolf's Jeff Thornton. "Face it. They want to see the girls."
---
---
---
---