Patience, hard running help Yokota finally wear down Zama
by
Dave Ornauer
September 10, 2010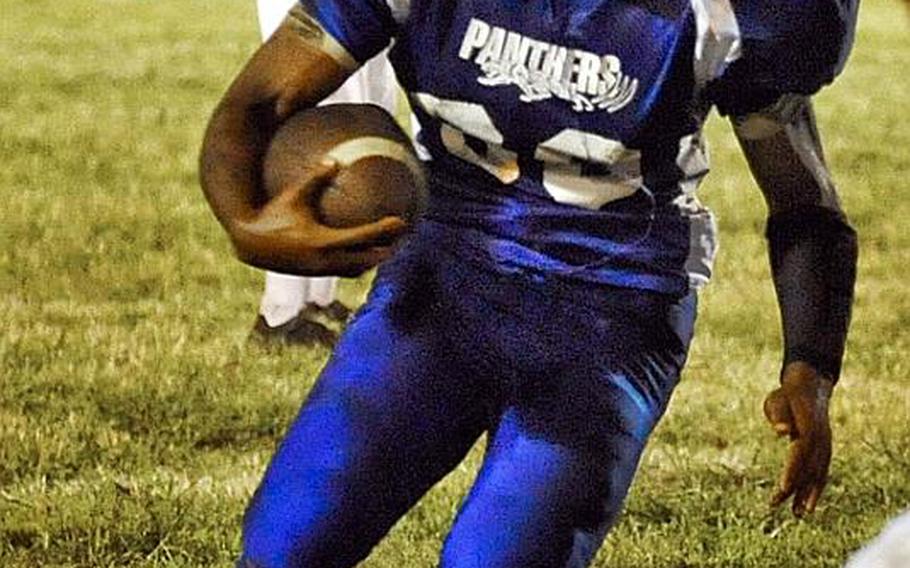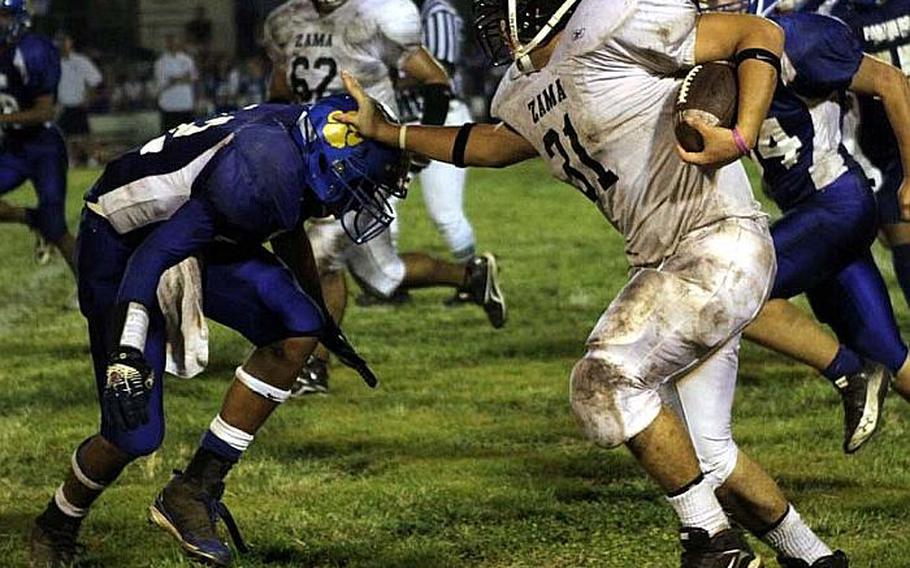 YOKOTA AIR BASE, Japan — Nothing seemed to be working for Yokota in the first half Friday. Its ground game kept getting blown by Zama American linebacker Michael Spencer, two receivers dropped sure TD passes, and three of four possessions ended uncharacteristically in punts.
"Patience," coach Tim Pujol counseled his Panthers at halftime. "Don't be upset about gaining four or five yards a carry. It has to be a sustained drive over a long period of time."
That's exactly what Yokota got on its first second-half possession, a 15-play, 85-yard drive over 5 minutes, 29 seconds, ending with Trenton "Tractor" Traylor's 5-yard scoring run. That got Yokota started en route to a 17-0 shutout of defending DODDS Japan champion Zama.
The Panthers improved to 3-0 this season, while Zama fell to 2-1.
"It looked like there were two of him out there in the first," Panthers coach Tim Pujol said of Spencer, who ran 18 times for 121 yards, giving him 437 on the season, and had 13 first-half tackles, nine solo, four for losses.
"He reads well, he sheds blockers well. … I haven't seen anything like that from any linebacker in our league in quite awhile. We just told the guys there's nothing wrong with grinding it out, moving the chains, and that's exactly what we did on that drive in the third quarter."
Gabe Huizar added a 31-yard field goal and Myles Andrews tossed a 14-yard TD pass to Jordan Herrera before exiting with a left-knee injury on the game's final play.
Yokota was held to a season-low 169 yards on 42 carries. Devin Day led the Panthers with 136 yards on 28 carries; he has 504 on the season. Josh Chamberlain had an interception, and Stanley Speed and Jerrell Fuller each had sacks.
"We had the opportunities; we didn't capitalize on the chances we had," Trojans coach Steven Merrell said. "And, of course, we had a hard time stopping them. It was a hard-fought game. We kind of wore down, and we have to take care of that. We just didn't finish."
---
---
---
---