Home Team
Patch tough to beat with Marvin on mound
---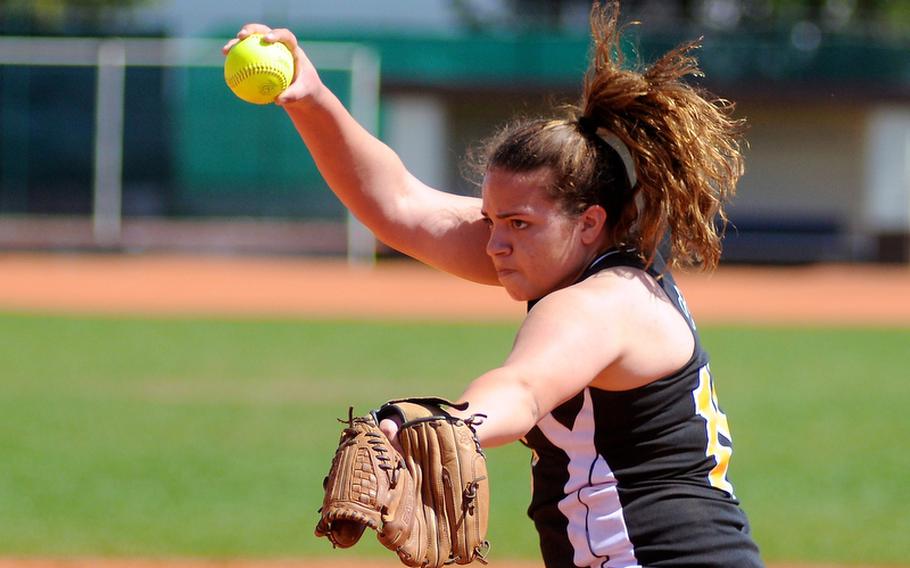 For someone who's been playing softball for a mere four years, Patch sophomore Amber Marvin has made some big strides.
The 15-year-old right-hander has yet to lose a varsity softball game. She went 8-0 last season as a freshman for the Division I champion Panthers, striking out 56 batters and numbering two no-hitters and three one-hitters among her victories.
To Marvin, however, the bigger satisfaction of that campaign was finally getting a chance to play varsity softball after three years in Youth Services ball.
"Yes, I was," she said by telephone on Tuesday when asked whether she was relieved finally to get to the European youth softball equivalent of the Big Leagues. "I wasn't challenged enough in YS (Youth Services)."
So far, she hasn't appeared to be challenged enough at the varsity level, either. This season, taking over as the ace of the Panthers' staff, Marvin's 7-0 and again has tossed two no-hitters. The 2012 no-hitters, though, improved on 2011's no-nos. They were perfect games that have helped lift the Panthers to a 12-0 record going into Saturday's 10 a.m. East Region title showdown against an equally unbeaten visiting Vilseck squad.
Moreover, Marvin, who's been touched for just five hits all season and who's already struck out 61 batters, has pitched three perfect innings in relief, too, and earned a save, according to her coach, Brian Tingey.
Which poses a question: What's the ace of the staff doing working relief?
"I've tried to limit her to one game a weekend," Tingey said of Marvin, a .556-batting first-baseman. "I only use her in both games when we're in trouble."
Don't let that spotless record fool you, though. Marvin, who said she throws a fastball, change-up and knuckleball, has noticed the pressure that comes with being the team's No. 1 pitcher.
"It's a little tougher," she said of the role she's earned mainly through assiduous off-season work. "I have to pitch more this year."
Marvin, who's bound for San Diego this summer to participate in a traveling league in the Southern California crucible of the sport, said she especially enjoys throwing her knuckler.
"On a good day or when it's windy," she said, "it really dances."
The knuckler and the works-in-progress curve and drop balls Marvin said she's developing are products of an impressive work ethic.
"She's a hard worker," Tingey said. "Most days, she goes to the gym after practice."
A softball specialist, Marvin spends the off-season honing her diamond skills.
"Practice, practice, practice," she said when asked what she does during the fall and winter seasons some of her teammates devote to volleyball and basketball.
This year, Marvin found another off-season outlet. She's become a teacher.
"I've been helping other girls learn to pitch," said Marvin, who herself took up pitching in middle school after emerging from team tryouts for the position. "This year, one of the girls I taught (freshman Mikaela Cunningham) made the team."
Marvin said she passes along the mechanics of the position, along with large helping of her work ethic, to the younger players.
"I tell them it's all about dedication and practice," she said. "I tell them you can't get discouraged."
Marvin's reward for her instructional efforts?
"The best part," she said, "is to see how they've progressed."
This weekend, the best part for Marvin and her teammates will be to see how they stack up against Vilseck. Then it's on to Ramstein-Kaiserslautern next Thursday, Friday and Saturday to defend that D-I title.
"Euros are always the 'funnest' part of the year," Marvin said, giving a competitors-eye view of the most pressure-packed event on the prep calendar. "We want to play the best we can and have fun, whatever happens."
---
---
---
---