Patch teams wins key games with Vilseck
by
Rusty Bryan
May 13, 2011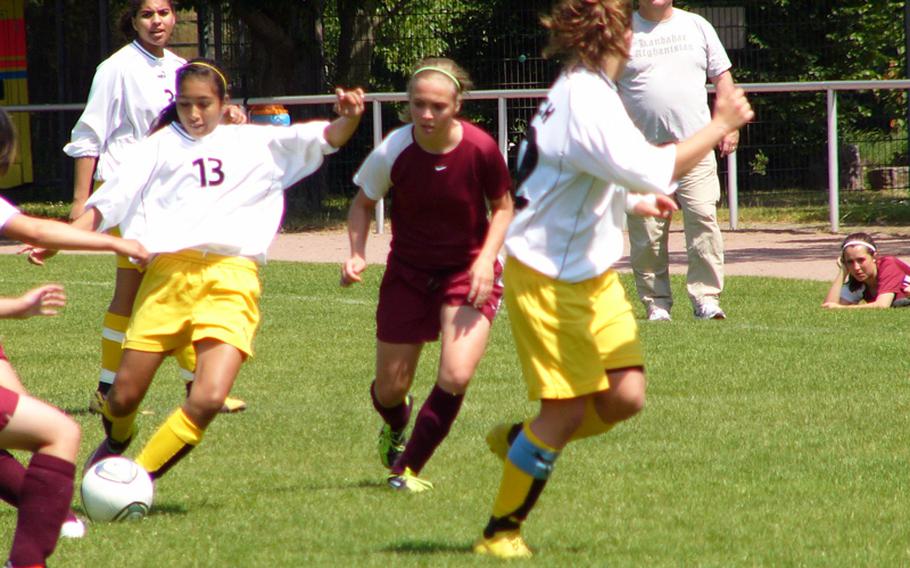 STUTTGART, Germany – Set pieces Friday carried the Patch Lady Panthers to a 2-0 victory over the Vilseck Lady Falcons.
Both scores were the result of corner kicks taken by Patch All-European Emma Murray. Lauren Rittenhouse converted the first, at the 30-minute mark of the first half; freshman Kaileen Pritchard directed the second inside the right post just prior to the game's final whistle.
Pritchard's goal capped a second half in which the defending European Division I champs played as though they were the team that was trailing, rather than trying to nurse a one-goal lead against their guests. Vilseck came in riding a five-game winning streak and holding a three-point lead over Patch and Heidelberg in the Region III standings, and, according to Pritchard, Patch wasn't prepared to be passive.
"We knew we had to keep pressing them," Pritchard explained. "We knew they had beaten Heidelberg, so we had to keep pushing the ball up all the way."
The offensive emphasis proved to be as effective a defense as Patch could have wished. Rather than moving forward themselves, the Lady Falcons, who could get a shot at payback in next week's European Division I tournament, spent most of the final 40 minutes scrambling back on defense as Patch (6-1, 5-1) beat them to ball after ball and spot after spot.
"The way we play is that we don't back down," Pritchard said. "We think, 'That's your ball. Don't let them have it.' "
The loss was the first regional defeat of the season for Vilseck (5-2 overall and 5-1 in Region III), which rebounded from a 5-1 opening-day loss against Region II school Wiesbaden in March to the five-game winning streak that ended Friday. Highlight of the fiver was a 2-1 victory over 2010 European D-I runner-up Heidelberg on April 2.
Heidelberg, which can turn the final Region III standings into a three-way tie for first by beating Black Forest Academy on Saturday, rebounded from that loss to hand Patch its only loss of the season, 3-1 on April 23.
Viewed in hindsight Friday, the Heidelberg stunner was a blessing in disguise, Pritchard thinks.
"The loss to Heidelberg changed our mind-set," she said. "It got us back on track (toward another European championship)."
The 2011 European championship will be on the line Wednesday-Saturday in Ramstein-Kaiserslautern. For first-time varsity player Pritchard, winning there would be huge.
"It's exciting to be on the varsity with all these girls I've looked up to," Pritchard said. "The team has been so welcoming to me. I want our seniors to go out with another championship."
Patch boys 2, Vilseck 1Jacob Camacho rapped home two first-half goals to propel the Patch Panthers boys to a 2-1 victory over the Vilseck Falcons that clinched the Region III title for the Panthers.Camacho, assisted on one of his tallies by Myles Newhouse, provided the margin of victory that lifted Patch to a 4-1-1 league record, good for an insurmountable 13 points in the regional standings.The Panthers' closest pursuers, Heidelberg and Bamberg, each take 3-2 regional records into their finales on Saturday, and even if both should win, they'd have just 12 points each.The regional crown is a far cry from where Patch stood in April. They were 0-1-1 overall and in the region after a 3-2 loss to Bamberg and a 1-1 tie against Black Forest Academy, both Division II teams.Patch, however, then defeated four straight Region III foes, starting with a 2-1 toppling of Heidelberg on April 23 and culminating in Friday's title-clincher.Next up for Patch (4-2-1 overall) and Vilseck (2-4 overall and in the region) is the European Division I tournament Wednesday-Saturday in Ramstein-Kaiserslautern.Sage Thornbrugh scored the goal for Vilseck.bryanr@estripes.osd.mil
---
---
---