Girls soccer
Patch shuts out Wiesbaden, Hohenfels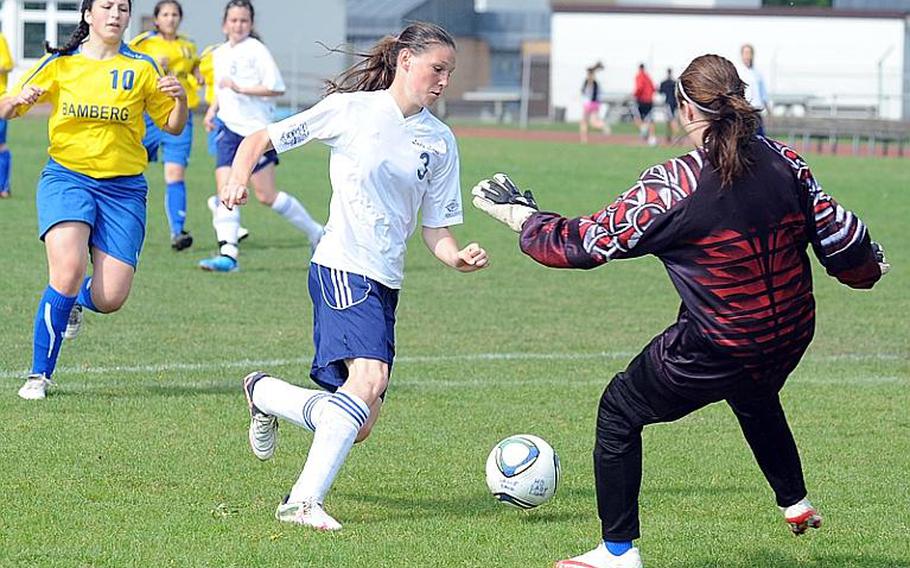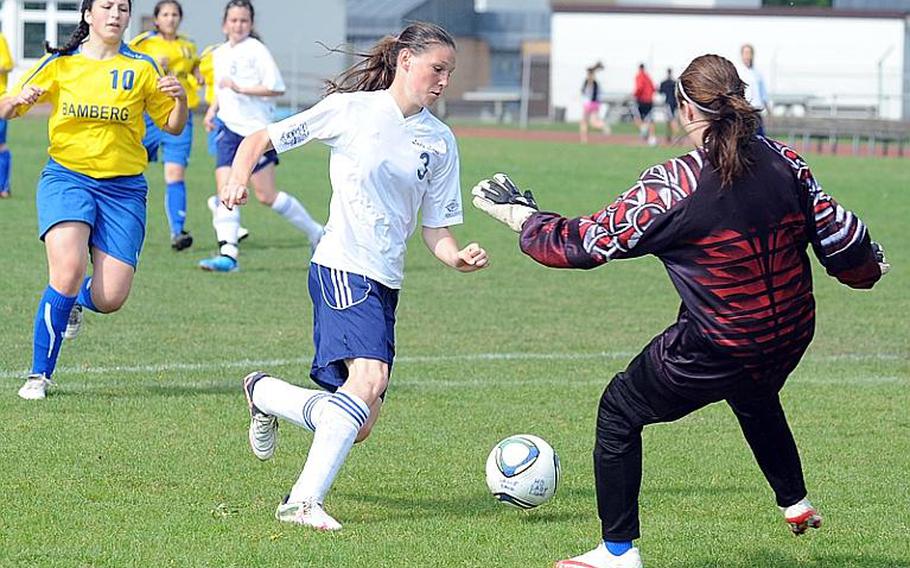 STUTTGART, Germany – The defending European Division-I champion Patch Lady Panthers rebounded from the previous week's loss to 2010 European D-I runner-up Heidelberg with two shutouts in as many days on Friday and Saturday.
Friday, Patch blanked Wiesbaden, 3-0, on the road in a non-regional contest. Saturday, it resumed its big-margin ways with a 10-0 conquest of visiting Hohenfels in a Region III contest.
Four Lady Panthers – Amber Garcia, Emma Murray, Lauren Rittenhouse and Elysia Verones - each scored twice Saturday. Murray, Carissa Carlson and Alee Stenzel found the net in Wiesbaden.
The victories upped Patch's season record to 4-1 overall, and all four victories have been shutouts. The Lady Panthers are 3-1 in Region III.
All-Europe goalkeeper Ellie Welton posted both weekend shutouts, making three saves on Friday and two on Saturday.
Next up for Patch is a regional contest Saturday at Ansbach; the Lady Panthers are to close their regular season at home May 14 against Vilseck.
Wiesbaden, which like Patch is ticketed for the European D-I tournament in Ramstein-Kaiserslautern May 18-21, completed its weekend 3-2 overall. The Lady Warriors are to host unbeaten Ramstein this Saturday.
Hohenfels, a Division II school which is scheduled to host Vilseck on Friday, fell to 1-4 overall and 1-3 in Region III.
In other girls' soccer of note:
Ramstein 7, Mannheim 0: Saturday at Ramstein, the Lady Royals, behind two goals from Josie Seebeck, joined Patch in posting a double-shutout weekend. Friday, Ramstein bounced visiting Lakenheath, 8-0, as Seebeck broke loose for a hat-trick.
Mackenzie Crews scored four times, twice in each game, for Ramstein (4-0 overall and 3-0 in Region II) but as impressive as the offensive work of Seebeck and Crews, according to Ramstein coach Ricardo Buitrago, was the defensive effort of Danielle Alvey, Brianna Bowen, Sarah Honchul, Karin Mol, Mimi Rivera and Sherree Simonson. Their work in front of Ramstein keeper Terri Leigh Obermiller required Obermiller to make just two saves against Lakenheath. Against Mannheim, keepers Obermiller and Bethany Claypool "did not see a great deal of action," Buitrago wrote in an email.
Shannon Guffy and All-European Laura Welch each scored two weekend goals, Buitrago added.
Next up for Ramstein is a Saturday game at Wiesbaden. Mannheim (1-4 overall and 0-3 in Region II) is scheduled to host Bitburg on Saturday.
Heidelberg 8, Bamberg 1: Friday at Heidelberg, Anna Miller, Layna Lowe and Melissa Fry each scored twice, and Ashley Ross, Christine Bremer, Shannon Grant and Kate Frederickson took care of the defense as the Lady Lions improved to 4-1 overall and in Region III.
Heidelberg is next scheduled to host Kaiserslautern in a non-regional game on Saturday.
Bamberg fell to 0-4, 0-4 and next is to play at Ansbach on Tuesday.
Rota 8, Brussels 0: Saturday at Alconbury, the Lady Admirals posted their second shutout in as many days Saturday behind three goals from Brianna Ammons and two by Allana Shelton. Friday, Rota clubbed their Alconbury hosts in the two-day, Region I small-schools round-robin, 10-0, behind five goals from Yesenia Solis.
Vicenza 8, International School of Florence 1: Saturday at Vicenza, Alexandra Frank scored four times and Tatiana Miranda twice as the Lady Cougars rolled to their third victory of the season. They have one loss and a tie on their record and next play Saturday at the American Overseas School of Rome.
Florence fell to 3-2. ISF next is scheduled to play Saturday at Aviano.
AOSR 2, Sigonella 1: Saturday at Sigonella, Rachel May's second-half goal kept the Lady Jaguars winless for 2011.
Alexis Elliot's goal, off an assist from Halie Gasporra ensured a 1-1 halftime tie for Sigonella (0-5), which next is to host winless Milan on Saturday. AOSR, which is to entertain Vicenza this Saturday, is 3-2.