DODDS softball preview
Patch, others look to break strangleholds
by
Rusty Bryan
March 22, 2011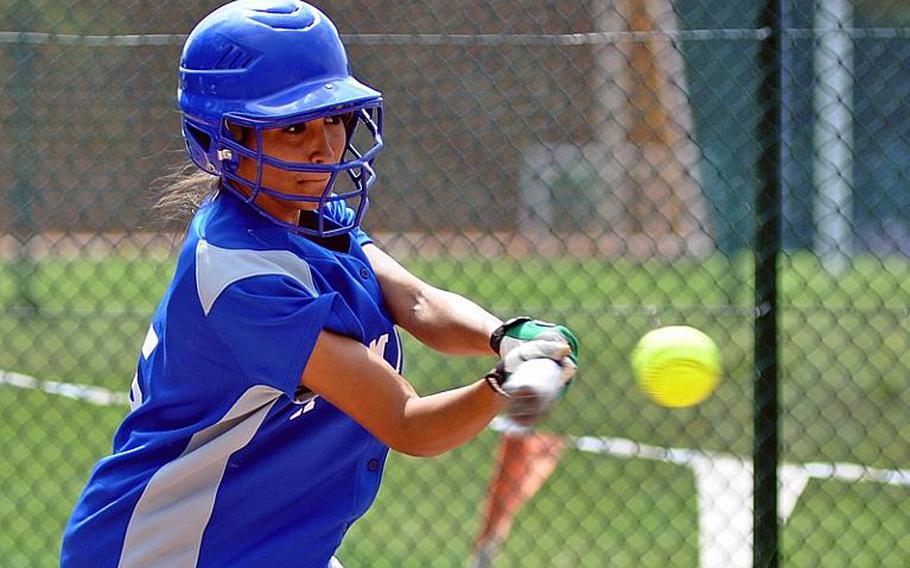 Will the 13th time be the charm?
As the high schools launch their 13th softball season Saturday, the big question is whether some high-level recruiting can lift Patch to its first European Division I championship and in the process break the Ramstein-Lakenheath stranglehold on the big schools title. All 12 previous big school crowns have been won by either Kent Grosshuesch's Lady Royals, who've won eight times, including the last three, and John Gilmore's Lady Lancers, who won the four D-I tournaments that Ramstein didn't.
This year, however, there are two significant differences.
First, Gilmore has stepped over to coach the Lakenheath baseball team. And that recruit — Stars and Stripes' girls basketball player of the year Janelle Loney — adds punch to a Lady Panthers' lineup that has been hovering near the top the past two years.
Loney elected to stick with D-I basketball-title-winning teammate Bianca Lopez this spring rather than perform again as a striker for the D-I champion Lady Panthers soccer team, for whom she was All-Europe last spring. If she lives up to her middle-school form as a Youth Services baseball standout, she immediately strengthens her team up the middle.
"I was a pitcher when I played baseball," Loney said in a recent telephone conversation, "but I'll probably play shortstop and center field this year."
A three-time All-European, Lopez is a senior pitcher-shortstop who batted .633 and compiled an 11-1 record on the mound in 2010. But she and Loney will have to perform at career-high levels if Patch is to challenge Ramstein.
The Lady Royals saw All-Europe sisters Becky and Crystal Pletzer move away and four-time All-Europe pitcher-shortstop Lindsey Jones graduate after last season. All three first-teamers were the nucleus of Ramstein's current 42-game winning streak.
Even so, Ramstein, which benefits from the strongest middle-school program on the continent, still has plenty of weapons. Chief among them is pitcher-first baseman Kelsey Freeman, who made the All-Europe first team as a freshman after her 8-0 2010 season in which she struck out 59 and walked just eight. She was the winning pitcher in the semifinal and final and, for good measure, batted .615.
At Lakenheath, Gregg Thomas takes over from Gilmore, and while the Lady Lancers return no All-Europeans, Gilmore didn't leave the cupboard bare.
"We have four returning starters…." Thomas wrote Tuesday in an email, and "a cadre of new pitching talent."
Kaiserslautern is the only other D-I team with a returning All-European, third-baseman Karah Helm, a .525 batter who drove in 26 runs in 2010.
Vilseck, where Jim Hall moved from baseball to coach the Lady Falcons, returns a "strong nucleus," Hall wrote in an email.
"Taylor Hall and Deraj McClinton will be two returning pitchers who were good as sophomores," Hall wrote. "(They) have been to camps and worked with a pitching coach.… We will go as they go."
Two-time defending D-II champ Naples lost three of four 2010 All-Europeans, but returns first-team pitcher-shortstop Caitlin Eckert, a senior who compiled a 5-0 pitching record with a 1.91 ERA and batted .474.
Other than Eckert, Naples has few returners, but plenty of potential. "Our team is young," new Naples coach Stacey Scott wrote in an email, "but filled with talent." That might be enough in the murky D-II picture.
Division III champion Rota "looks stronger and more deep than last year," coach James Flynn emailed last week.
Among the Lady Admirals' strengths are returning All-Europe sophomore pitcher Natalia Rivera, the team's best hitter, and Maria Colon, one of eight returners from 2010.
Rota, the small schools champ in 2000, 2005, 2007 and 2008, figures to be challenged, as usual, by Amy Driscoll's Sigonella Lady Jaguars. All-Europeans Courtney Albert, a pitcher, and Lizz Adams, a shortstop, are back for Sigonella. Three seniors and a group of talented freshman have Driscoll liking what she's seen so far.
"I think we'll be a strong contender for the Division III title this year," she summarized in an email.
Two .400-plus-hitters — Ashley Uballe and Ashley Steele — headline Henry Lefebre's first Alconbury team, which will be toughened by a schedule of mostly of D-I and D-II teams.
"Overall, if we play to the best of our ability," Lefebre wrote in an email, "I think we can be a contender for the D-III title."
Alconbury's lone pre-tourney D-III opponent is defending champ Rota, which visits on April 30. By May, therefore, Lefebre will have a good handle on the competitiveness of his team.
Regional lineups(Divisional affiliation in parentheses)
Eastern RegionAnsbach (II) Bamberg (II)Heidelberg (I) Hohenfels (II)Mannheim (II) Patch (I)Vilseck (I) Wiesbaden (I)
Western RegionAFNORTH (II) Alconbury (III)Baumholder (II) Bitburg (II)Kaiserslautern (I) Lakenheath (I)Ramstein (I) Rota (III)SHAPE (I)
Southern RegionAviano (II) Naples (II)Sigonella (III) Vicenza (II)
Defending champions Division I - RamsteinDvision II - NaplesDvision III - Rota
---
---
---
---