Wrestling preview
Patch leads strong contingent of returnees
by
Rusty Bryan
December 1, 2011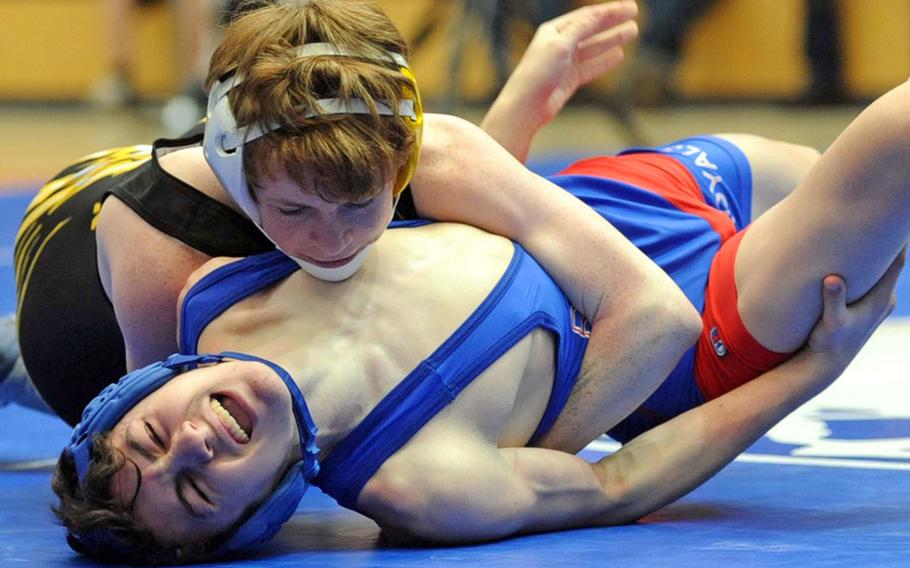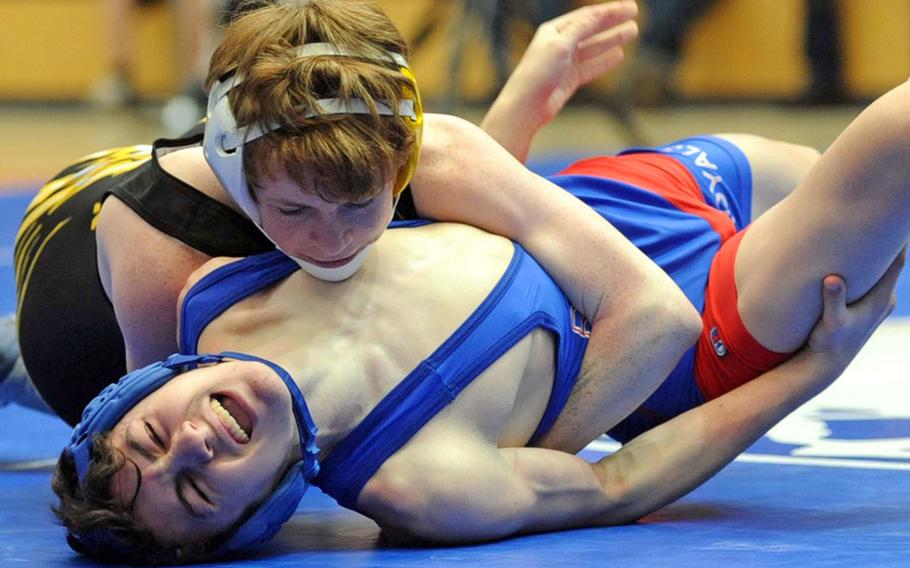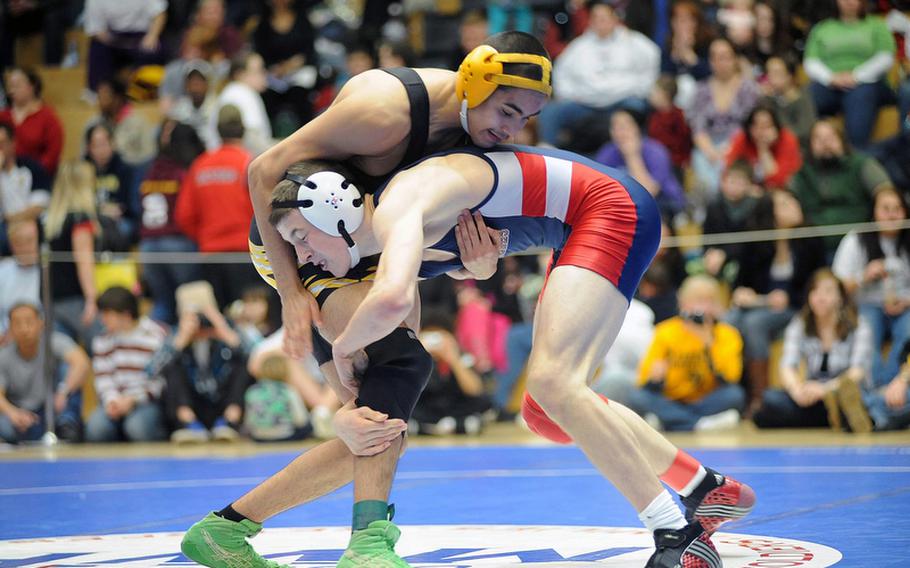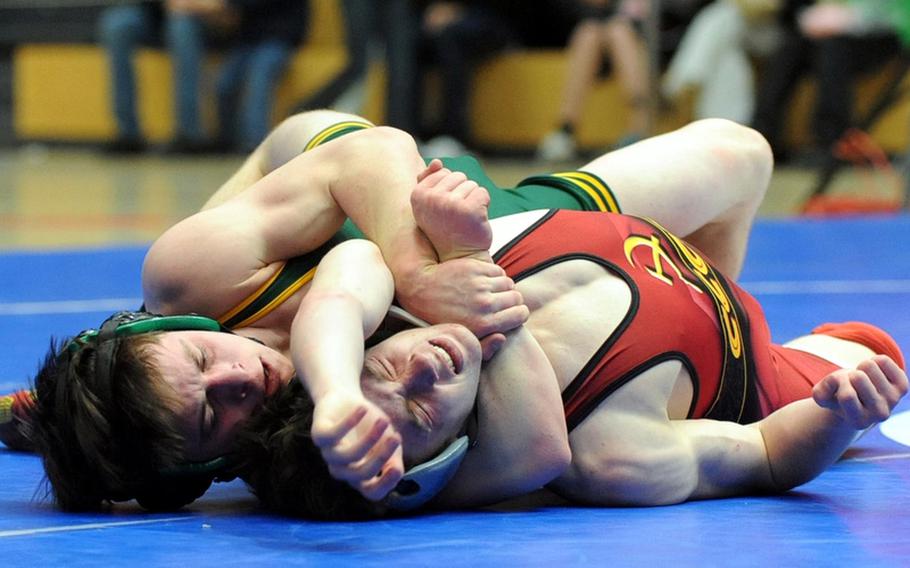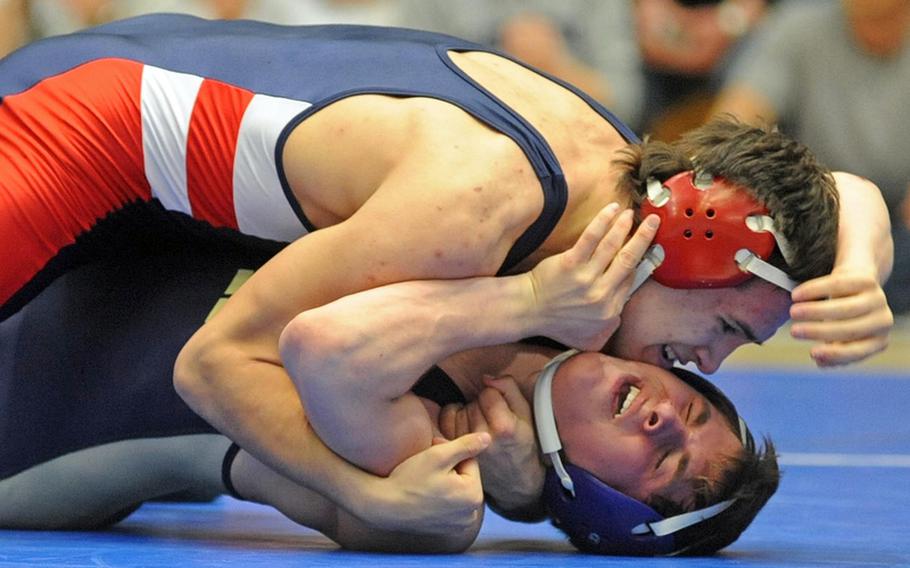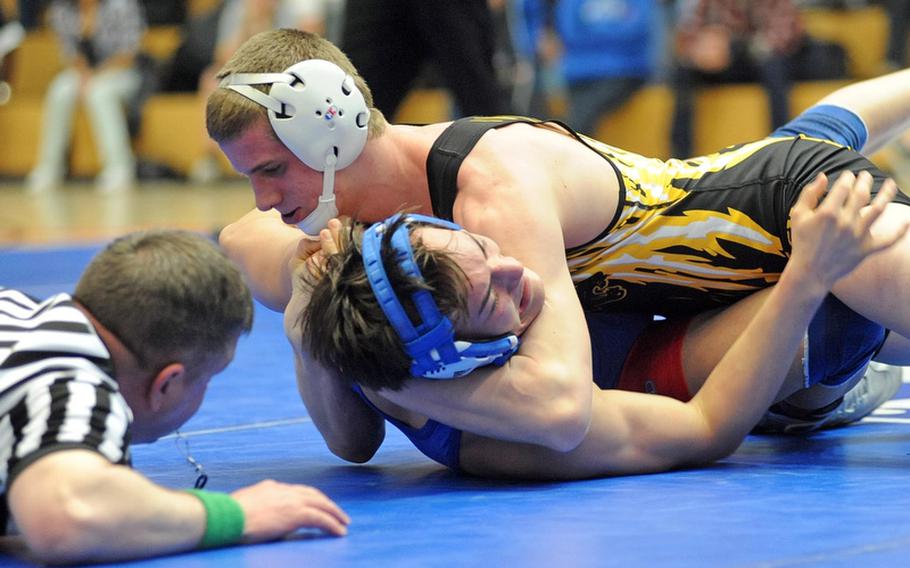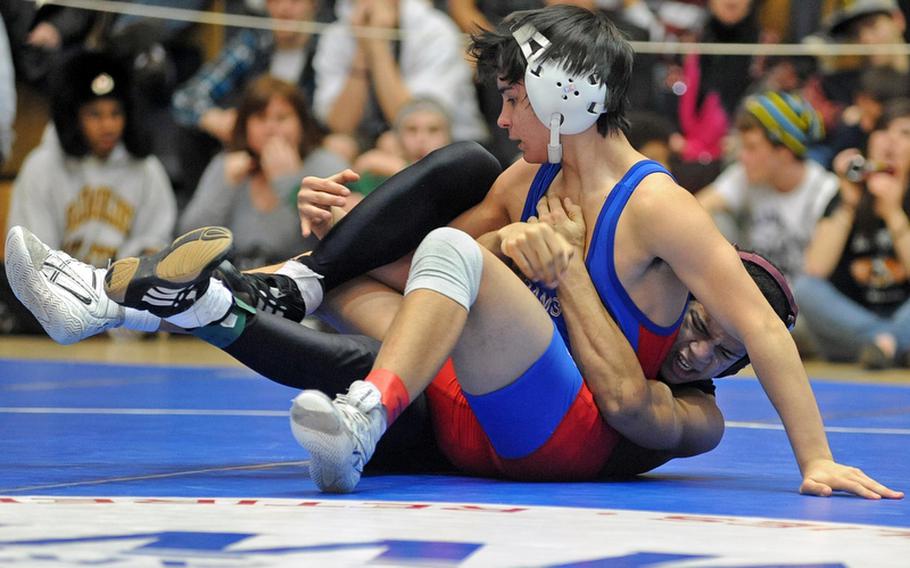 Taking a cue from NASCAR, which opens its season with its signature race – the Daytona 500 – DODDS-Europe wrestling begins with a bang on Saturday.
No, the annual European championships haven't been moved up from February. They're still scheduled for Wiesbaden on Feb. 17-18. But three of the contenders for this season's Division I crown – defending champion Patch, runner-up Ramstein and No. 4 Heidelberg – will converge at Patch High School on opening day, giving each of them, along with fellow contenders Lakenheath and Wiesbaden, an idea of where they stand this time around.
Individual showdowns also are in the cards for opening day. Four of this season's 10 returning European champs – Ross Wilson (103 pounds) and Calen Fields (160) of Patch, Jimmie McBride (152) of Heidelberg and A.J Franz (119) of Ramstein – will take to the mats at Patch.
And while Division I might be the most hotly contested race in February, the other 2011 divisional champions, Baumholder and Sigonella, also will test themselves on Saturday. Baumholder's two-time D-II champion Bucs will run into 2011 runner-up Bitburg in Bitburg, and D-III king Sigonella takes on four D-II schools in Aviano.
Here's a division-by-division look at what the coaches expect this season:
Division I"I see everyone else chasing Patch," summarized Wiesbaden coach Steve Jewell, with no little justification.
According to coach Norm Matzke, five podium finishers, two of them European champions, return to bolster Patch's bid for a repeat. Wilson, wrestling 113 this season, and Fields, a two-time European champ going at 170 under the new weight classes in use this season, are joined by 2010 silver medalists Isaac McIlvene and Thomas Trevino and Jaden Fields, third in Europe last season as a freshman.
John Kellett-Forsyth and Jacob Andrus also medaled for Patch last February. Both return and are joined this season by Stateside transfers Robert Mannier, an Ohioan who's been wrestling for 11 years, and DeSean Horton, in his fifth wrestling season from Colorado. Both are juniors.
An AFNORTH transfer, senior Jaden Wilstead, also adds punch for the champs.
Franz and 2011 runner-up at 103 Ryan Goins return for Ramstein, which otherwise is in rebuilding mode, according to new coach Thomas Wright. Wright said three-fourths of his team, which welcomed brother-act transfers from Virginia in Dylan and Matt Sharpy and Brennan and Christian Elliott, are first-year wrestlers.
McBride leads Heidelberg's contingent, which like the other Lion teams this season has received significant help from transfers from defunct Mannheim.
Ex-Bison Sam Nevinger joins the team, which includes 2011 silver medalist Daniel LeJeune and European qualifiers Andrew Baxter and Daniel White.
Ramstein finished second to Patch by a mere 5.5 points last February, but the Panthers' biggest challenge this season appears to come from Lakenheath, third in 2011.
Like Patch, Darryl Brock's Lancers return two 2011 European champs in Austin Morrow (140) and Adam Carroll (145). Silver medalist Devon Parrish and European qualifier Nathan Rogacki also return to a team bolstered by Vicenza transfer Kyle Leanhart and Menwith Hill move-in Fouse, along with Stateside imports Dustin Lavender and Zack Harris.
Defending 285 champ Noah Hartley anchors Vilseck, while SHAPE gold medalist Matthew Lengyl is back to lead the Spartans. Jewell's Wiesbaden Warriors will challenge behind 2011 European medalists William Heiges and Brendan Sturman.
Bronze-medalist Jeffrey Lawson will anchor Kaiserslautern.
Division IIBaumholder's Erik Majorwitz has plenty of experience back in Andrew Hooks, Jonathan Jones, Bryan Real, Brenden Gauthier and Robert West, who sat out last season with a football injury, for his two-time champs.
D-II, he says, "Figures to be a showdown with Bitburg again this season between our lightweights and their heavyweights."
Baumhoklder outscored Bitburg 96-80 at the finals, but Majorwitz sees the weight-class changes aiding the runners-up.
"Before, it was tough for the kids toward the heavier end of the scale with it jumping from 171 to 189, 215, and 285," he pointed out. "I believe the new weight classifications will help the Barons since there is one more heavyweight class than last year."
Naples, perennially tough under coach Vito Vitulli, was third last time around, and AFNORTH, led by 2011 bronze-medalist Tony Legare also packs punch, Majorwitz reported,
"…Legare is a beast," he wrote admiringly, adding, "A dark horse is Black Forest Academy."
Aviano, No. 4 in 2011, welcomes back 130-pound champ Nik Weiser and always gives a good account of itself at Europeans.
Division IIISigonella is the defending champion, but the numbers problem that cost the Jags most of their football season could make a repeat difficult.
Rota, with all its football talent and 2011 silver medalist Keaton Regenor, is expected to contend, along with Brussels.
Vincent Alonso, who "again will be in the top four of any weight class that he wrestles," according to his coach, Tim Mobley, will lead the Brigands, along with European qualifiers Dakota Deverill and Sam Racioppo.
Alconbury will suit up the most intriguing newcomer of the year, according to coach Bruce Ballard. Freshman Dallin Crazier, a transfer from Alaska, placed sixth statewide there as a middle-schooler.
For the first time in several seasons, Menwith will have numbers – six – to form a significant team, according to coach Pat Brew.
Numbers system-wide are the reason European high schools wrestle tournament formats for the four-five-team regular-season meets, rather than duals, as teams do in the Pacific and in the States.
Summarized Lakenheath's Brock, "I prefer larger meets and not the duals. Most teams, including us, do not have a full squad.
"Plus, we want our athletes to get as many matches as possible," he continued. "Our season doesn't have mid-week matches like many of the Stateside schools. The only way to get the matches is with large gatherings of schools."
Those gatherings begin Saturday morning at Ansbach, Aviano, Bitburg, Lakenheath and Patch.