DODDS-Europe track - Day 1
Patch kicks off track finals with a record
---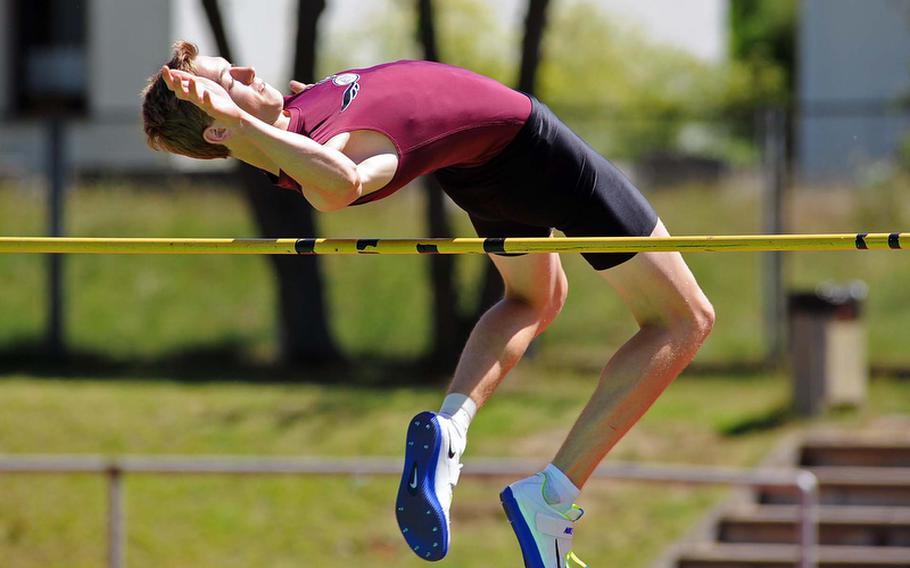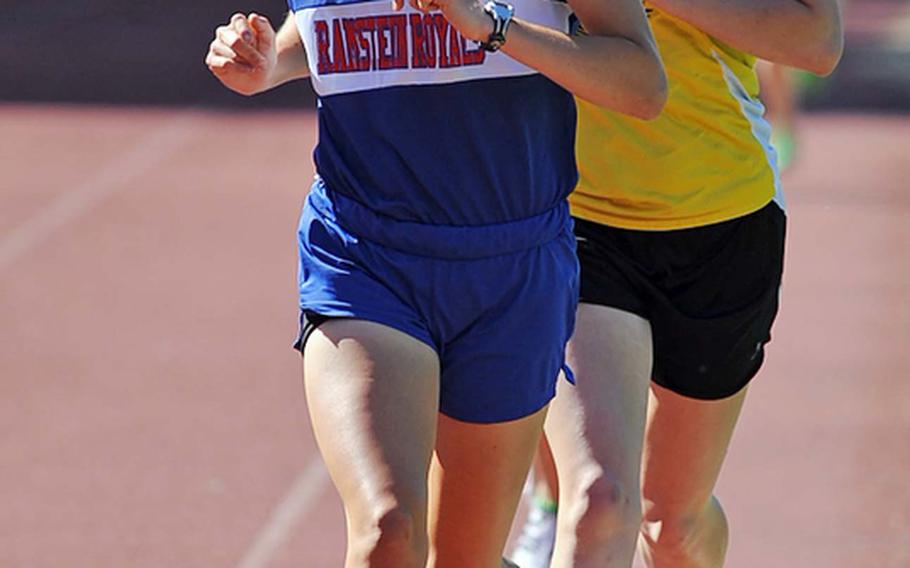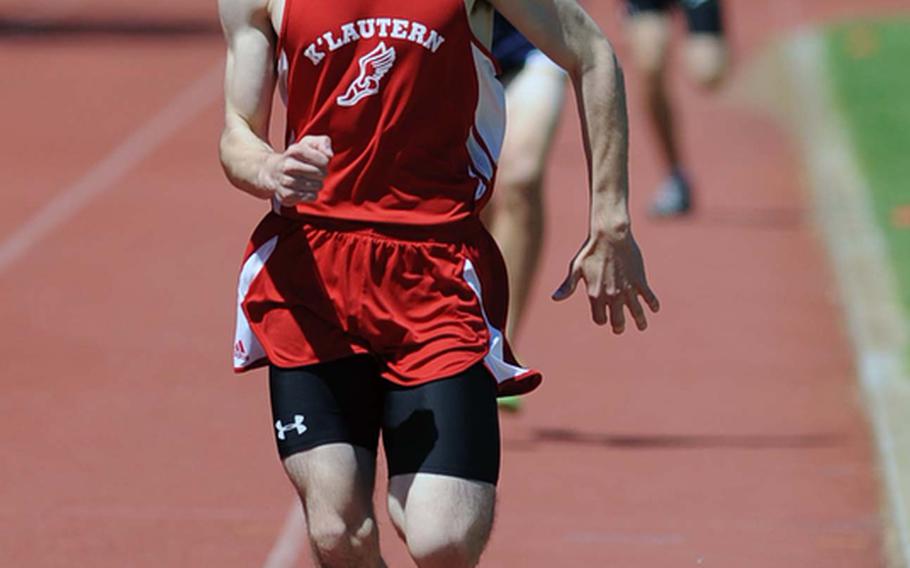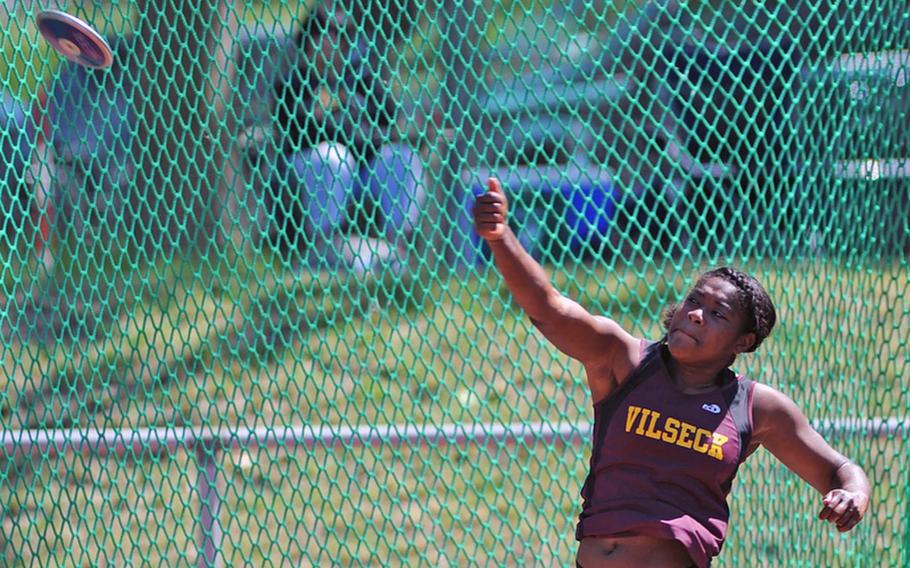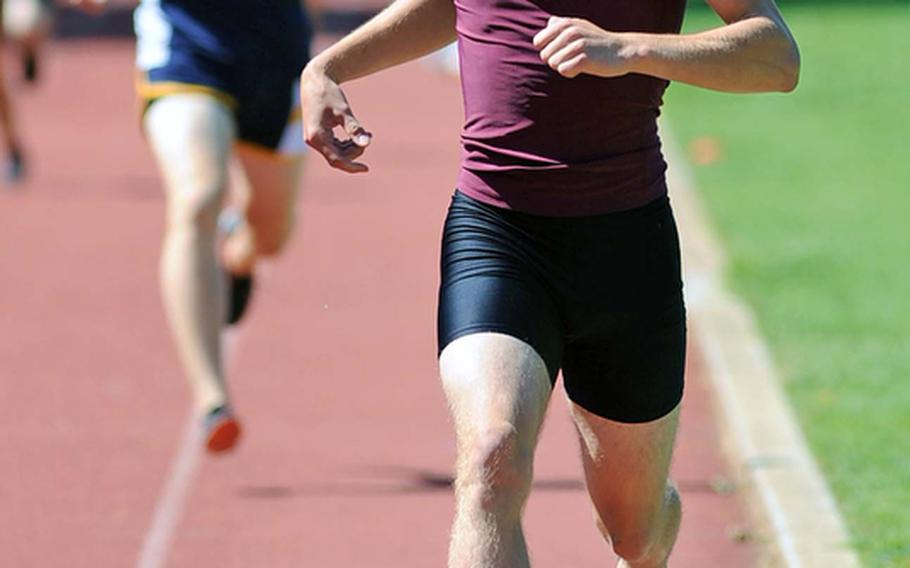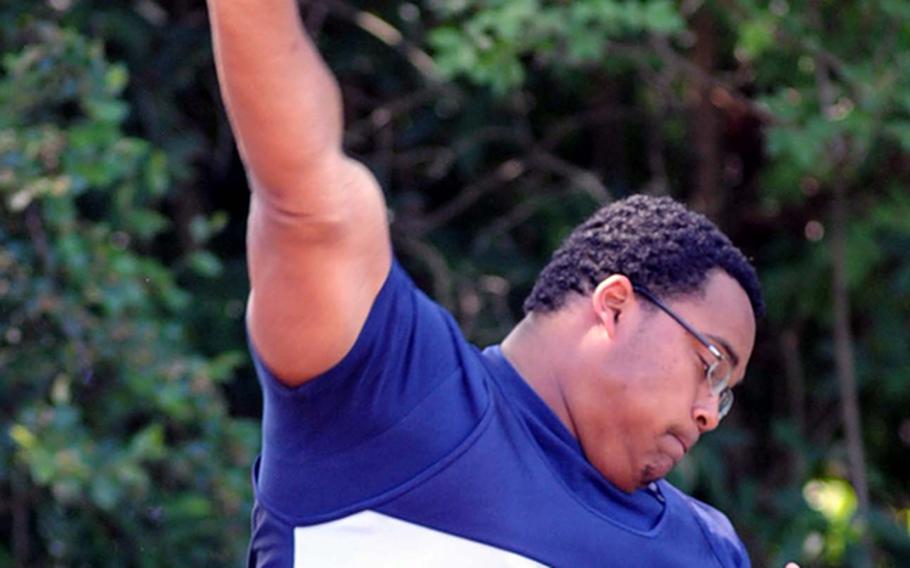 RUSSELSHEIM, Germany – At least two records were expected to be set Friday at the DODDS-Europe Track and Field Championships - but not in the day's first running event.
In the girls' 3,200-meter relay, the standing record of 9 minutes, 55.02 seconds set by Kaiserslautern a year ago seemed safe. The fastest qualifying seed among this year's lineup was Patch's 10:27.05.
"I looked at the record but I didn't consider it," said Josh McCall, Patch's head girls' track and field coach. "Our qualifying time was 30 seconds off."
McCall wasn't the only one surprised when the team of junior Christina Hamilton, sophomores Baileigh Sessions and Hannah Rose, and freshman Julia Lockridge clocked a 9:54.41 to eclipse the year-old record by less than a second.
"We broke the record! We broke the record!" the Patch relay members shouted when they heard their time, celebrating with dancing and hugs on the grassy infield.
Hamilton led off with a fast 2:25, handing off the baton to Rose in second place, behind only distance-phenom Jessica Kafer, who led off for Ramstein, which ended up finishing second. Rose then opened a big lead, recording a split of 2:32, followed by Lockridge's 2:28, and Sessions' anchor leg of 2:29.
The win – and notching a record – felt "amazing," Hamilton said. "At Europes, we always go faster because it's an adrenaline factor."
The four will compete against each other Saturday in the girls' 800-meter run.
The other European records set Friday were expected: This was the first year for the boys' and girls' 1,600- and 3,200-meter runs at the DODDS-Europe championships, with the winning times in each establishing the new mark to beat. Previously, the 1,500- and 3,000-meter runs were held.
In the boys' 1,600, Kaiserslautern junior Michael Lawson ran the best race of his young life to beat top-seed Brian Hannum by several strides. Hannum, a senior from Heidelberg High School, collapsed across the finish line. He later said that he struggled late in the race due to an allergy attack from the pollen in the air and was sidelined for about 30 minutes after the run.
Lawson seemed genuinely shocked – and thrilled - when he heard he had run a 4:27.28. "That is absolutely a PR," he said.
Kafer also recorded a personal best in the day's longest event, clocking an 11:27.24 in the girls' 3,200 to beat Hamilton by about 17 seconds. Kafer said feeling Hamilton on her heels for a good part of the race coupled with the loud cheers from friends and family kept her motivated throughout the eight-lap contest.
"I was really nervous and excited at the same time," she said.
In the boys' other track final of the day, Vilseck senior David Lance outdueled Heidelberg junior Tyler Holderby in the 800 to get the win in 1:55.55. Lance said he adjusted his typical race strategy, opting to run behind Holderby before making his move with a just over 200 meters to go. He finished third in the event last year and second in 2010, always starting out too fast and dying down the stretch, he said. "I can't stop smiling. It's the greatest feeling," he said of finally earning the gold.
Medals were also awarded Friday in several field events. In the boys' shot put, Bitburg senior Darian Billups repeated as European champ, heaving a winning toss of 46 feet, 9.5 inches, half an inch better than his 2011 mark. He was determined, he said, not to relinquish his title. "I practiced a lot more," this year, he said. "Whenever I could on the weekends, I'd just throw the shot in the back yard."
Also repeating in the throws was Vilseck senior Mariah Morris, who tossed the discus an even 100 feet, besting Ramstein sophomore Aspen Wolfe's top throw of 92 feet, 6 inches.
AFNORTH senior Sara Sawyer also returned to the winner's circle with a 34-foot, 5.5 inch-leap in the triple jump. Sawyer, who plans to attend the University of Colorado at Boulder next fall on a ROTC scholarship, last won the European title in the triple jump as a freshman.
Heidelberg senior Wayne Dawkins went out on a high note in the long jump, with three of his six jumps personal bests. The winner was his leap of 21 feet, 8 inches, good enough to beat Tommy Baker, a Vilseck sophomore. "I feel good, because last year I was the first seed and I ended up getting fourth," he said. "That's what motivated me all year to work hard. It showed today."
In the boys' high jump, Vilseck junior Richard Griffith earned first by being the only athlete to clear 6 feet, 2 inches. Coming into the meet, Jake Schmidt had the highest qualifying jump of 6 feet, 5 inches, but on Friday, the AFNORTH senior reached only 5-10 to take fourth. Schmidt nearly cleared six feet on his second attempt, his foot just grazing and knocking off the bar. Heidelberg senior Jeremiah Miller and Aviano junior Andrew Bert were second and third, respectively.
Most events on the track Friday were preliminary events. The finals will be on Saturday, when the meet resumes at 11 a.m. with a variety of field events scheduled. The first running event is the boys' 3,200-meter relay at 11:30 a.m.
---
---
---
---