DODDS-Europe marksmanship
Patch has another title in cross hairs
by
Gregory Broome
November 29, 2012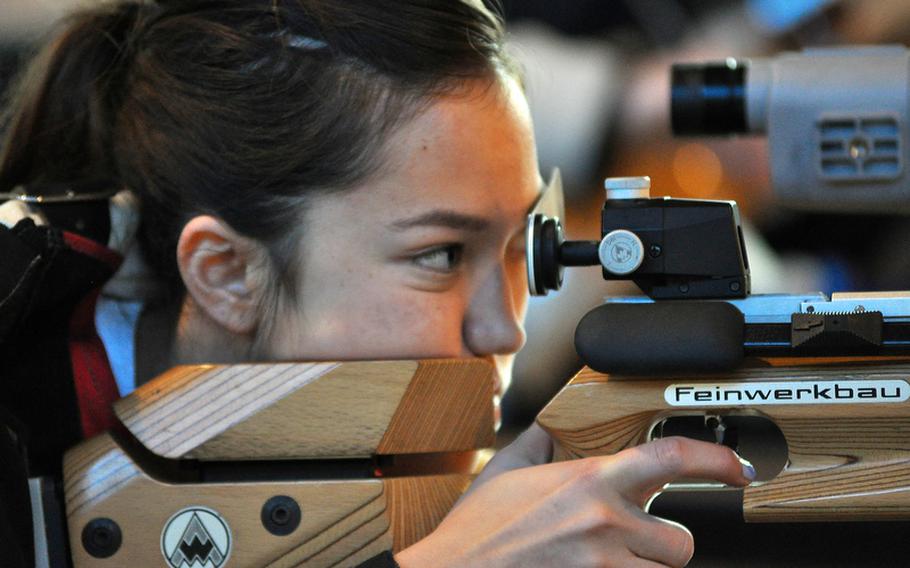 The 2011-12 DODDS-Europe marksmanship season began in uncertainty. Longtime coaches Jack Wayne of Patch and Bruce Andrews of Hohenfels had retired. Hohenfels reigned, perhaps unexpectedly, as team champion. Graduation left the individual standings vacant and available to a new rising champion.
By the end of the two-month winter season, the status quo had been restored. Patch, the two-time defending team champion before Hohenfels interrupted, wrested back its crown with a stellar showing at the European championships. Panthers senior Mercedes Romih filled the vacuum atop the individual leaderboard.
As it has been so often in DODDS-Europe marksmanship, Patch is again positioned as the team to beat.
To everyone but the team's second-year head coach, Raul Pinon.
"We did win the championship last year, but we do not consider ourselves the favorite," Pinon declared in an email. "We will figure out where we need to sustain and improve ourselves after the first match."
That time is now upon us. Saturday finds all 11 DODDS-Europe marksmanship programs in action at two sites in Germany. The Panthers join Alconbury, Heidelberg, and Wiesbaden at Baumholder, while Bamberg, Hohenfels, Schweinfurt, Vicenza and Vilseck visit Ansbach.
The brief regular season includes four more such Saturdays, two coming before the holiday break and two more following in mid-January. Baumholder hosts the European championship on Jan. 26.
If the Panthers are to earn their fourth title in five years and solidify their nascent dynasty, they'll do so without Romih, the reigning Stars and Stripes marksman of the year. But few programs are better equipped to replace a shooter of Romih's pedigree than Patch.
First-year competitor Maggie Ehmann made her mark last year as the individual champion from the kneeling position. Ehmann is one of four returning shooters for the Panthers, along with co-captain Jennifer Johnson, Joshua Derner, and Ben Ferguson. Each is now armed with valuable experience after teaming with Romih to deliver a team title; furthermore, Pinon said the Patch roster features yet another crop of new recruits expected to offer immediate help.
True to the nature of the sport, however, the margin for error is agonizingly slight. Patch trailed for a portion of the European championships before ultimately taking a narrow 1,373-1,354 decision over Vilseck. Hohenfels missed second place by a single point, while Ansbach and Baumholder also finished within 100 points of the Panthers.