DODDS-E soccer - Day 1
Patch girls remain stingy regardless of seed
by
Rusty Bryan
May 18, 2011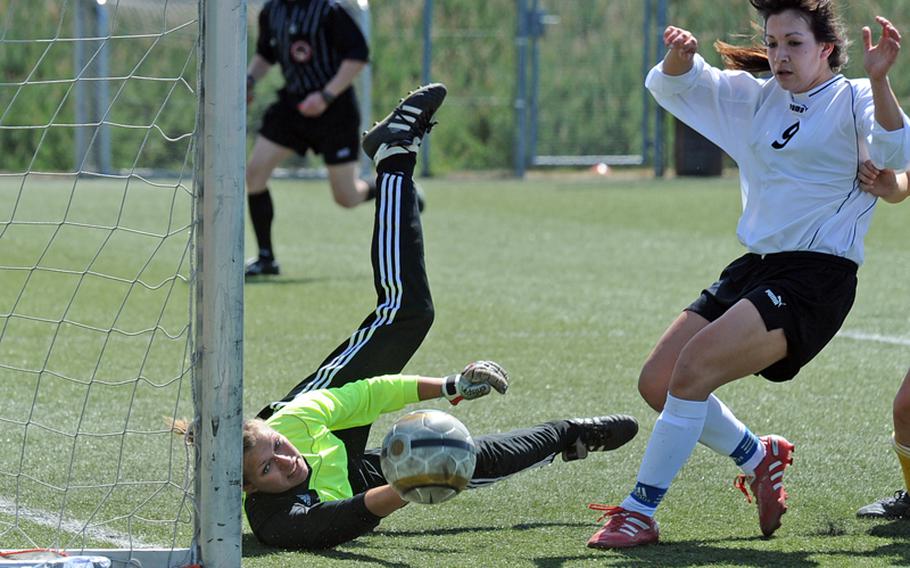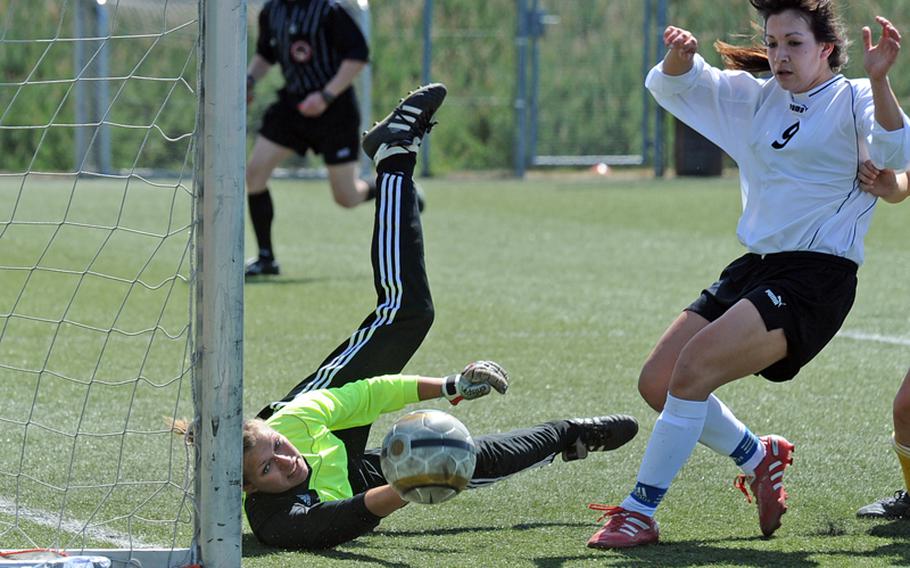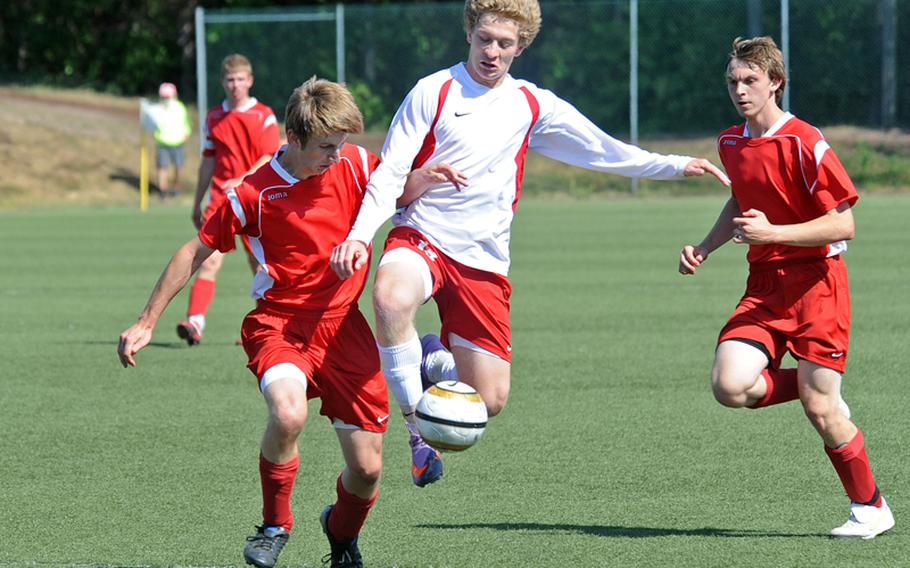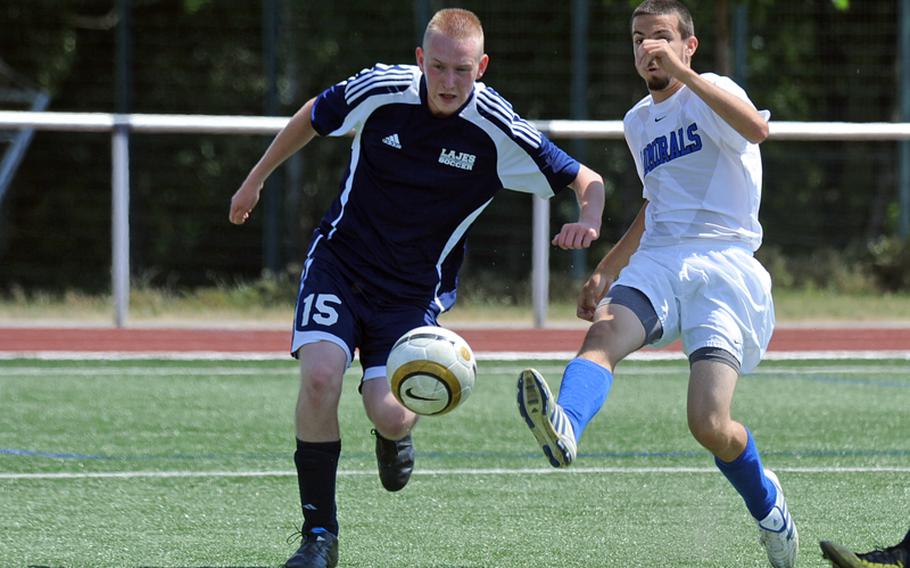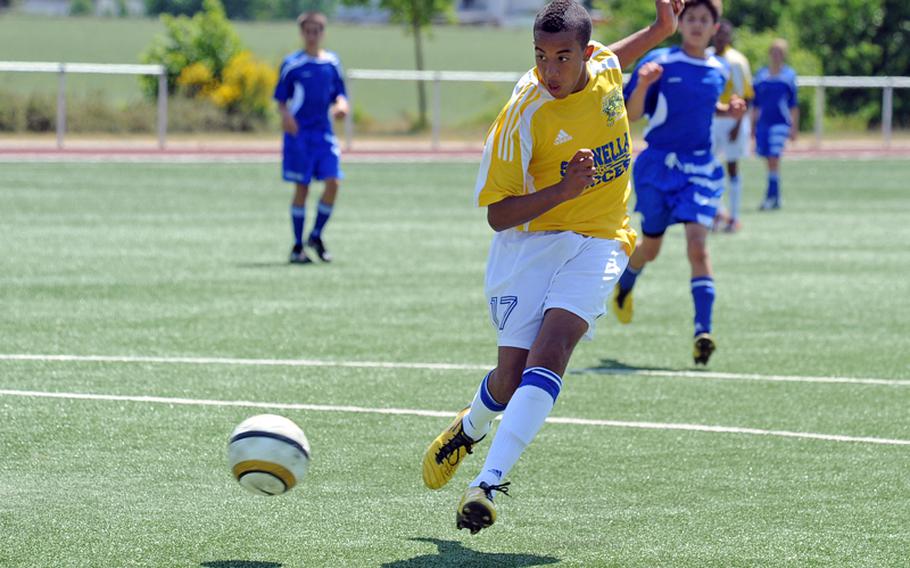 MEHLINGEN, Germany — On a perfect day for soccer, the defending European Division I champion Patch Lady Panthers played a practically perfect soccer game, blanking sixth-seeded SHAPE 2-0 Wednesday in their pool-play opener of this four-day event.
"We've been working hard on our diamond, keeping our shape on defense," said senior All-Europe defender Sara Reynolds after she and her fellow defenders had posted their second shutout of a Division I team in the space of five days. Patch beat Vilseck, the No. 4 seed, 2-0 last Friday in the regular-season finale for both teams. "We want to keep tight as a unit."
Reynolds was just one of the four Patch All-Europeans to stand out on Wednesday. Her fellow All-Europe classmates Emma Murray and Elysia Verones each scored a goal, and junior All-Europe goalkeeper Ellie Welton deflected every shot SHAPE was able to muster before leaving the game 15 minutes before the final whistle with an injured left knee.
The injury occurred when a loose ball bounced through the box on the artificial turf at the Rote Teuful Sportpark field here. Welton, who began the game with a brace on her knee, tried to step out and corral the ball, but crumpled to the turf. She watched the end of the game on crutches and it wasn't clear whether she might be able to play Thursday.
With Reynolds and speedy freshman Tori Gilster defusing SHAPE's every penetration, Welton's absence wasn't felt. That wouldn't be the case at Reichenbach-Seegen at 11 a.m. Thursday, when the Panthers, holding a badly understated No. 7-seed despite a 6-1 record, take on the No. 2 Heidelberg Lady Lions. Heidelberg downed Patch 3-1 April 23.
The difference in seeding doesn't seem to bother Patch. "I think of all teams as being equal," said Verones, whose individual work set up both hers and Murray's tallies. "I don't think about one team being different from any other."
Patch went up 1-0 about 12 minutes into the game when Verones made a run down the right side, worked her way into the box past two defenders, then chipped a pass back to Murray at the top of the box. Murray rapped the ball into the net behind SHAPE keeper Meghan Fleet, who was forced to come out to her left to deal with the threat from Verones.
Verones used the same sort of movement on her own score 19 minutes later. Again starting from the right side, Verones worked her way into the box past two defenders and steered the ball into the upper left corner of the SHAPE net.
In other Day 1 games of note:
Lakenheath boys 2, Kaiserslautern 1: Joe Sullivanscored twice to lift the No. 6 Lancers over the No. 7 Red Raiders.
Even though the Lancers were coming off consecutive 1-0 blankings of D-III top-seed Alconbury and defending D-I champion SHAPE, the Raiders might have appeared to have a home-field advantage since they were playing so near their hometown. But it was the Lancers who felt comfortable, according to Sullivan, even though their home is an 14-hour bus ride away.
"We really try to band together," he said. "We bond on the bus and while staying together in the hotel."
Patch boys 2, Vilseck 0: In a rematch of last Friday's regular-season finale between the two, won 2-1 by Patch, Jon Lightner set up both goals for the No. 3 seeded Panthers.
Jake Camacho and Charlie Schoonover made efficient use of Lightner's passes, and T.J. Liquori and Drew Penrod kept Vilseck scoreless.
Rota boys 3, Lajes 0: At Miesau, Carlos Shay scored twice and Niko Fichera once as the Admirals shrugged off being a player shy.
Shay, just moments after junior Austin Hall was shown a red card for addressing his teammates in language the rules deem unacceptable,
beat the halftime whistle for a 1-0 lead.
"I guess it's 1-0," Rota coach Tom Birch smiled when asked where the family won-loss record stood after his Admirals had defeated a Lajes team coached by his son Ian. "My wife and Ian's grandmother told me, though, that they were pulling for him."
Play continues Thursday at the tourney's four pre-finals venues — FCK Rote Teufel Sportpark here, Redichenbach-Steegen, Waldmohr and the Horst Eckel Stadion in Miesau.