Patch flexes muscles as wrestlers return to mat
---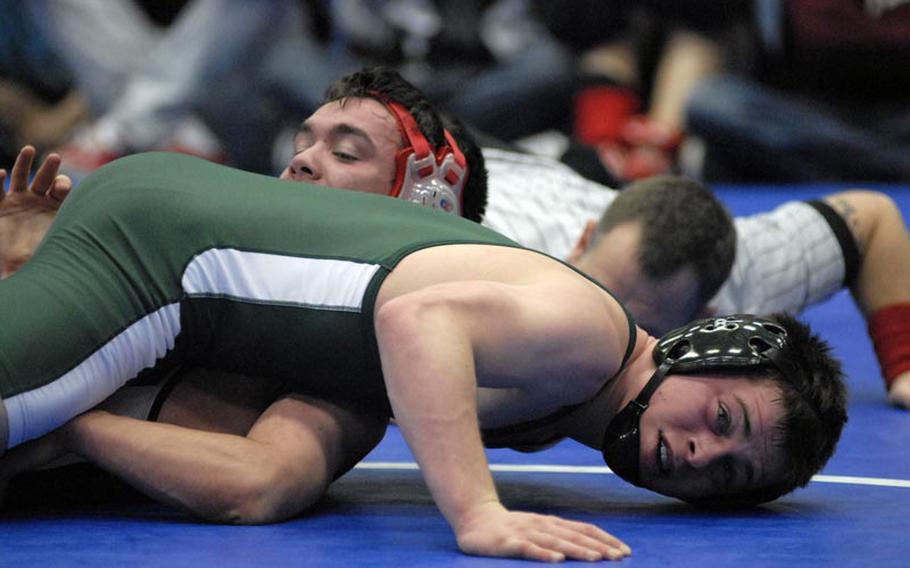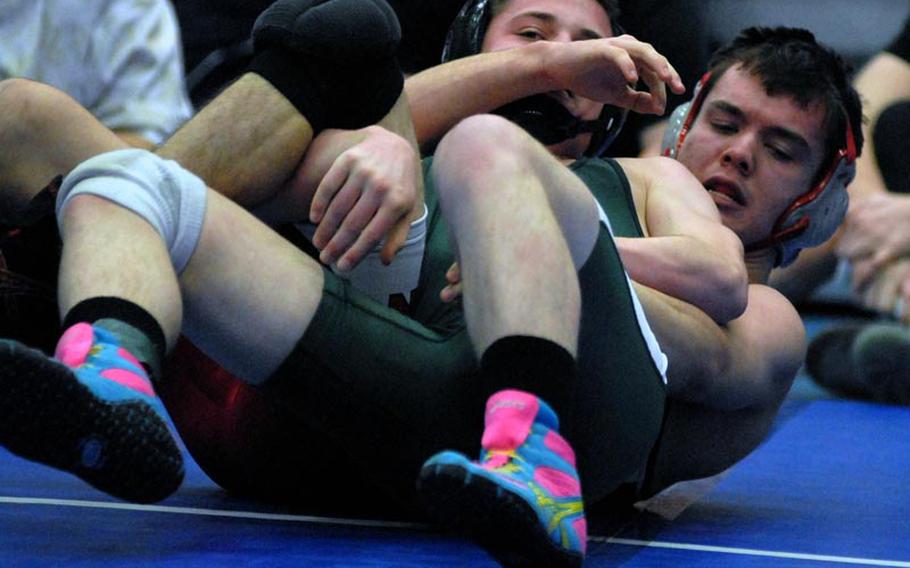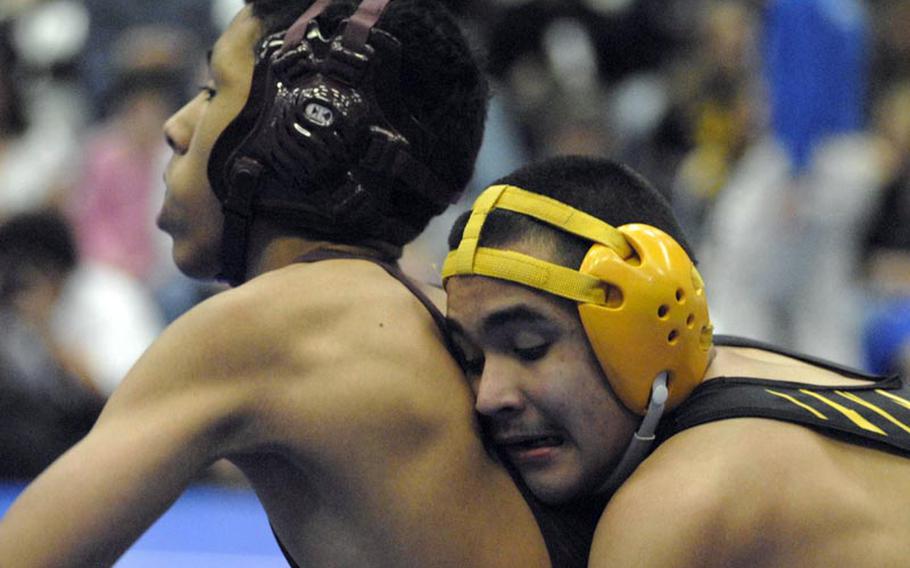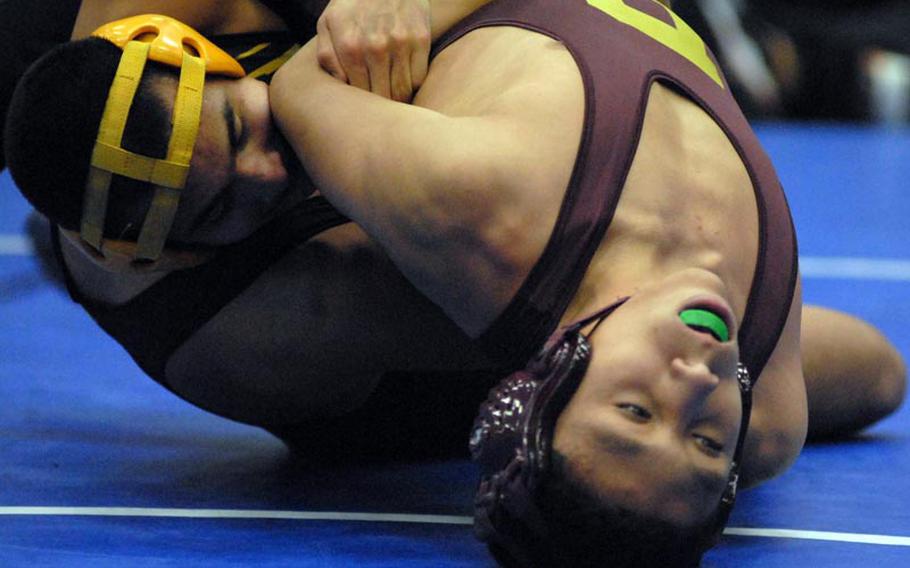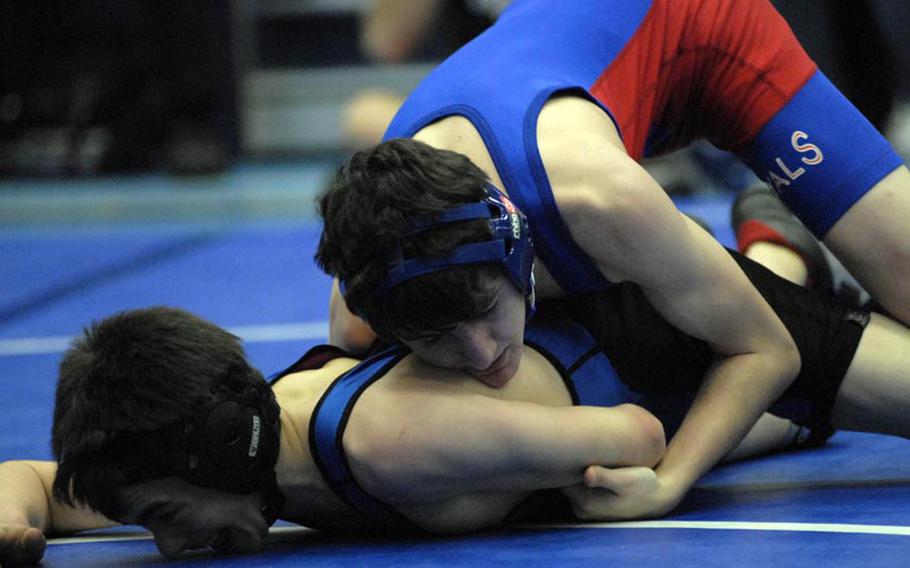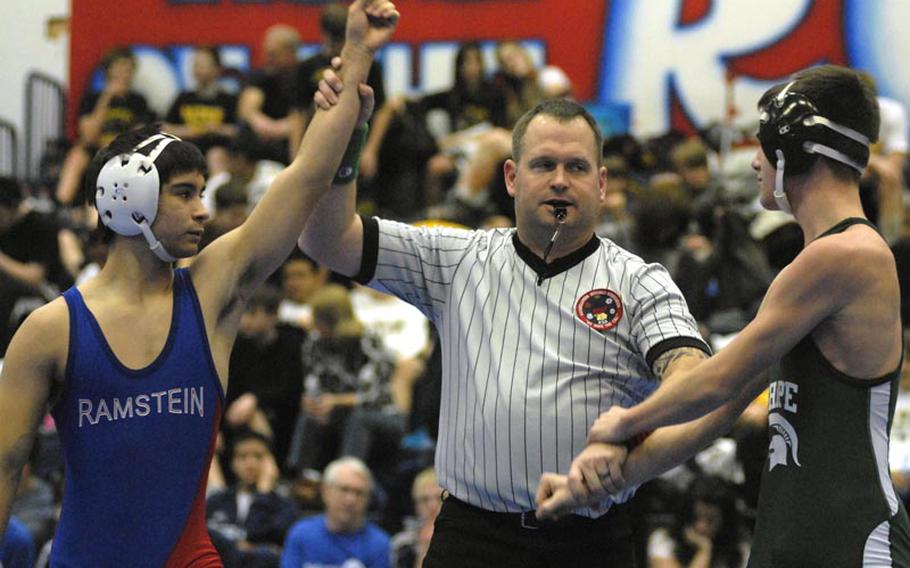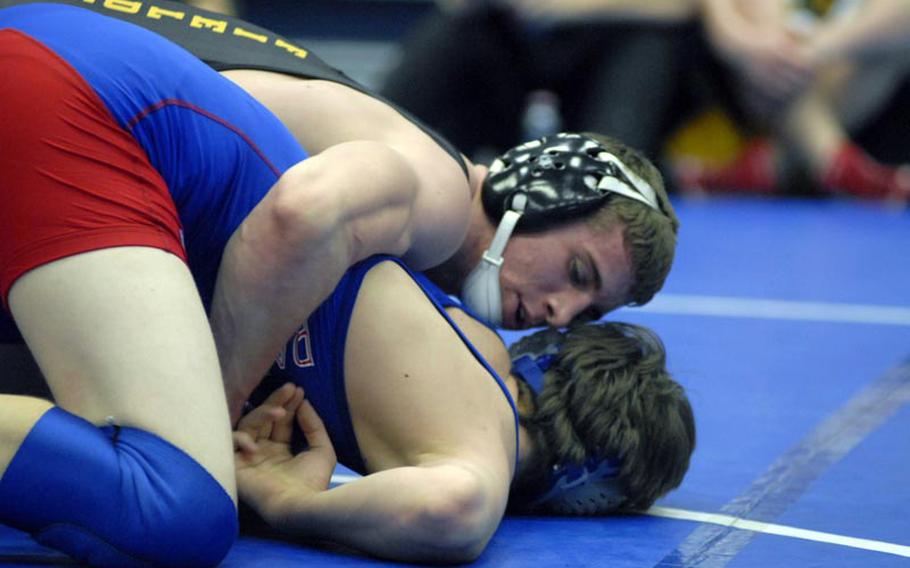 RAMSTEIN, Germany - For many DODDS-Europe wrestlers, it was good just to get back on the mat. For perennial powerhouses Ramstein and Patch, it felt like they never left.
Patch showed Saturday they've got their sights set on next month's European championships, a fourth-straight Division I title within their grasp. Ramstein and the rest of the pack showed that if Patch wants to repeat, it's not going to be easy.
The Royals played host to a seven-team DODDS-Europe wrestling tournament on Saturday, the first matches on the schedule in more than a month. Patch took first with 269 points, followed by Ramstein with 211.5 and the other five teams far back.
"It's very hard to be out for such a long time," said Patch senior Albert Suarez, a first- year wrestler for the Panthers, after transferring from Colorado Springs. "The thing about the holidays is that when (the family is) chowing down, you're thinking Europeans and having to keep that weight," Suarez added.
Ramstein junior Ryan Goins, last year's silver medalist in the 103-pound weight class, said it's a special occasion anytime his squad gets a chance to wrestle Patch.
"All the wrestlers, we're all friends, but once we get on the mat, it's on," Goins said.
Although there were plenty of titlists from last year's championships on the mat Saturday, two-time defending gold medalist Calen Fields from Patch isn't taking anything for granted.
"I'm not defending champion at 170, I haven't won that yet," said the Panthers senior who has already notched titles in the 145-pound and 160-pound classes.
Fields was wrestling in his first meet of the season, after nursing an ankle injury over the past few months.
"It killed me to sit there and watch," Fields said.
He came out of the gates touting a more aggressive style than he's displayed in past seasons as he made quick work of his first two opponents to move into the final match.
Another two-time champion, Ramstein senior Adam Franz, moved to Saturday's championship bout, but admitted that his confidence is his worst enemy right now.
Like Fields, Franz moved up in weight this year, competing in the 126-pound category after wrestling at 103 and 119 pounds the last two years.
"It is a challenge, the kids are a lot stronger…I'm trying to build confidence," Franz said.
After a quick takedown of SHAPE junior Karl Kristensen in a semifinal match, Franz seemed to be in control of his psyche once again, but lost his mojo in the championship bout against unrelenting Patch junior Jacob Andrus, who grabbed momentum from the start and unnerved Franz en route to a 13-7 decision for the upstart Panther.
It was the lightest weight wrestlers who provided, arguably, the most drama during the meet, as scrappy Kaiserslautern sophomore Matt Fischer looked to be on the way to the 106-pound championship until Ramstein senior Steven Cavanaugh got a cradle in the match's final seconds to swipe victory out of Fischer's hands.
Fischer wasn't discouraged with silver, though.
"I tried my hardest..I just hope next time I come out on top," Fischer said.
Gold medals weren't just strung around the necks of Panthers and Royals on Saturday.
SHAPE senior Matt Lengyel, also moving up a weight class after capturing a title last season, used a series of low-risk/high-reward moves to outlast Ramstein senior Bryan Caldwell to earn first in the 138-pound class.
"It's good to feel like you beat the schools that everyone's talking about," Lengyel said about Saturday's tournament. "It shows kids from other schools can wrestle too."
---
---
---
---