Patch edges Hohenfels by two points for marksmanship title
---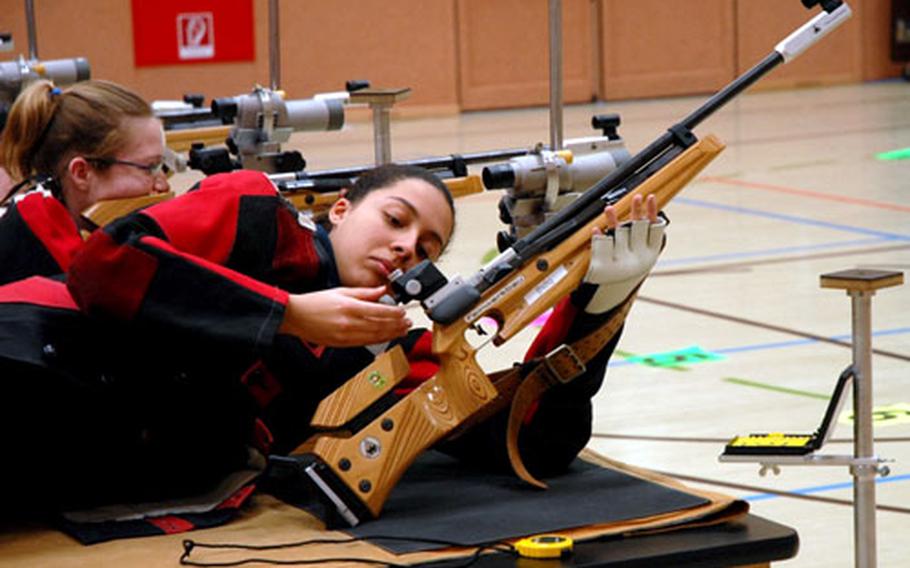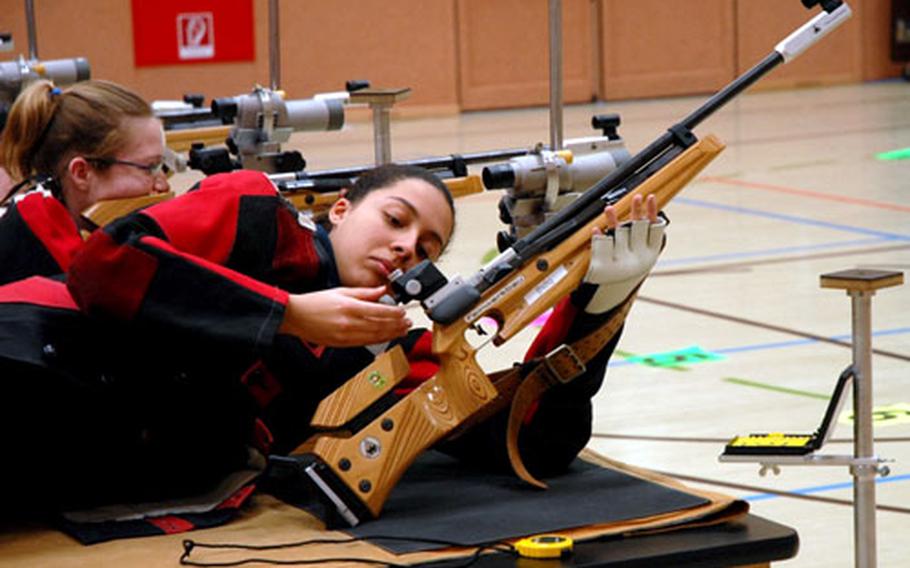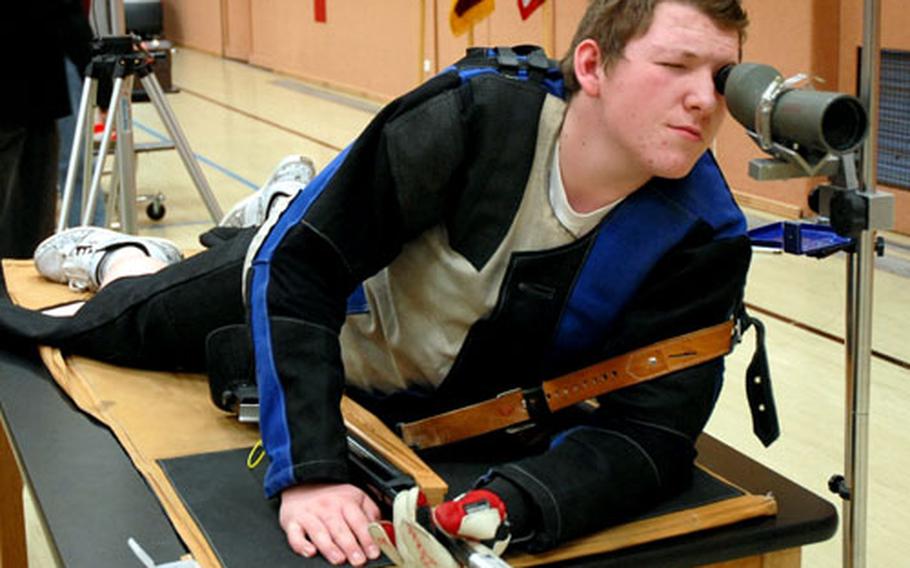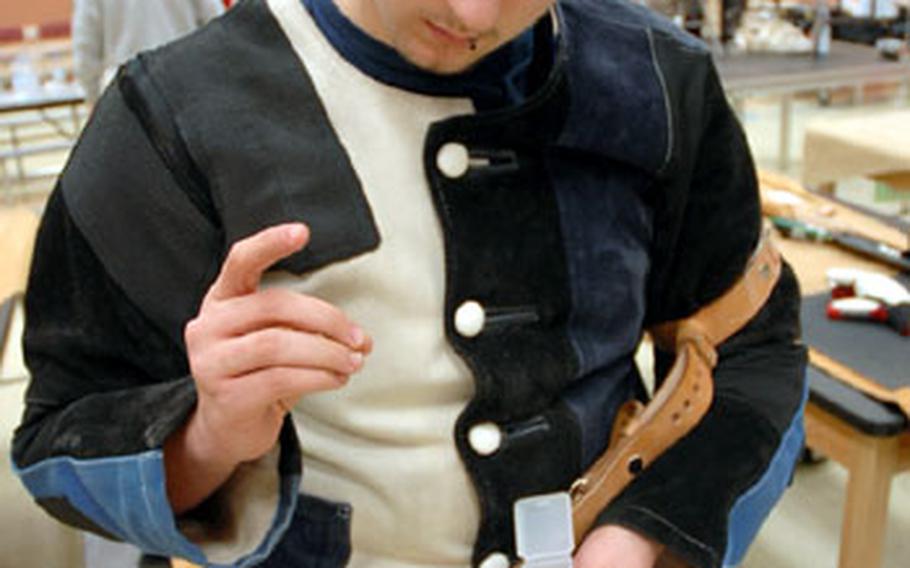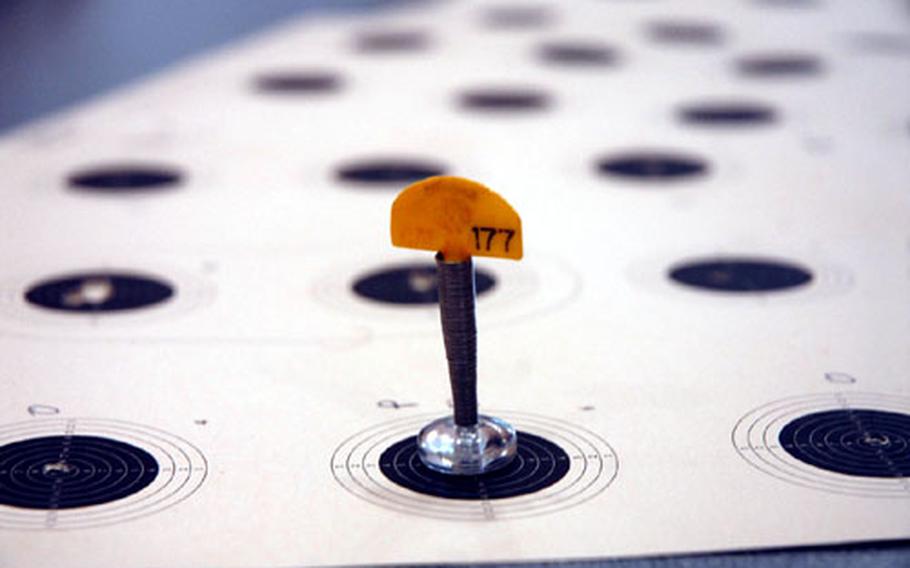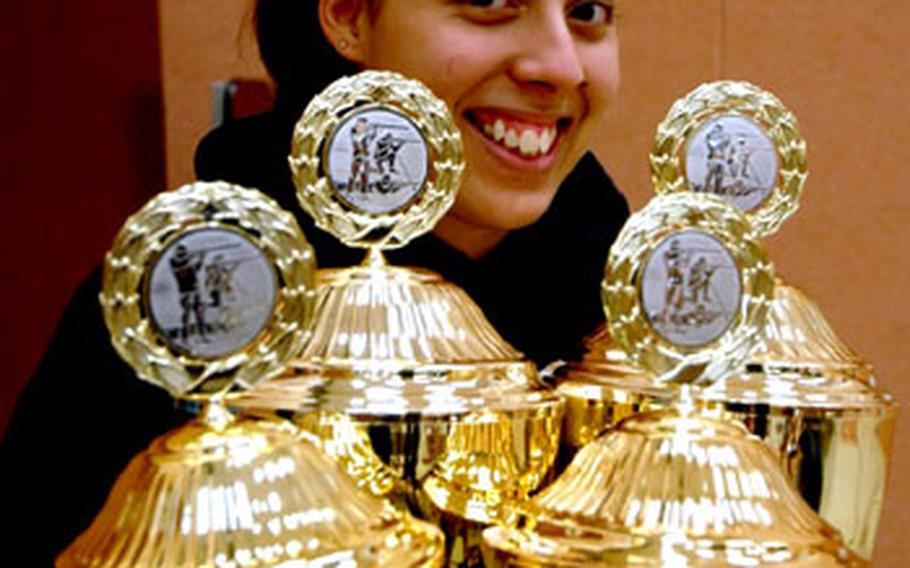 VILSECK, Germany — Patch and Hohenfels lived up to their billing as the top marksmanship teams in DODDS Europe on Saturday, with Patch — on this day at least — being just a bit better.
Patch won the European rifle championship by defeating two-time defending champion Hohenfels 1,397 to 1,395.
"They shot well," Patch coach Jack Wayne said of his team, which was led by senior Leah Lynch's overall score of 282, second-best in the tournament . "You never know if it's going to be an up day or a down day in shooting."
Patch and Hohenfels were expected to fight it out for the title. Both were conference champs, Hohenfels had the year's top individual scorers, while Patch had twice broken 1,400 points and a longstanding European team event record this season.
Six teams participated in the championship, with Ansbach taking third, followed by Vilseck, Mannheim and Heidelberg. Each team had six shooters, who fired 10 .177-caliber pellets at a bull's-eye target in the standing, prone and kneeling positions. The lowest score was thrown out, with the remainder added up for each event. The maximum number of points for each event was 100 for individuals, 500 for the team. The maximum for the tournament was 300 individual points, 1,500 for a team.
In addition to Lynch's overall score of 282, Lynnise Johnson tied for first in the kneeling position with a 95 and for third in prone with 96, and Ashton Moritz tied for first and Christina Lowry took third in the standing position, with 94 and 93, respectively. Moritz was also part of the eight-way tie for third in prone.
The day's best shooter was Hohenfels junior Jessica Walloch, who also bagged the trophy for top marksman for having the best total score during the year.
"I'm satisfied with the way I shot today; I feel I did my best," Walloch, 16, said immediately after the team events.
Walloch had the top overall score, 284, and won the prone position with a 98 and tied for first in standing with a 94. She also won an exhibition shootout after the team competition to determine the day's top individual marksman. That competition involved the top eight shooters of the day — all of whom were from Hohenfels or Patch.
Her teammates, Emily Adams and Jacqueline Stone, tied for third for the top overall score with 280.
"They did the best they could do at the time," Hohenfels coach Bruce Andrews of his squad, adding that two years ago his team nosed out Patch by two points for the title. Five of his top six performers will be back next season.
Along with three other members of Hohenfels' 4th Junior ROTC Battalion, Walloch is on her way to Port Clinton, Ohio, for the Armywide JROTC air rifle championships on Feb. 9.
"I'm very excited to go," Walloch said, adding she hasn't been stateside since she was 11.
Patch's 8th JROTC Battalion will also send representatives to the competition, the seventh year in a row coach Wayne's shooters have gone.
Marksmanship European Championships (Saturday at Vilseck)Team scoring (1,500 points possible)—Patch 1,397; Hohenfels 1,395; Ansbach 1,350; Vilseck 1,342; Mannheim 1,315; Heidelberg 1,314
Top individuals
Overall (300 possible points)—1, Jessica Walloch (Hoh) 284; 2, Leah Lynch (Pat) 282; 3, (tie) Emily Adams (Hoh) and Jacqueline Stone (Hoh) 280
Prone (100 possible points)—1, Walloch, 98; 2, Anthony Thompson (Ansb) 97; 3, (tie) Stone, Victoria Johnson (Heid), Shawn Mills (Mann), Susan Grunt (Mann), Ashton Moritz (Pat), Alex Velez (Pat), Lynnise Johnson (Pat), Sarah Adams (Hoh) 96 each
Standing (100 possible points)—1, (tie) Walloch and Ashton Moritz (Pat) 94; 3, Christina Lowry (Pat) 93
Kneeling (100 possible points)—1, (tie) Kelly Mukes (Mann) and L. Johnson 95 each; 2, (tie) E. Adams, Stone, Lowry, Lynch, Catelyn Bronell (Hoh), Tiffany Fowler (Pat) 94 each
---
---
---
---