Patch edges Heidelberg in baseball showdown
by
Mark Patton
March 31, 2012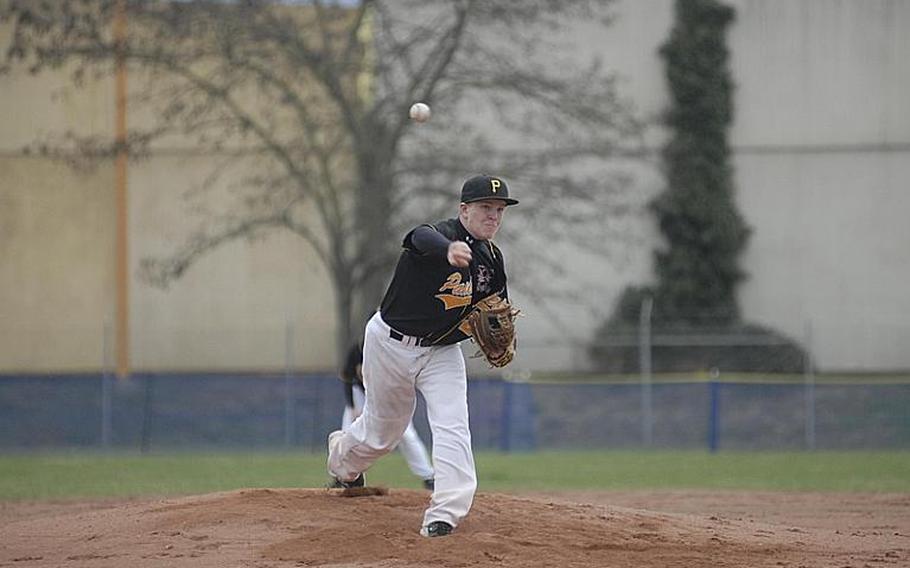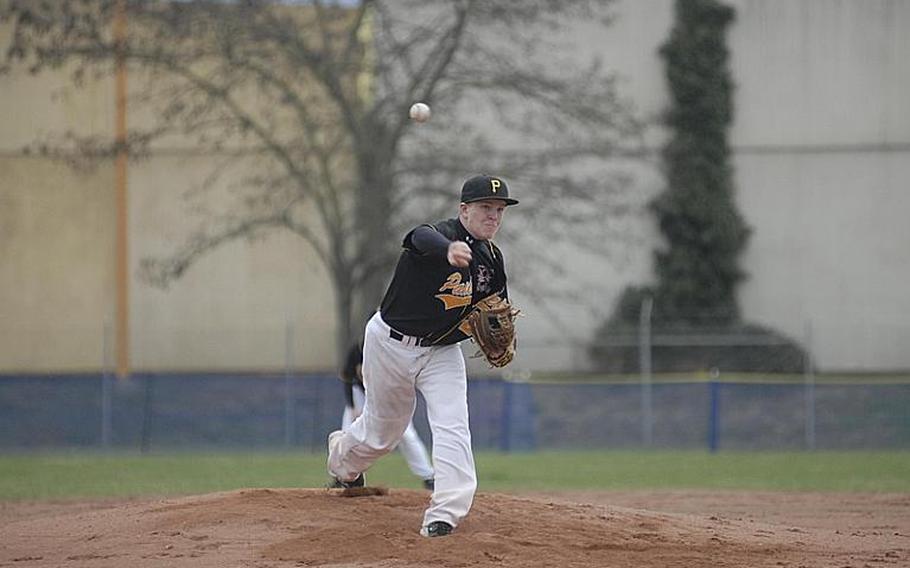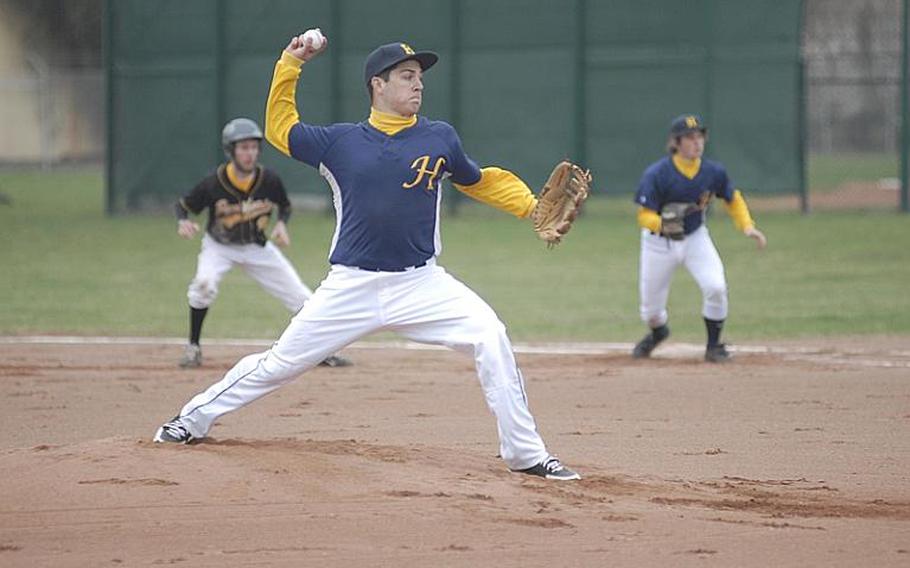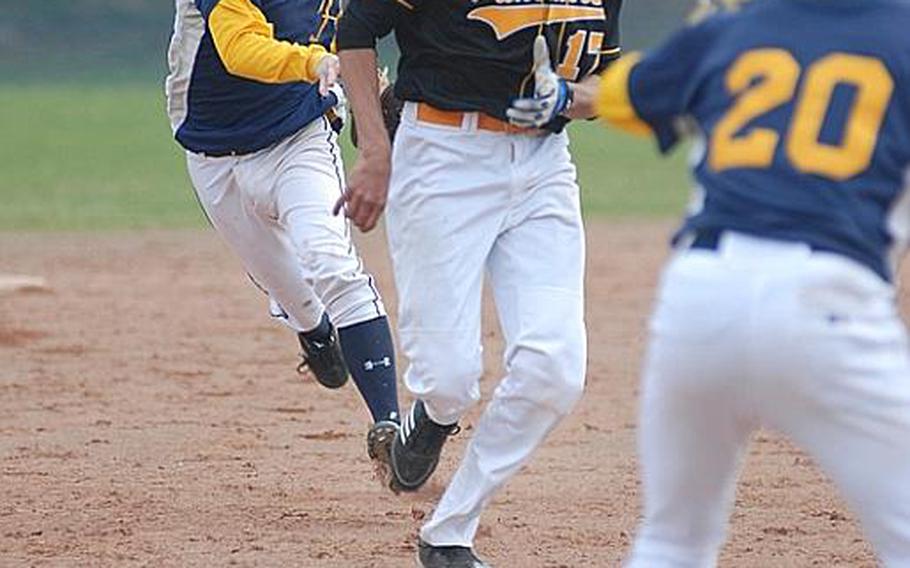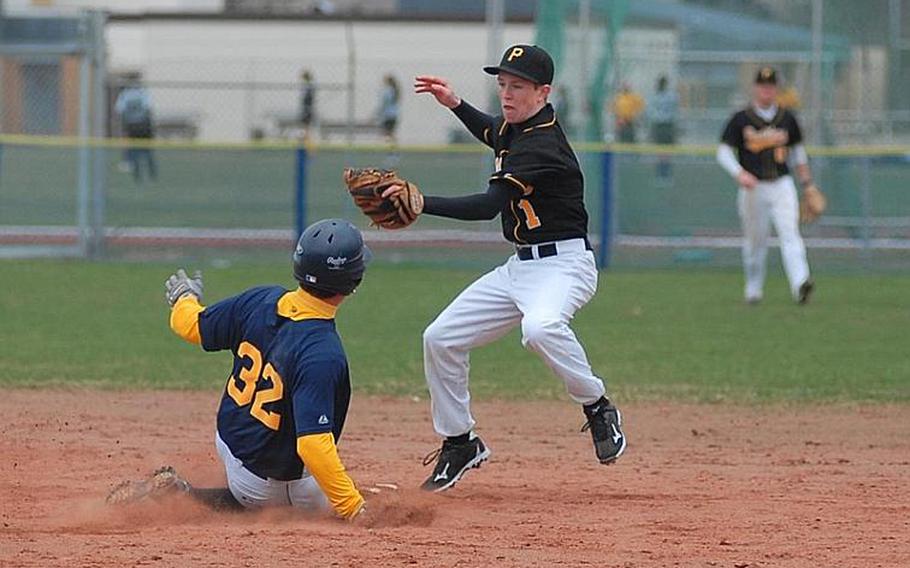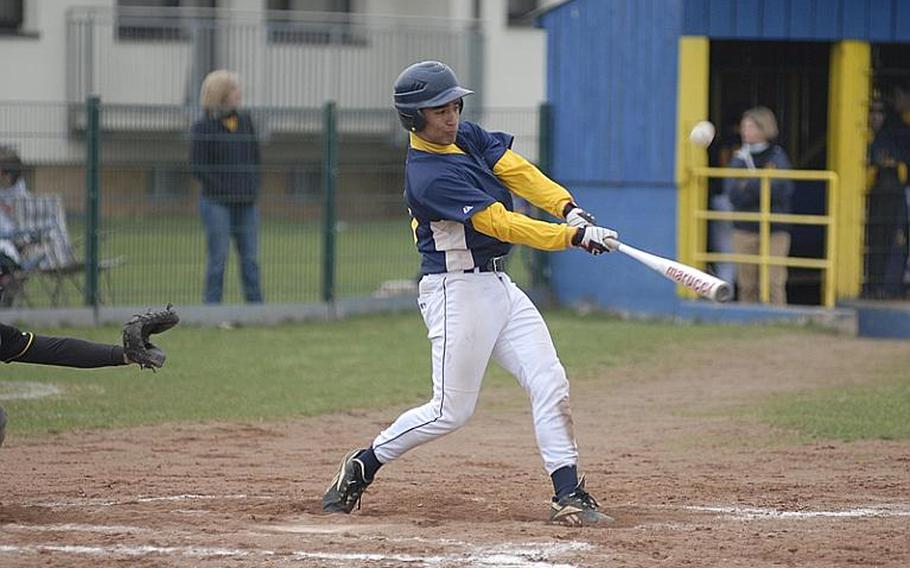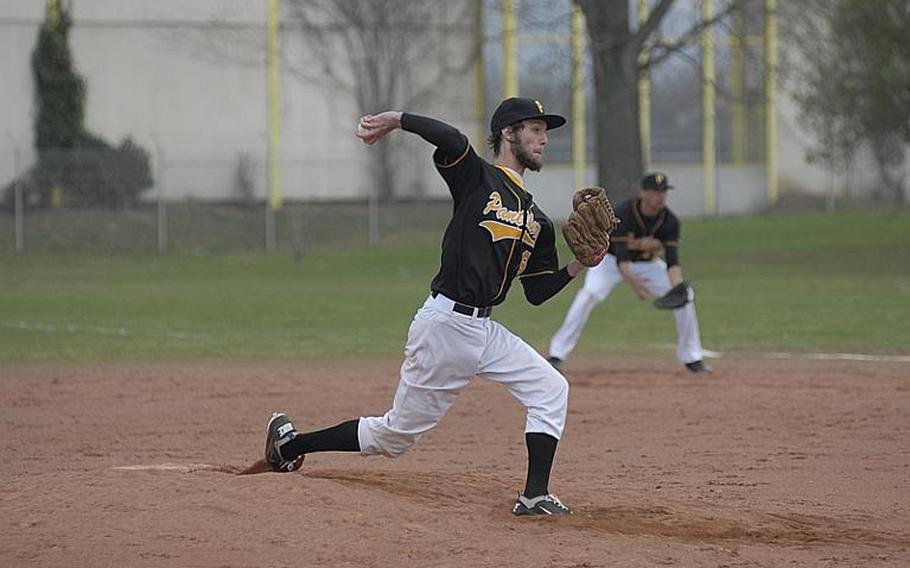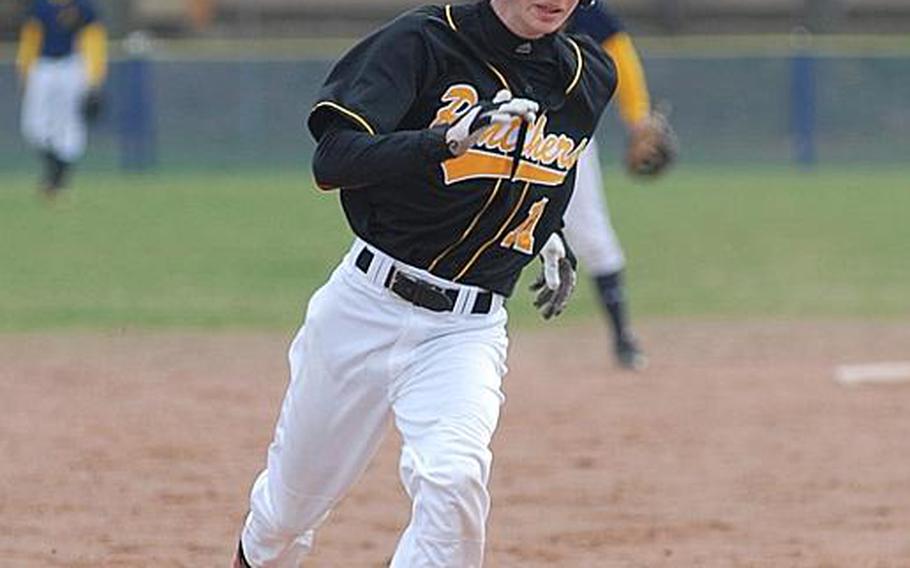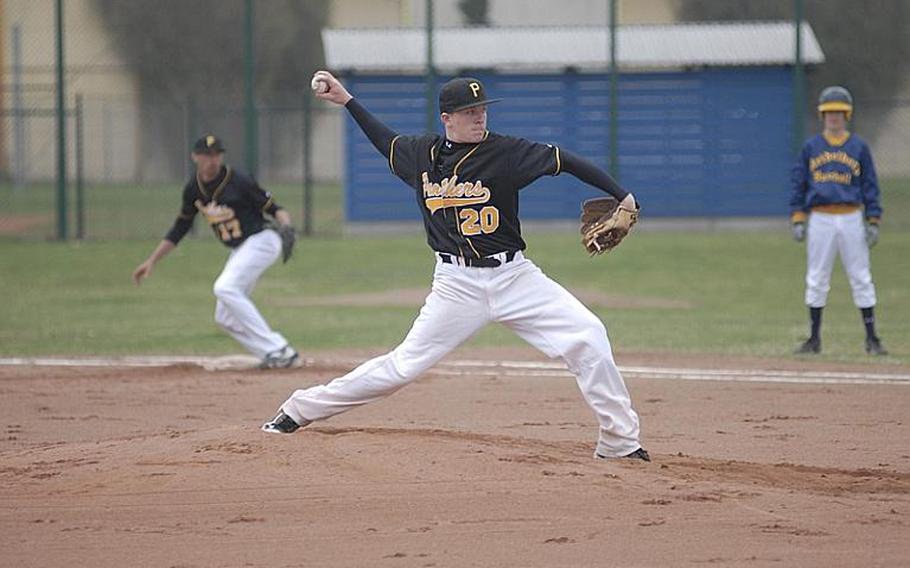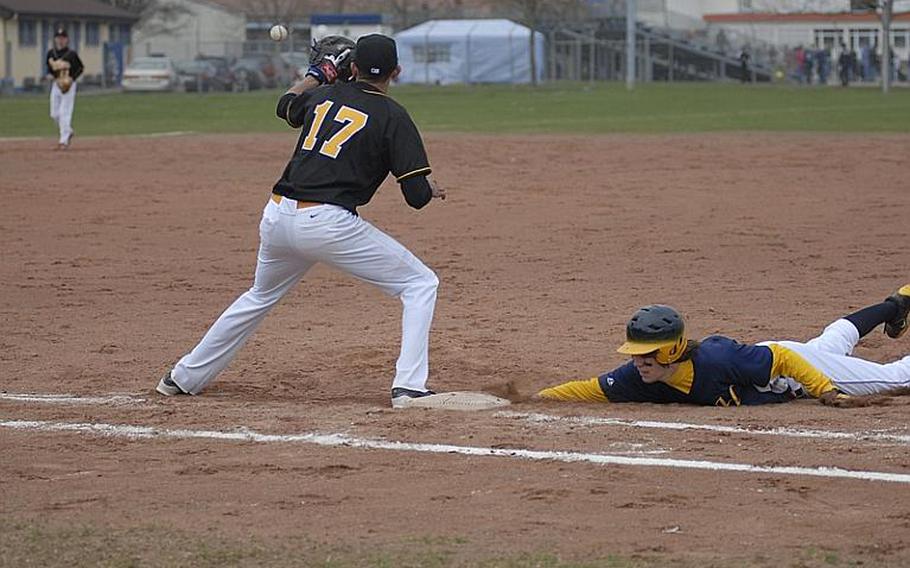 HEIDELBERG, Germany - It was a much-anticipated meeting of two All-Europe pitchers Saturday as Patch senior Dylan Measells, 2011 Stars and Stripes baseball player of the year, squared off against senior Alex Weaver from Heidelberg.
The matchup didn't disappoint as the two battled it out in the first game of a Saturday doubleheader.
And although Weaver's stat line looked better in the end, it was Measells and his Panthers teammates who came out on top, 5-4.
It was a game that was up in the air until the very end.
"Let's go," Weaver yelled to his teammates after making quick work of the Patch batters in the top of the fourth.
Coming to the plate trailing 3-1, the Lions responded to their ace's rally cry, cutting the Panthers lead in half. It looked like Measells was settling back into his groove, though, as Lions junior Joseph Patrick stepped to the plate with two outs and two runners on.
"He threw me a low inside and that's where I like it," Patrick said after belting a two-run RBI double down the third base line, giving the Lions their first lead, 4-3.
It was short lived, however, as Patch responded with its own rally in the fifth. Measells provided some offensive spark by hammering out a double to lead off the frame and Ryan Tannenbaum quickly equaled things up by splitting the left side of the Lions defense to earn an RBI single.
The Panthers were able to score one more in the inning and Measells held the Lions at bay in the bottom of the fifth to secure the victory. The game was called before the sixth due to time limit rules. A 12-minute discussion between the Patch coaching staff and umpires earlier in the game over a disputed call might have made the difference.
"It was a rookie mistake," said first-year Heidelberg skipper Justin Bates about not intervening sooner in the discussion, something he said might have been a Patch stalling tactic.
Measells, who gave up three earned runs on eight hits and struck out three, said the Panthers defense stepped up when it mattered most.
"We stayed in it and we didn't put our heads down when calls didn't go our way … we pulled through," Measells said.
Weaver, who struck out six Patch batters while only giving up five hits to the loaded Patch roster, said he's pleased with his performance, but he'd rather have a win than good stats.
"I'd rather win a game 11-10 than lose 5-4," Weaver said.
Heidelberg senior Caelen Allmon, a Lions captain, said he couldn't ask for better play out of his teammates.
"Even when we made mistakes, we kept our heads up and played hard; we were never out of this game," Allmon said.
Sean Rittenhouse led the Patch bats in the morning game, going two for two at the plate with 3 RBIs and a sacrifice fly. Jacob Parsons and Patrick both went two for three in game one for the Lions.
The fourth inning was again a momentum changer in the second game as the Panthers broke a 2-2 tie by exploding for five runs en route to a 7-4 victory, earning them the sweep.
CJ Kellog picked up the matinee victory, going the entire way for the Panthers.
"I think we responded a lot better the second game; we got our bats awake," Kellog said.
Despite the loss, it was hard to spot any Lions heads hanging low after the doubleheader.
"We're really happy with the way we played, just not happy about the outcome," said Patrick, who went two for three with an RBI in the second game.
His coach agreed, saying the team played poised and displayed a lot of character, but cited a few mental errors as difference makers in the outcome.
Bates said he wasn't ready to give his team the cliché feel-good speech, though.
"I'm disappointed … We came out thinking we could beat these guys two times in a row," he said.
---
---
---