European D-I baseball
Patch beats Ramstein in final for third straight year
---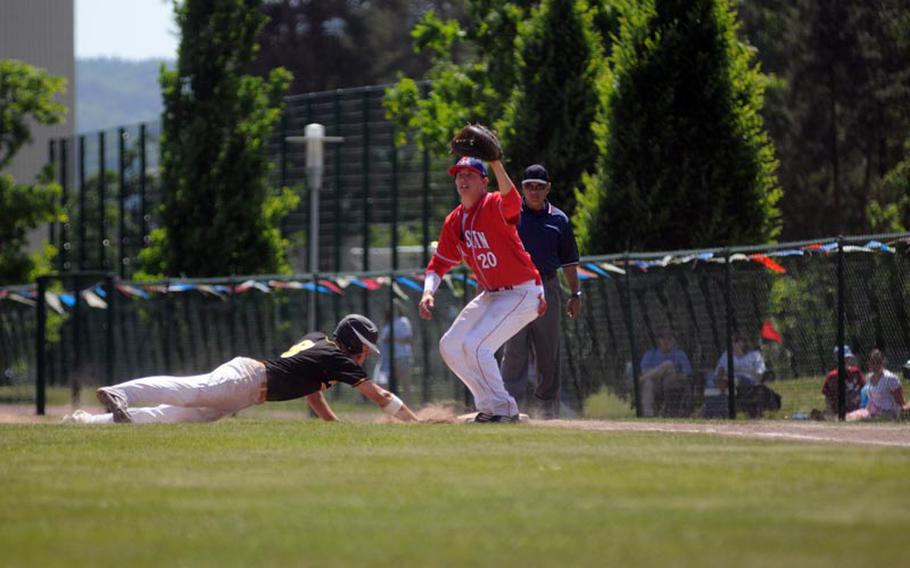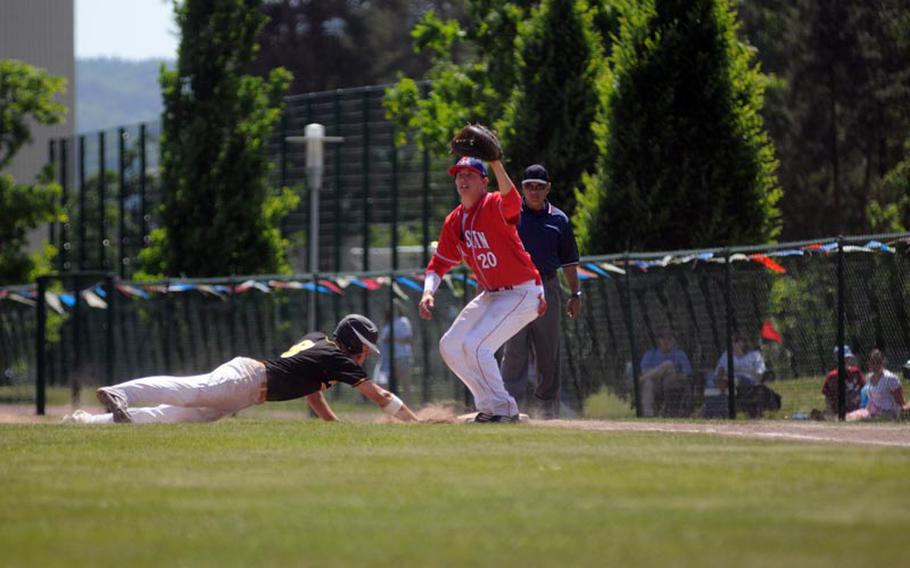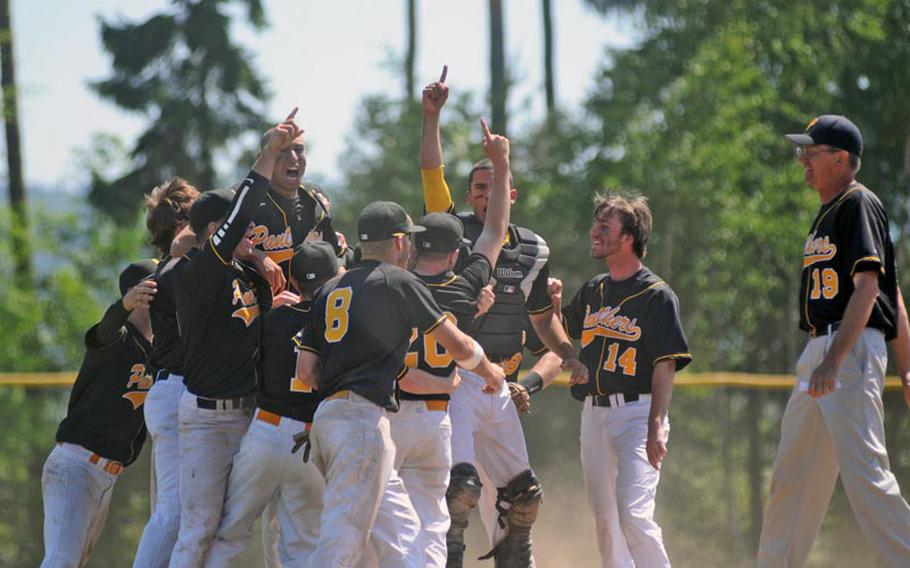 RAMSTEIN AIR BASE, Germany – The only thing not dripping with déjà vu during Patch's third straight Division I title game here Saturday was the final score.
This time, it was Patch 7, Ramstein 2, as the Panthers carved themselves a little more breathing room than they did in 2011, when they beat Ramstein 8-7 in the title game, and in 2010, when they edged Ramstein 10-9 for their first D-I title.
Other than that, however, it was business as usual for DODDS-Europe's premier programs, each of which was unbeaten coming into the finale.
All-Europe and Stars and Stripes player of the year Dylan Measells went the distance for his second straight complete-game, title-game victory over the Royals.
Even so, Measells said there was nothing ho-hum about doing it again.
"I wanted it," the senior who hopes to play college baseball either at Texas Wesleyan or Texas State next season. "It's my senior year. We had to take it."
Measells took it by taking it to the Royals the entire five innings of the game, which was called when the one-hour, 50-minute time limit kicked in. He allowed just three singles, one of them of the infield variety, no earned runs and struck out five.
Even so, it wasn't smooth sailing.
"I had to adust," Measells said. "I had the low outside corner all day, but they weren't calling it."
For the second straight year, Measells, who was instrumental in relief in the Panthers' 14-7 semifinal victory Friday over Heidelberg, was matched against Ramstein starter Jon Grotelueschen in the finale.
Grotelueschen, who was starting his third straight title game, was brilliant for three innings, shutting Patch out on just C.J. Kellogg's lead-off single and striking out four. But the senior ran into control trouble in the fourth, walking four, and Patch made him pay.
Consecutive two-run doubles by first baseman Andrew Mineni and Kellogg broke the game open, and semifinals batting star Ryan Tannenbaum followed with an RBI double. Before the inning was over, seven Panthers had crossed the plate and Dustin labit had come on in relief.
Mineni said he was being more selective when Grotelueschen lost command of the strike zone.
"I was sitting back," he said, "waiting for the breaking stuff."
Measells led off the inning with a walk and stroked a run-scoring single when he came up again in the frame. He, too, was being selective.
"A walk's as good as a hit," he said.
Hits of another sort sparked a 30-minute-or-so rules discussion when Patch catcher Jack Smith was ejected in the top of the fifth for a lack of bat control. He inadvertently hit Ramstein catcher Jacob Van Parys with his stick three times in spite of being warned.
The time limit clock was topped as umpires, coaches and officials investigated the rules before finally calling Smith out as well as out of the game.
The clock re-started with four minutes left, but Measells retired Ramstein in order to end the game. The Royals finished their season 18-1.
Patch wound up 17-0, and the analysis Panther coach Drake Marbury put on Saturday's game undoubtedly applied to the entire season.
"This was a total team effort," he said as he left the field. "Every player from the top to the bottom of the lineup did his job."
Added Kellogg, "This is a great way to go out."
---
---
---
---