Past accomplishments mean little at Far East meet
by
Dave Ornauer
February 13, 2020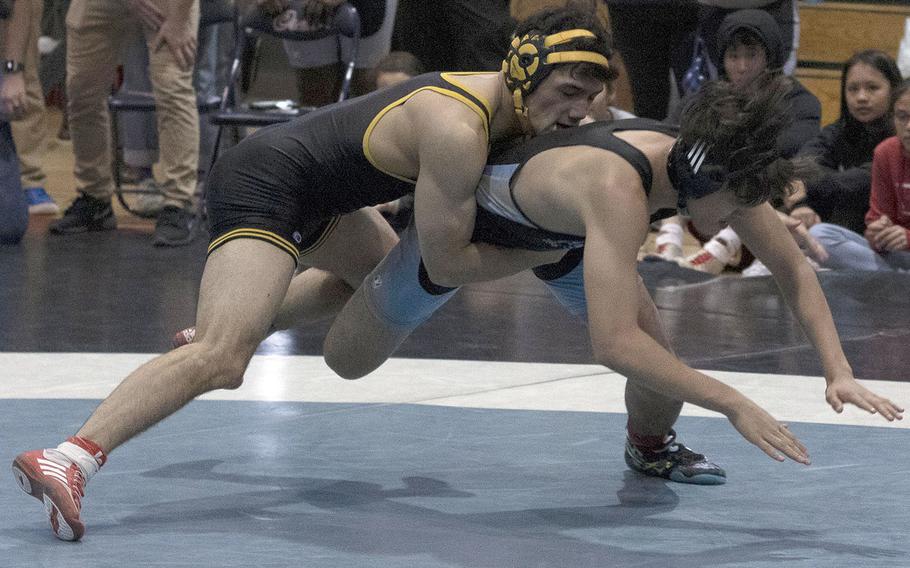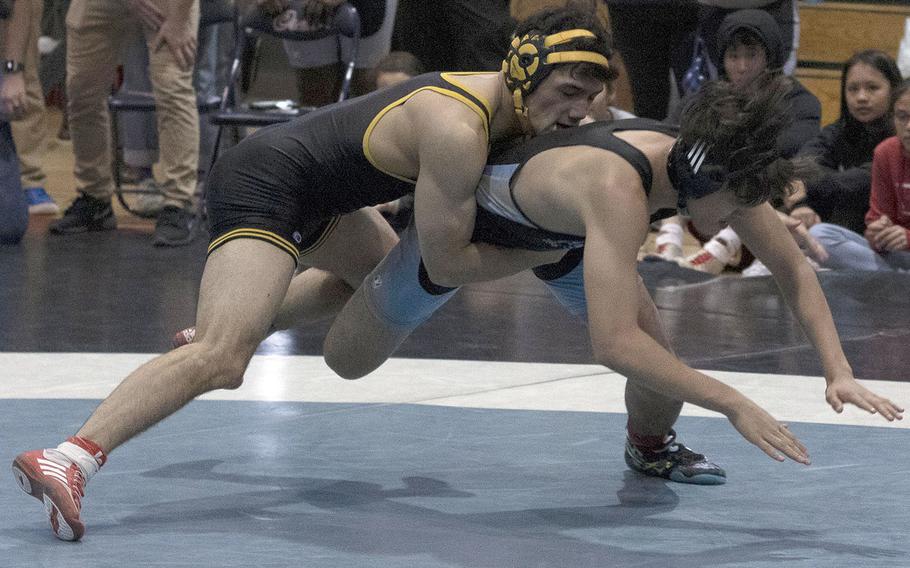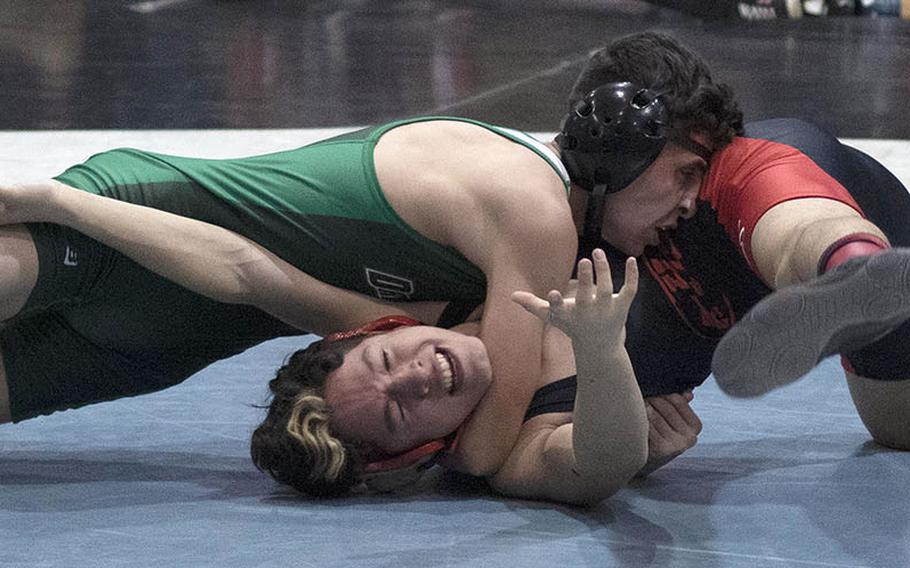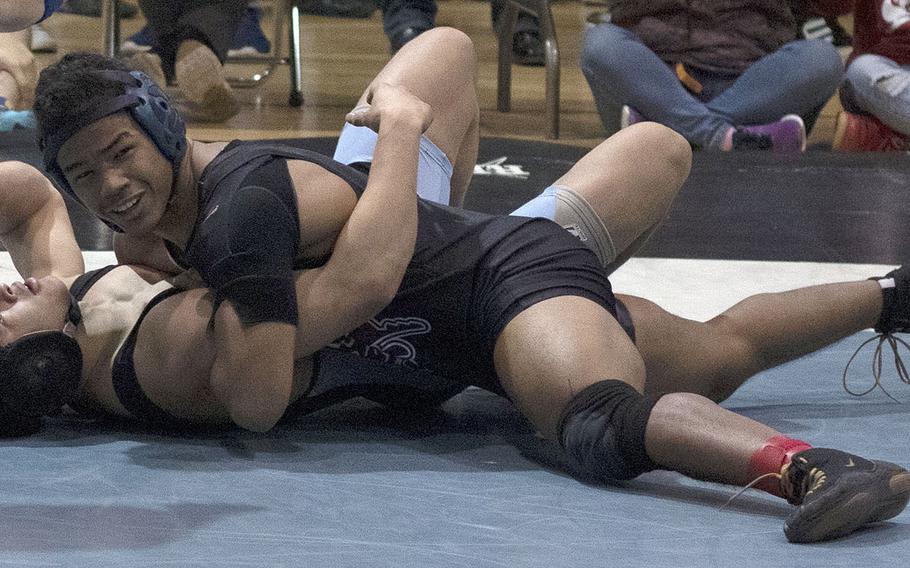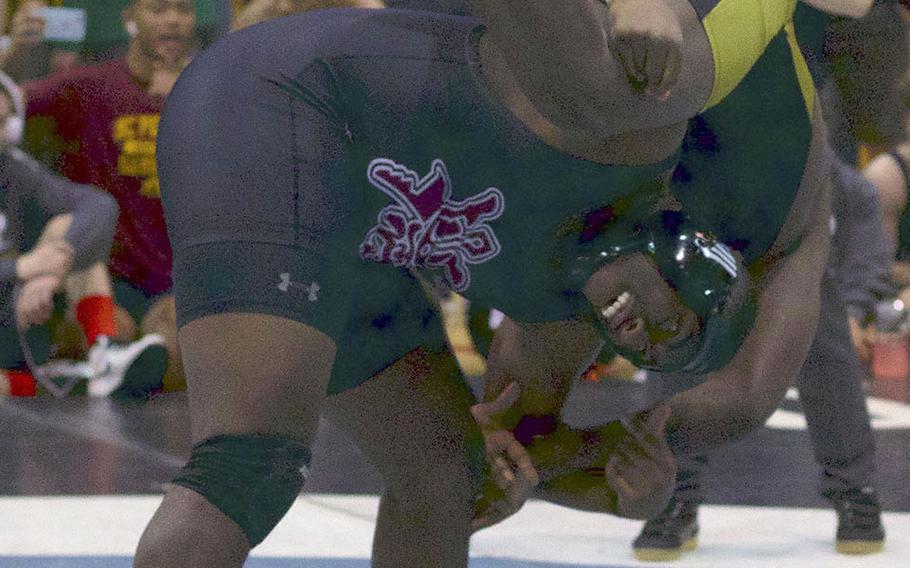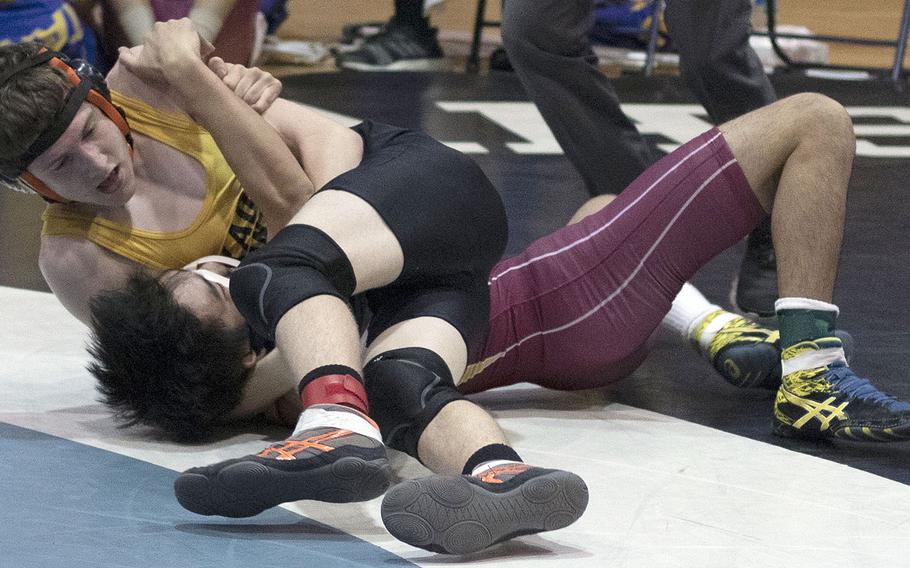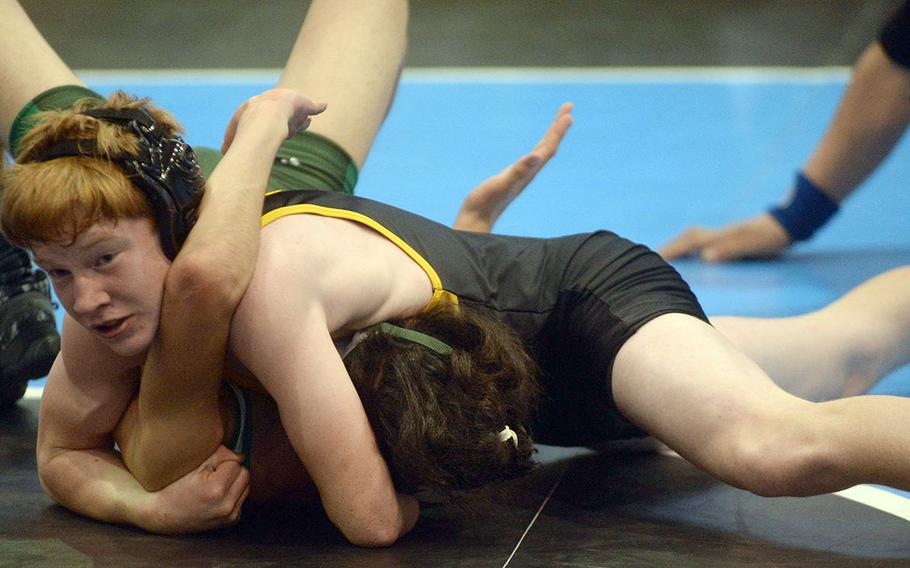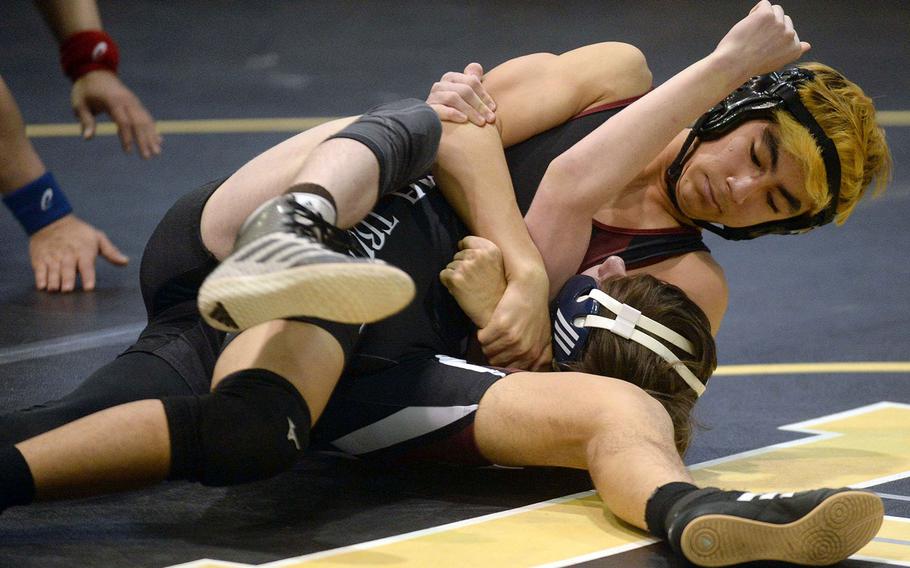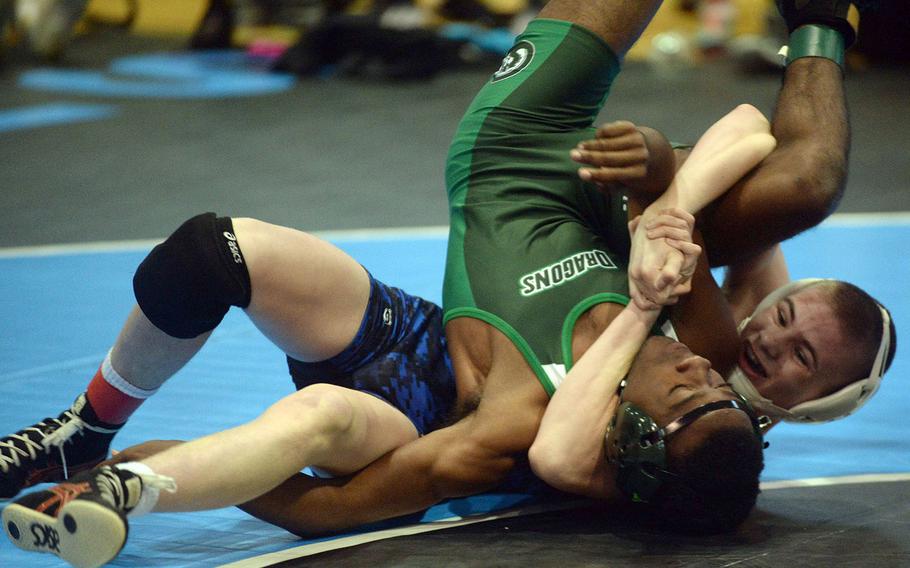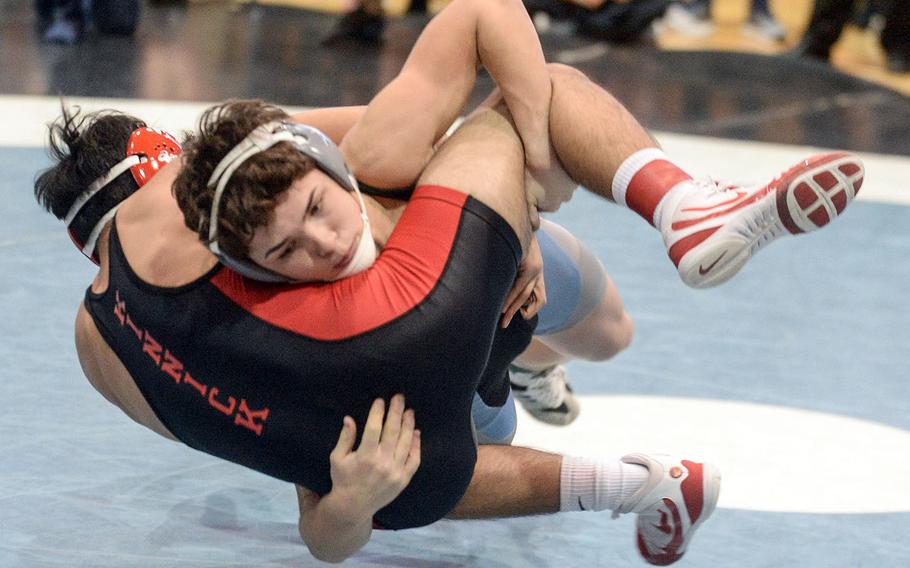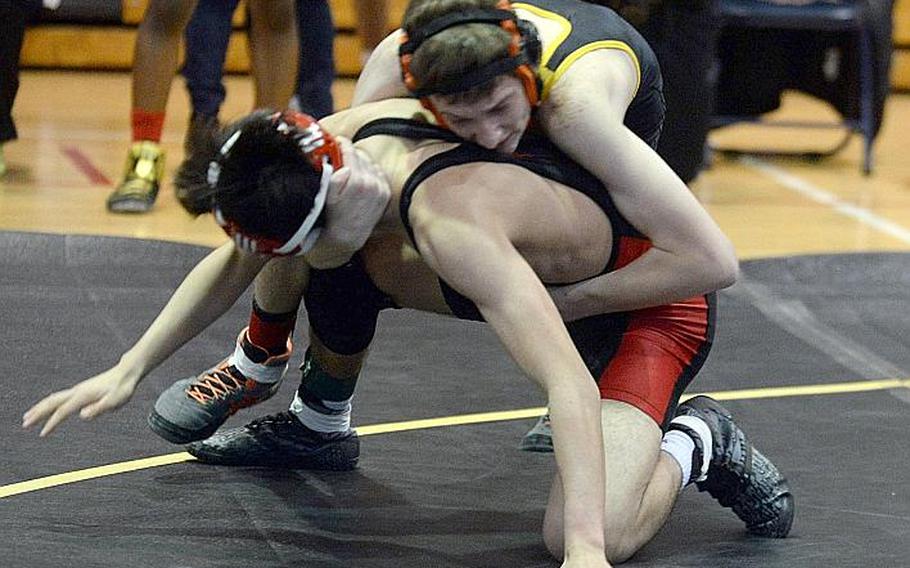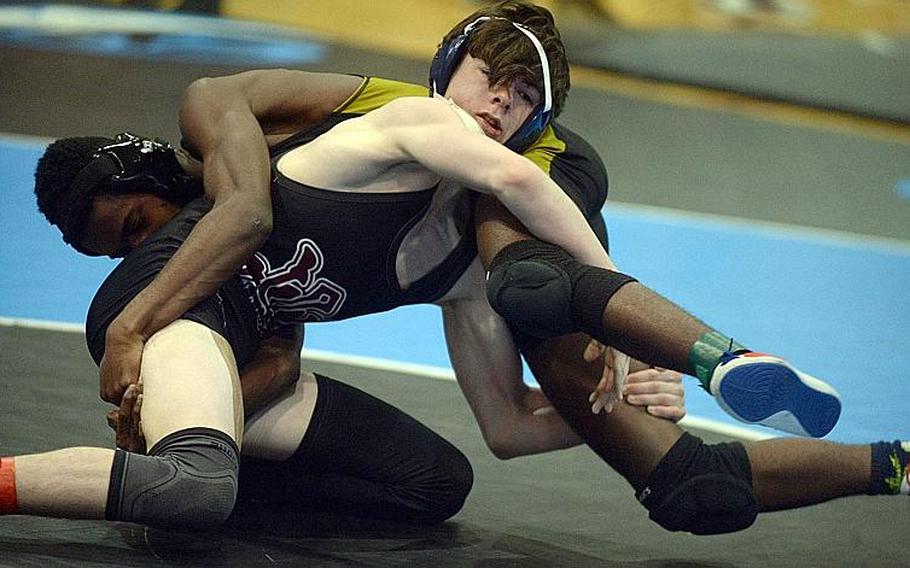 OSAN AIR BASE, South Korea – Austin Fisher wasn't expected to be in this position.
Considered an underdog, with Kubasaki's Haydn Peterson the returning champion at 215 pounds, Fisher, a Yokota senior, instead provided one of several surprises on Thursday's first day of the 42nd Far East High School Wrestling Tournament.
For the second time this season, Fisher pinned Peterson, this time in the 215-pound semifinals. The first time was at last month's "Beast of the Far East" Tournament, when Fisher pinned Peterson in 31 seconds in the final.
And Fisher said he was prepared for anything the second time around.
"I knew he was going to be at his best for this one," Fisher said.
It was just the second time in his career that Peterson suffered a loss by pin. He had gone unbeaten in his junior season, only to come up short in his bid for two straight Far East weight-class titles.
"At the beginning of the season, I'll admit, I was cocky," Peterson said on Tuesday, two days before the start of Far East, adding that he knew "I have to compete as an athlete and not take anything for granted."
Upsets ruled the semifinal round as Far East began with the first few rounds of individual-freestyle competition. The fifth- and third-place and championship matches are set for Friday, followed by the dual-meet portion which runs through Saturday.
Peterson's awakening at "Beast" was the same sort of lesson that Caleb Heino absorbed a season ago at the hands of one wrestler whose puzzle he could not solve.
The Yokota senior won the Far East 101-pound title in 2017-18 as a sophomore, but fell short of a repeat, losing 11-1 to his season-long nemesis, Jordan Van Druff of Christian Academy Japan in the 108 final.
Heino says being unable to beat Van Druff all of last season has motivated him to end his career back on top, this season at 122 pounds.
"Anything can happen and I have to be ready for that," Heino said, adding that in dual meets when the other team has nobody for him to wrestle, Heino has offered to go up a weight and wrestle an exhibition bout "just to get more experience."
"Even if it's somebody I've already beaten, this could be the time he beats me, and I have to be ready for that," Heino said. Heino won his semifinal bout, against defending champion Jaylan Mayers of Kubasaki, and faces Zama's Kaito Hayashi in Friday's final.
Other wrestlers and coaches said they share Peterson's and Heino's viewpoint, knowing that they can't just bring a weight-class title or a team banner to the mat and expect to repeat.
Kubasaki, which won the Far East individual freestyle team title last year, ended up winning the "Beast" team title despite Peterson's loss.
"I know we have it in us," Dragons coach Brent Cook said of possibly repeating the D-I team title, "but until we get on the mat, we just don't know. I'm 22-2 against Kadena. Two losses. We're not unbeatable."
Much can change in just the three weeks between "Beast" and Far East, Kinnick coach Gary Wilson said, such as coaches moving wrestlers up and down a weight or two, while others could be sidelined by injury.
"I think there are several teams that could win the individual team title," Wilson said, adding that Kubasaki is "solid throughout, with several favored to win their brackets. It will be close enough, though, that a few fifth- and sixth-place matches may decide the title."
Cook describes the D-I team-title chase as "wide open, especially the way the brackets are set up."
As for the Division II title, that could come down to Matthew C. Perry, which just won the DODEA-Japan tournament title last Saturday at Zama; and Osan, which fielded a near-full lineup this season and gave its D-I rival Humphreys serious headaches all season.
That matchup could hinge on the last bout, heavyweight, which would pit two-time defending champion Marshall China of Perry against Osan's first-year wrestler Myles Bradley, who went unbeaten this season.
"If he can wrestle smart, stay in good position and go six minutes, he'll give China the six toughest minutes of his life," Cougars coach Andrew Grant said of Bradley.
Of their chances at the team title, Grant said: "I've had positive conversations with my kids. I'm fairly optimistic. With us only being one weight short, we're not going to give away a lot of free points."
While Osan seeks its first D-II title since 2009, Perry has yet to win one, which coach Chris Munsell said the Samurai are trying to change.
The DODEA-Japan title "was definitely a nice thing to accomplish; any history we can set is great," Munsell said. "But obviously, our eyes are on the biggest prize. We've been close before. We're just hoping that this is our year."
ornauer.dave@stripes.com Twitter: @daveornauer