DODDS-Europe baseball - Day 2
Panthers ready to defend their crown again
---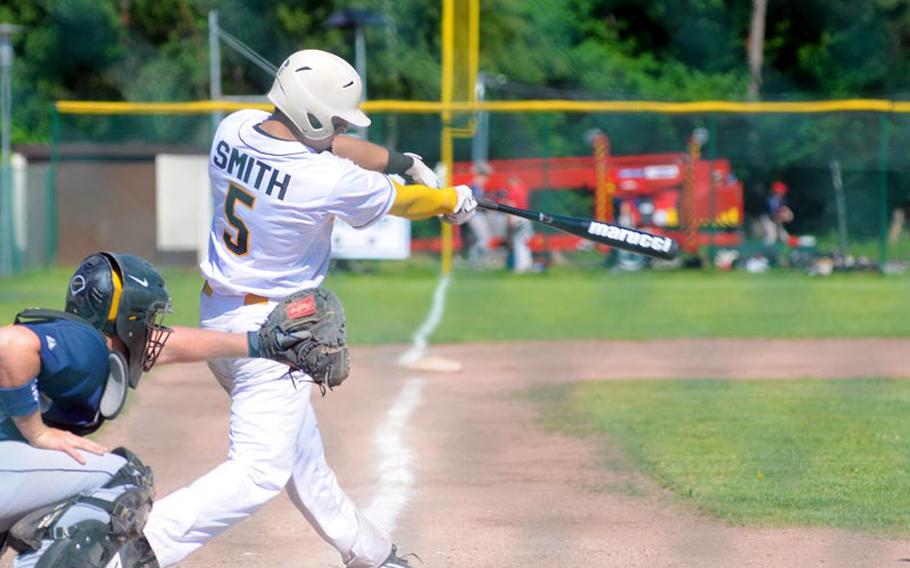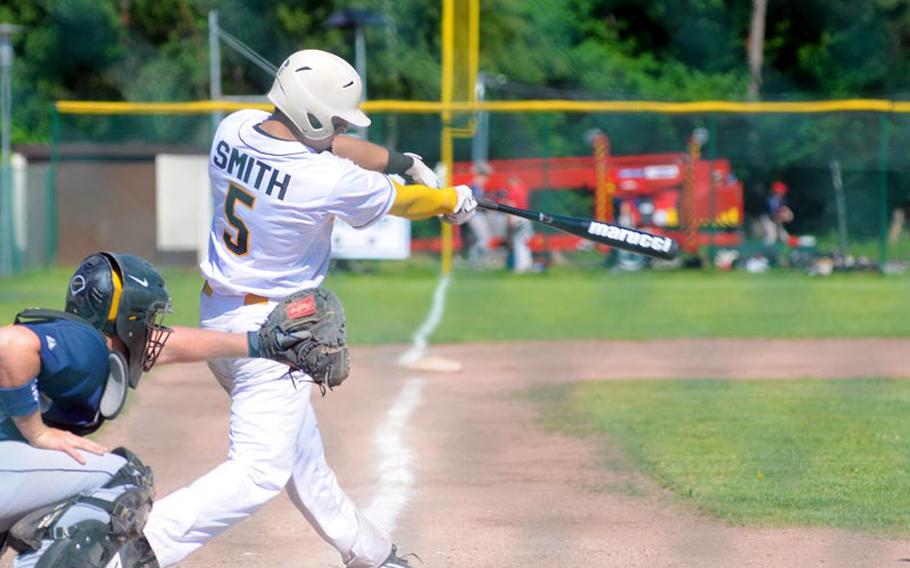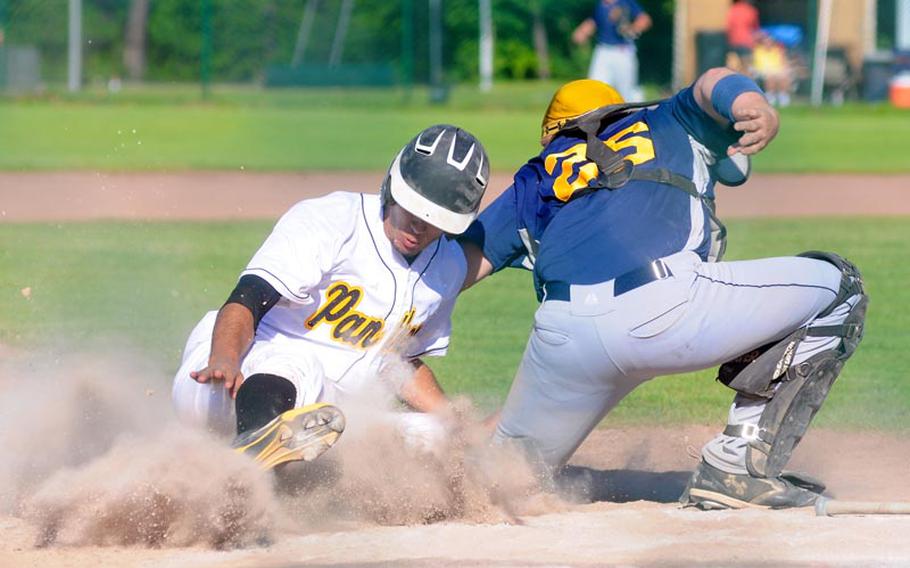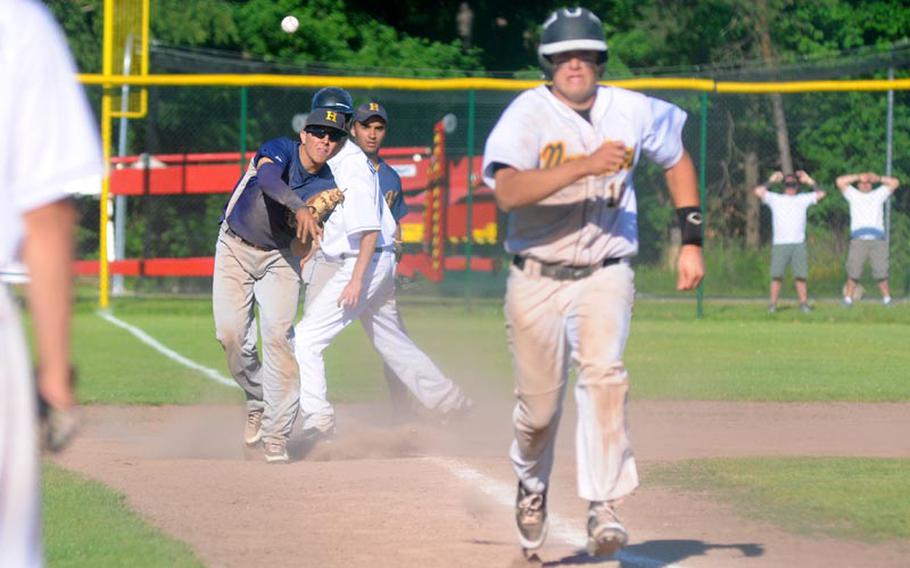 RAMSTEIN AIR BASE, Germany – Power hitting, shut-down relief pitching and plain old Panther perseverance delivered two-time defending European Division I champion Patch a 14-7 semifinal victory Friday over the Heidelberg Lions and into Saturday's noon title game.
The perseverance came first.
"We looked to our seniors and said we're not losing this game," said Dylan Measells of the mood in the Patch dugout after some uncharacteristically sloppy defense had landed the Panthers in a 7-2 hole. "This is not the way we're going to go out as seniors."
Senior Ryan Tannenbaum then provided the lion's share of that Panther power. He lined a two-strike grand slam over the right field fence in the fifth that immediately cut the Panthers' deficit to 7-6.
Patch tied the game in the sixth when Measells drew a bases-loaded walk, and put the game away with a seven-run explosion in the top of the seventh.
Measells, who relieved starter C.J. Kellogg in the bottom of the fourth with two on and two out and five Heidelberg runs already across the plate in the frame, served up a run-scoring single to Heidelberg's Jimmy McBride before retiring the side on a groundout. He then pitched two innings of one-hit ball, striking out four and collecting the win when Patch posted its big seventh.
Austin LeMay pitched the bottom of the seventh when Measells left to preserve his innings-pitched eligibility to start Saturday's title game against Ramstein, which defeated Lakenheath 8-2 in the other Friday semifinal, which didn't end until late into the evening.
"I'm good to go," Measells said.
Tannenbaum's slam brought Patch most of the way back. He lunged at consecutive fast balls low and away before connecting on a pitch up in the zone for the game-changing blow.
"I was swinging for the fences on the first two," Tannenbaum said. "I told myself to calm down and just get a base hit."
Jack Smith also homered, a two-run shot to right center to give Patch a 2-0 first-inning edge, and the Panthers banged out four hits in the decisive seventh to capitalize on two Heidelberg errors, a walk and a hit batsman. Catcher Ruben Rodriguez was the power source in that frame, sending a two run double into the right field corner to lead the inning off, and then lofting a deep sacrifice fly to center to plate Patch's final run.
"I was just trying to get on base," Rodriguez said of his leadoff double. "The pitch was low and away and I just went with it."
Reliever Austin Benton took the loss for Heidelberg, which dropped two one-run verdicts to Patch during the regular season. He allowed five hits, walked four and hit a batter in his one-and-two-thirds innings of work.
Rodriguez shrugged off any implications Friday's come-from-behind game might have for Saturday's finale. It'll be more of the same, he predicted.
"We're a hard-working team," he said, getting back to the perseverance portion of Friday's agenda. "We never give up."
Naples, SHAPE rolling alongThe two top seeds in the combined Division II-Division III tournament completed the first two days without a loss. Top-ranked Naples, which has only lost once this season, downed Rota 7-3 in one quarterfinal and will meet No. 4 Bitburg in one Saturday mornning semifinal. The defending champion Barons routed Ansbach 17-2 in their Friday game. SHAPE, the No. 2 seed, steamrolled Baumholder 15-0 and will meet last year's runner-up Vicenza in the other semifinal. The Cougars, seeded fifth, knocked off fourth-seed and northern Italy rival Aviano 11-5.
The winners of the two finals will square off at 2:15 p.m. with the title on the line, while the losers meet at 12:30 p.m. for third.
---
---
---
---