Far East basketball roundup
Panthers reach the final in at least three tourneys
---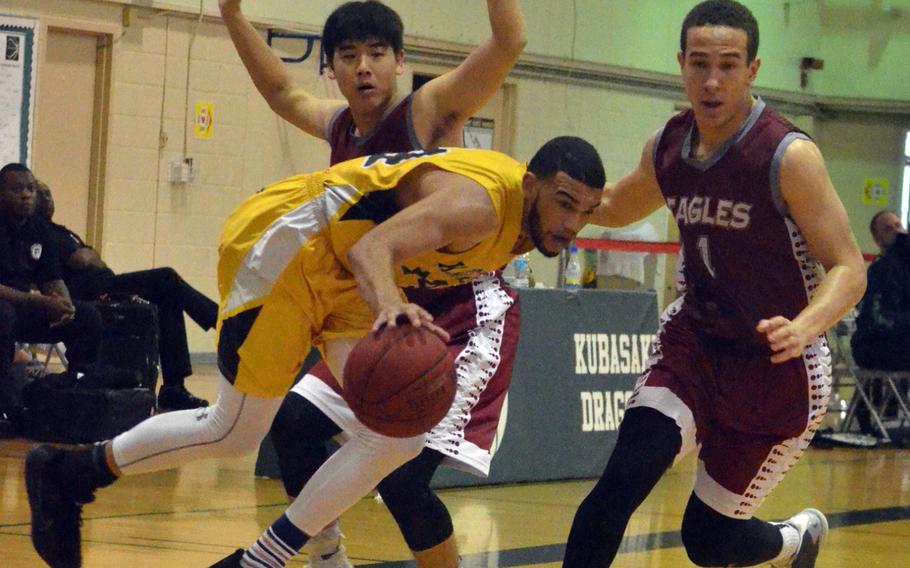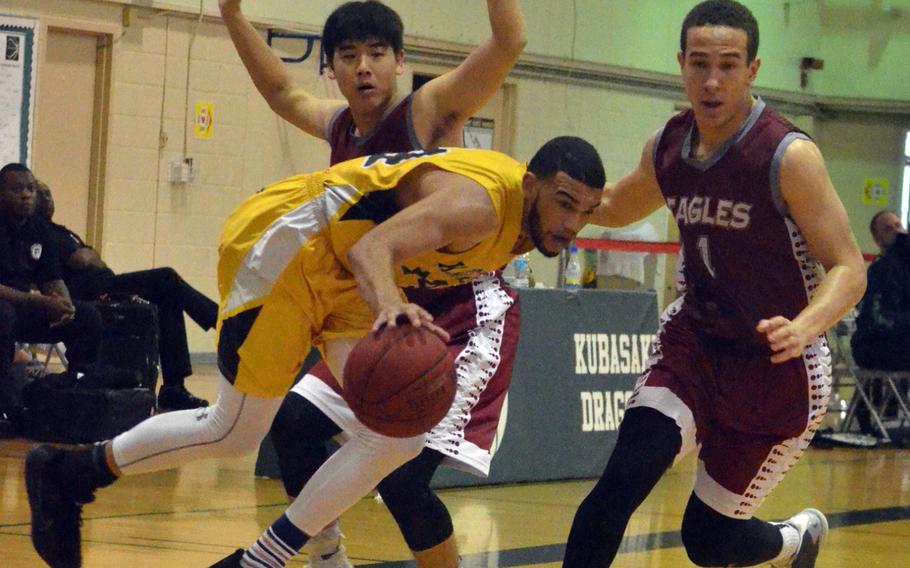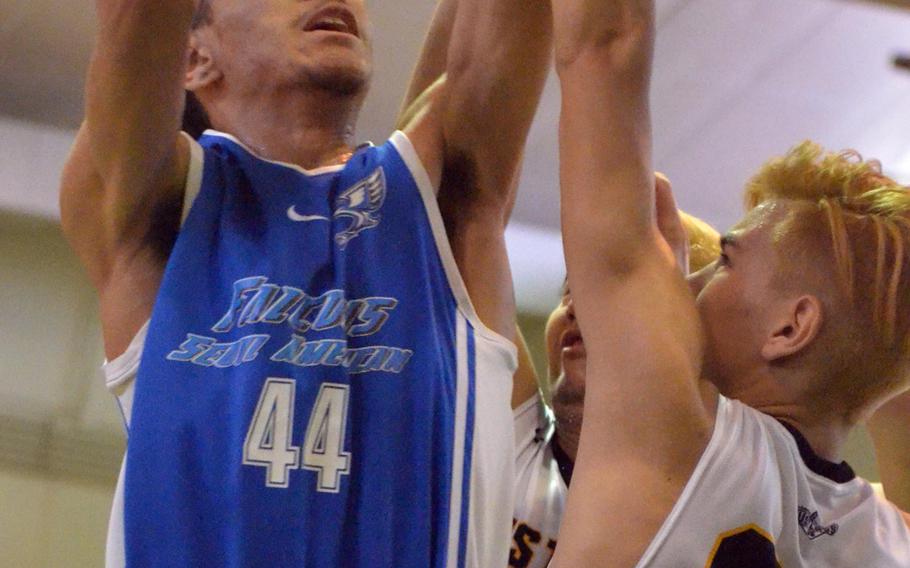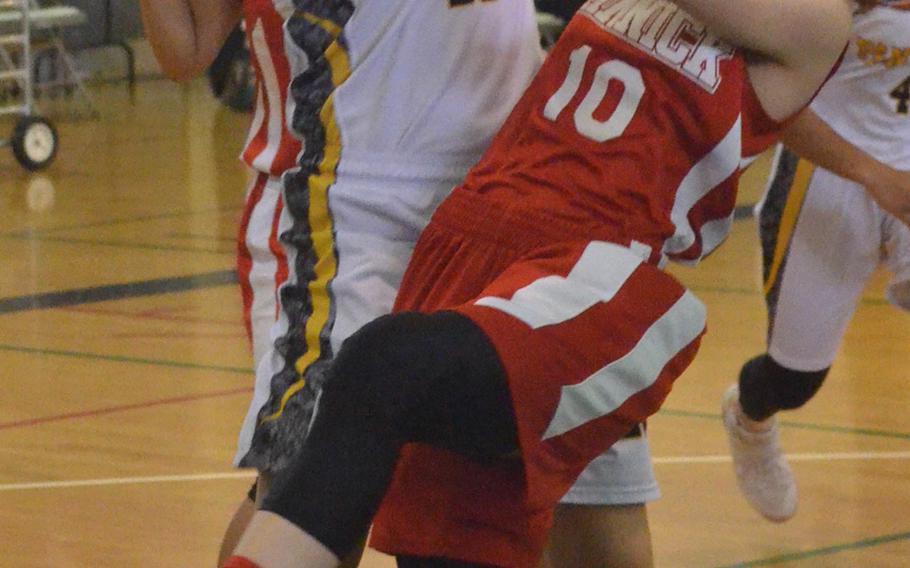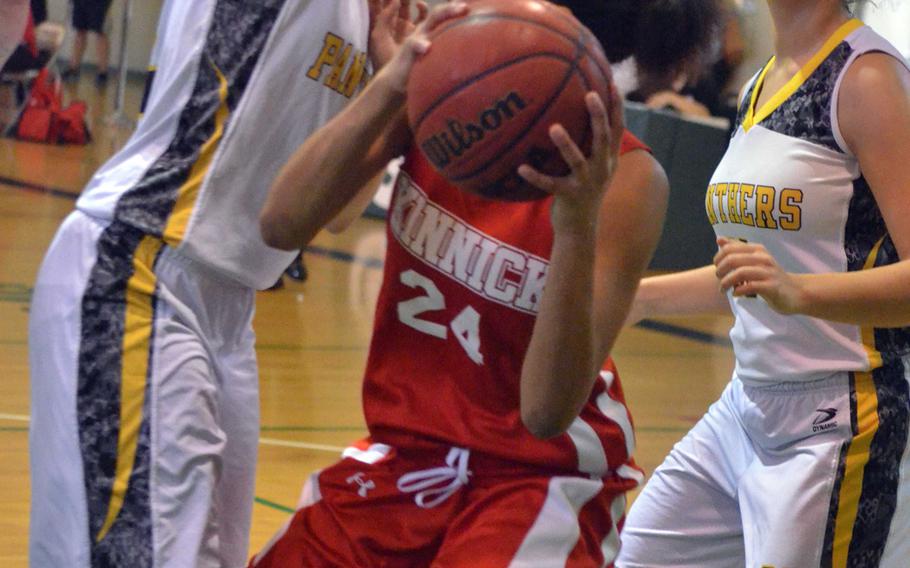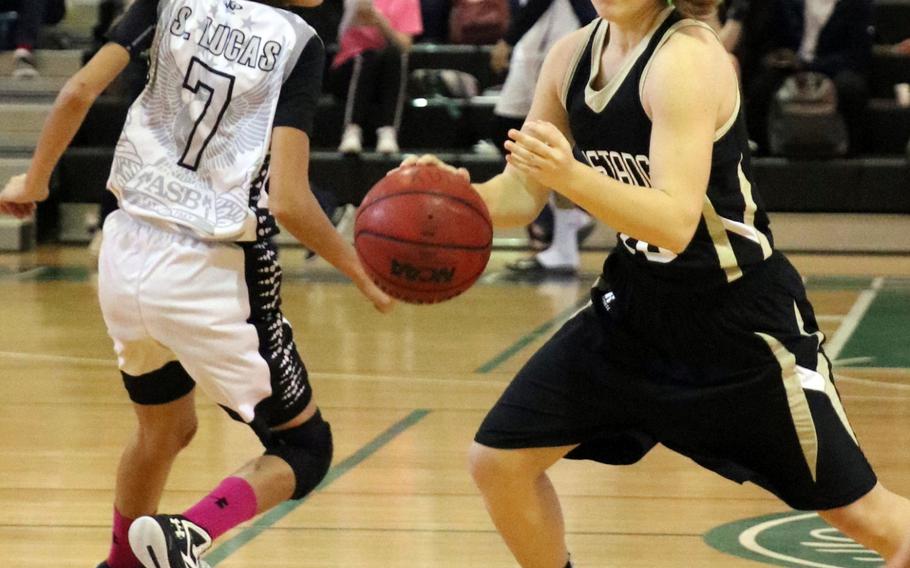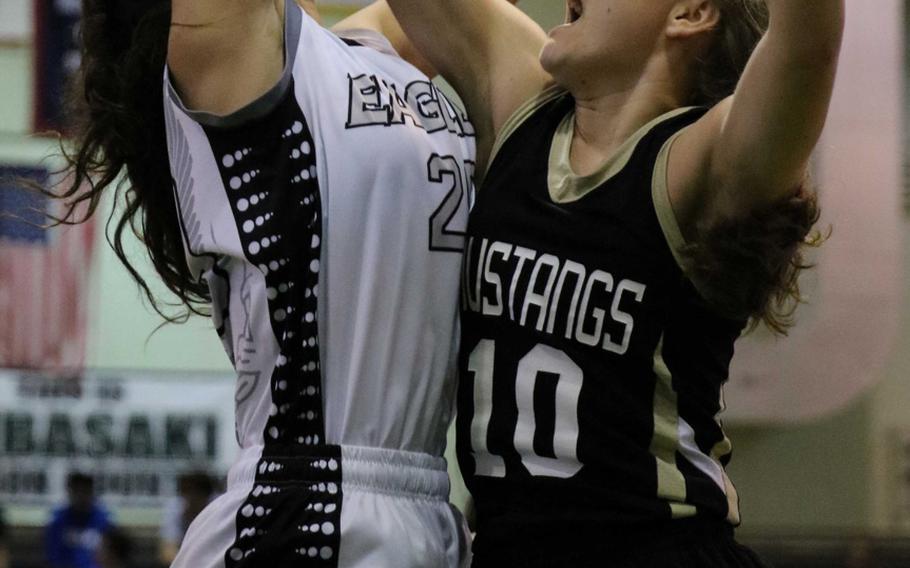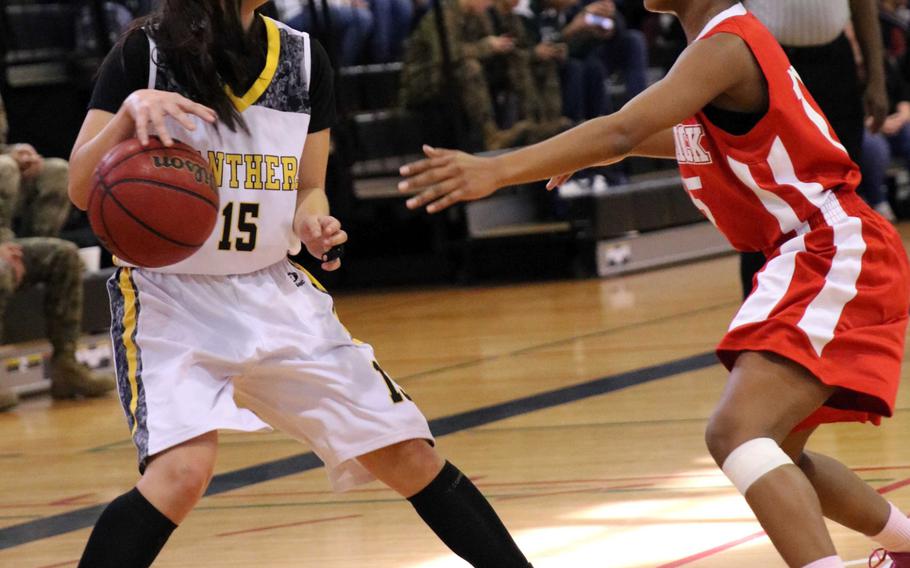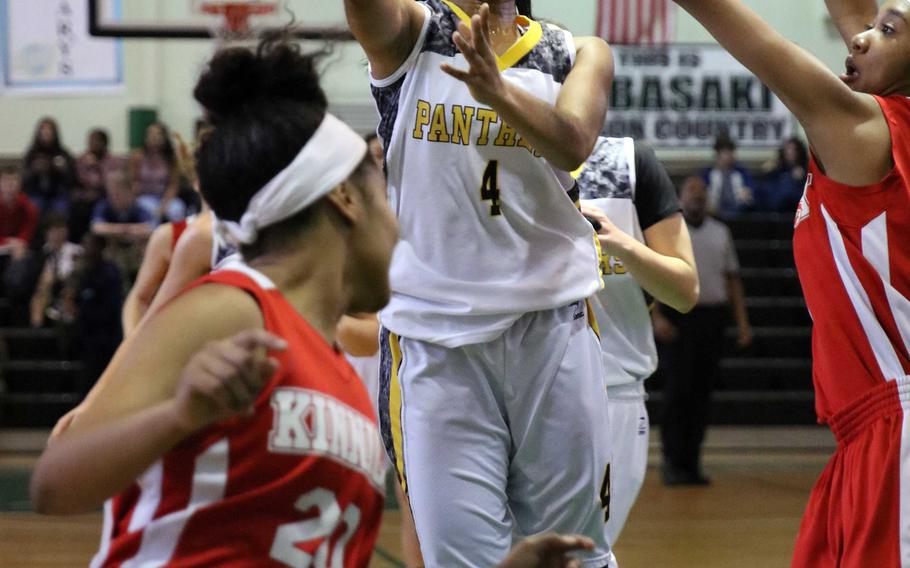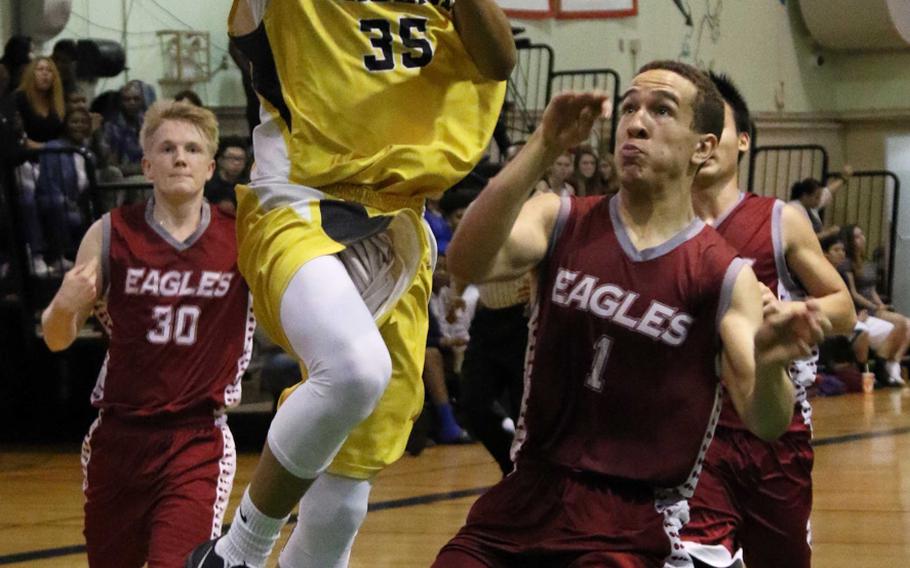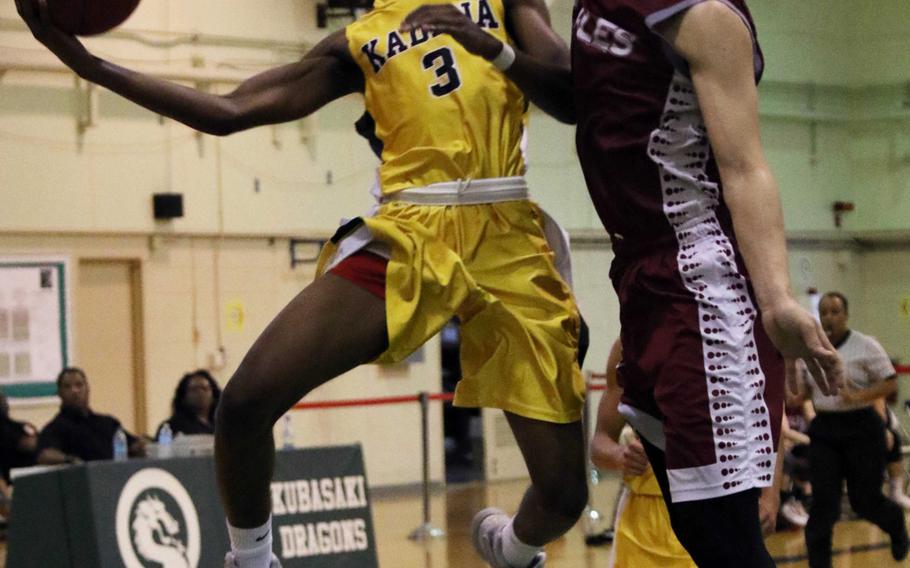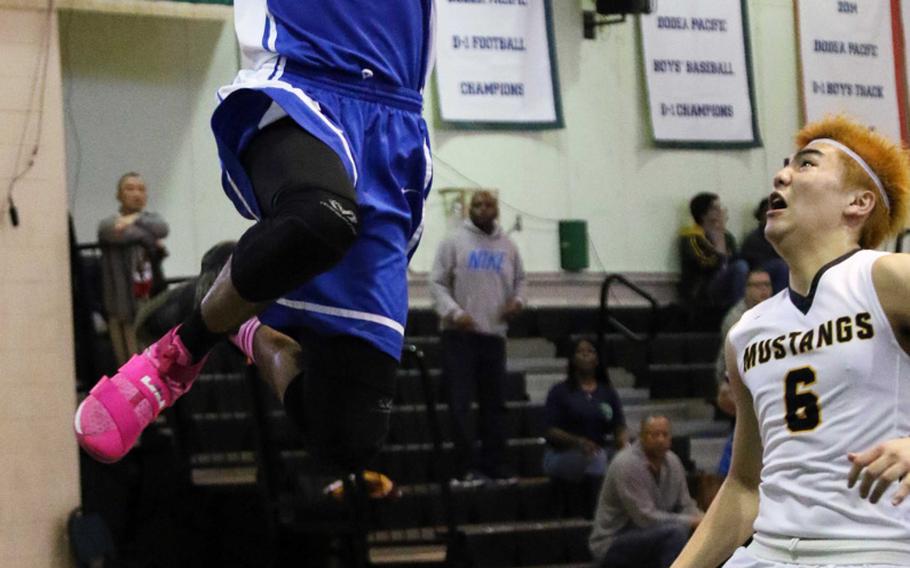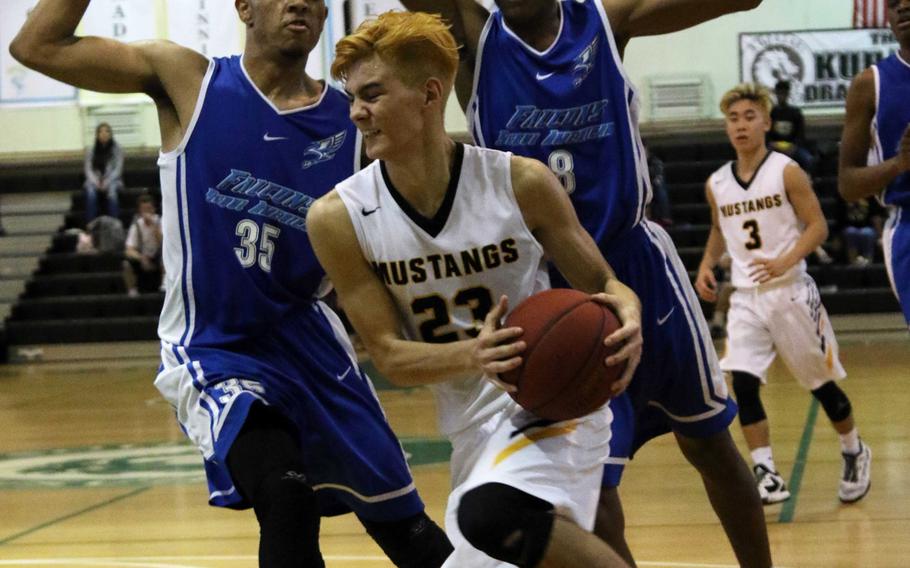 CAMP FOSTER, Okinawa – Thursday's finals of the Far East Division I basketball tournaments will have a definite hint of black and yellow.
Both Kadena's boys and girls reached the championship games of their respective tournaments, the defending champion girls for the fourth straight year. The Panthers girls will take on first-year entrant American School of Bangkok, while the boys take on Seoul American.
"Delighted," said Robert Bliss, who was the last coach to helm a Panthers team to the title in 2010. "We're just happy to the opportunity to play a good team like Seoul."
Justin Wilson netted 21 points and K.J. Caver 15 and the Panthers survived several runs by the Eagles in a 57-50 victory. Kadena outscored ASB 16-6 to close the third quarter and led by as many as 11 in the fourth before the Eagles tightened it at the end.
Seoul American needed to rally from an early nine-point deficit in its 68-63 overtime semifinal win over American School In Japan. There were five lead changes. The Falcons led by six with under two minutes left, but two turnovers led to two ASIJ three-pointers to set up overtime.
In the extra session, Quintin Metcalf, a 6-foot-7 sophomore, scored six of his 32 points. He finished with 21 rebounds and DeAndre Metcalf added nine boards and three blocked shots.
"We were lucky," said Falcons coach Steve Boyd, looking to win a fourth Far East D-I title and his first on the road.
Drama was also evident in the girls Division II tournament at Matthew C. Perry. Two-time defending champion Yokota had its hands full with the team it beat the last two years, Zama, before prevailing 62-59 in overtime. Jamia Bailey and Britney Bailey combined for 45 points.
The Panthers will face Robert D. Edgren for the title at 4 p.m. Thursday. The Eagles got 15 points from freshman Ja'la Wade and outscored host Perry 16-9 in the fourth quarter to pull away for a 43-34 victory.
The girls D-I tournament featured two blowout semifinals. Linda Vaughan and reigning MVP Rhamsey Wyche each netted 13 points as the defending champion Panthers routed Nile C. Kinnick 55-25, outscoring the Red Devils 22-11 in the first quarter.
It's a decidedly different Panthers team than the one that bowled over ASIJ 64-22 in last year's final, one that rode the backs of Wyche and two experienced post players. Coach Willie Ware has worked all season to develop new ones, emphasizing fundamentals in workouts.
"Back to Square One," Ware said. "We're scrappier and more fundamental than we were last year. It was an up-and-down season. We played Japanese teams and got our heads handed to us. It made us a better, tougher team. We've been underdogs all season. Hard work and dedication."
They'll meet ASB's Eagles, who won by a wide margin, 71-47, but had to survive a fourth-quarter scare against ASIJ, which cut a 22-point halftime gap to five points before Mustangs sophomore forward Grace Wallrapp fouled out. The Eagles outscored the Mustangs 23-4 the rest of the way.
The boys D-II semifinals are slated for 11 a.m. and 12:30 p.m. Thursday at Yokota High School. Humphreys faces E.J. King and Daegu takes on host and two-time defending champion Yokota in the semifinals. The winners meet in the championship at 8 p.m.
Twitter: @ornauer_stripes
---
---
---
---