Panthers rally, reverse trend of '06-07 regular season
---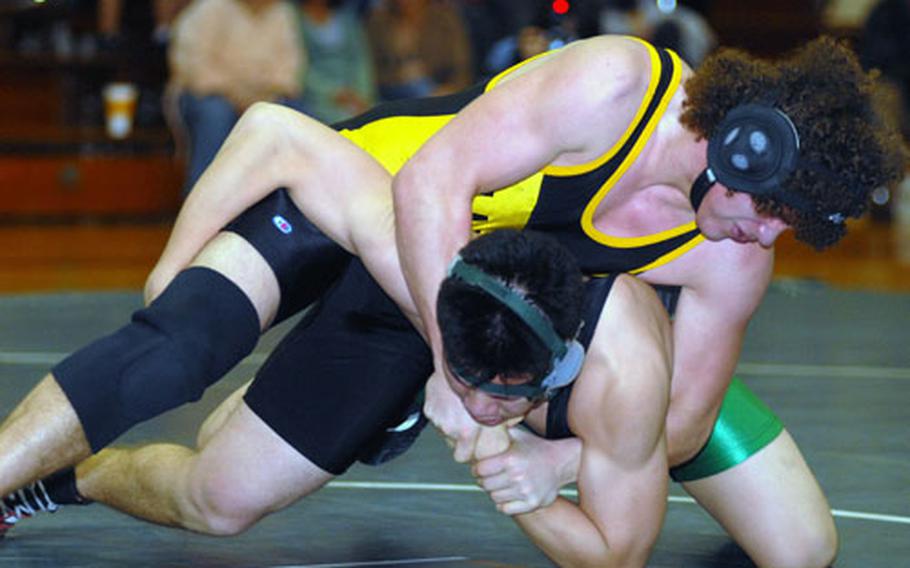 CAMP FOSTER, Okinawa — The Kubasaki Dragons dominated during the 2006-07 regular season, but the pendulum is swinging back in favor of the Kadena Panthers' wrestling team.
Seth Ennis, Dylan Bruton, Cody Cash, Josh Carpenter, Tyler Broome and two-time defending Far East champion Jacob Bloom scored pins as Kadena rallied from a 14-8 deficit to pound Kubasaki 40-19 in Thursday's Okinawa Activities Council opener in the Dragons' Den.
Kadena's victory reversed last winter's regular-season trend; Kubasaki won all three OAC dual meets last season. The Panthers had swept the three regular-season series prior to that, winning nine straight meets.
"That's why we compete," Kadena coach Steve Schrock said, adding that because of the respect he holds for Kubasaki coach Terry Chumley, her program and staff, "when we beat them, it means more to me than any other team. Other than our guys stepping up the way they did."
The way the season series has swayed the past few years demonstrates that "the two programs are pretty even," Chumley said. "[Schrock has] turned it around. He's done a great job with that program and made it very competitive."
At the outset of Thursday's meet, it appeared it would be Kubasaki's night. Defending Far East champion Scott Wood notched a first-period pin at 115 pounds, then Kubasaki's Josh Bales upset defending Far East champion Chris Hoshaw at 129 to put the Dragons up 14-8.
The next six bouts went Kadena's way. In addition to the pins, Kadena's Harry Bloom (141), Severin Reidel (122) and heavyweight John Shoults each racked up decisions.
"Cody got us a big win at 158, Josh got us a big win at 168, Severin the new guy came through for us," Schrock said.
Perhaps the most attention went to the Bales-Hoshaw bout. Though Hoshaw won a Far East title last season, he has yet to solve the Bales puzzle, going 0-2 against the Kubasaki sophomore.
Thursday's matchup could be a "precursor to the Far East championship" at 129, Schrock said. "We have some things to figure out. Josh is a great wrestler. Chris has his work cut out for him."
The teams meet again for the second and final time during the regular season on Feb. 5 at Kadena. The OAC season series was cut from three meets to two because of the "Rumble on the Rock" tournament, to be added to the schedule Feb. 1-2 at Camp Foster.
---
---
---
---