Girls basketball preview
Panthers look strong again in a revamped alignment
by
Gregory Broome
December 5, 2019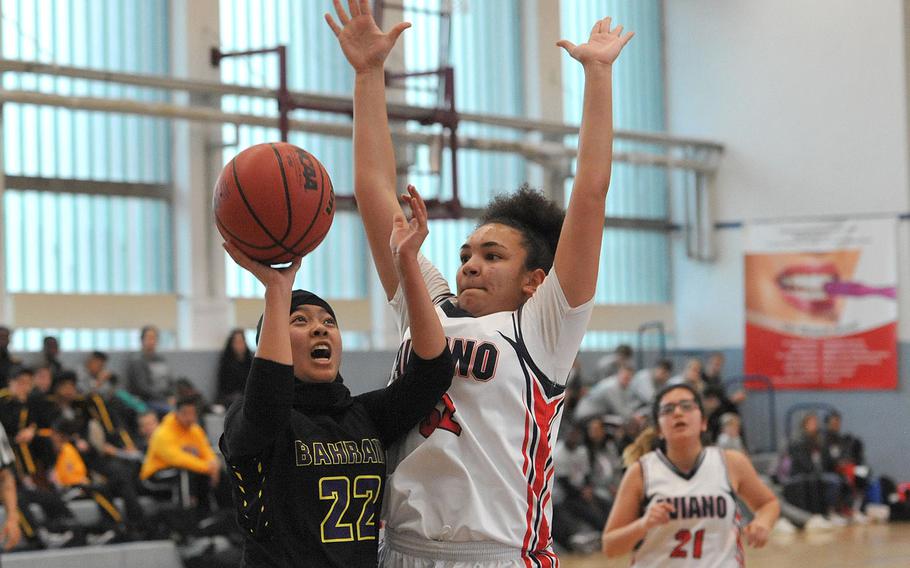 DODEA-Europe's summer realignment will have profound impacts on all three divisional championship races in the 2019-20 girls basketball season, which gets underway this weekend with a full slate of Friday and Saturday games.
Black Forest Academy's rise to Division I introduces a worthy new challenger to the large-school bracket, while Naples and Vicenza slide in to replace Black Forest as Division II powerhouses. And for the second straight year, a former Division II heavyweight will elbow its way into the small-school bracket for a run at the Division III title.
Division I Reigning dynasty Stuttgart welcomes back a remarkable 11 players for its shot at a fourth straight large-school title, making the Panthers a heavy early favorite to extend their championship streak. Junior forward Skye DaSilva Mathis headlines the seasoned Stuttgart squad.
The Ramstein Royals won the 2016 title ahead of the Panthers' current run and have fallen to Stuttgart in two of its three straight championship-game victories. Returning starters Alexis Tri, Shannon McCray and Rachael Babbitt will lead the program's latest attempt to unseat the rival Panthers, and Ramstein coach Nathan Brewster has already identified the path forward.
"We have a fast team," Brewster said. "And we like to run."
Returning semifinalist Kaiserslautern, meanwhile, is largely starting over this winter after retaining no starters from last year's varsity program. Returning rotation players Rebecca Moon and Azora Williams headline a revamped Raider roster that coach Aaron Scalise filled out with an "an influx of new student-athletes" focused on "daily improvement."
That's a theme throughout Division I, as programs such as Wiesbaden and Vilseck also return two or fewer starters from their 2018-19 teams. Such teams are focusing on the benefits of a fresh start.
"They are already working well together and showing a love of the game and growing their skills as a team," Wiesbaden coach Carla Nau-Redman said of her young group.
The trend even extends to Black Forest Academy, one of DODEA-Europe's most inevitable elites in the midst of its Division II dynasty. But the Falcons fell short of the Division II title game a year ago and this year will field an all-new starting five in their Division I debut season.
Division II DODEA-Europe's realignment cost this division two of its 2019 tournament semifinalists, including runner-up AFNORTH and third-place Black Forest. But what the bracket gained is equally notable.
The Naples Wildcats, who reached the Division I title game in 2018 and finished third in 2019, return to Division II as an immediate favorite to recapture their place atop the middle division. Naples boasts proven top-tier talent in guard Roxanne Sasse and forward Mia Rawlins atop a deep and talented roster of returnees and newcomers.
Naples coach Tim Smith said he's "very optimistic" about the team's chances, explaining that the Wildcats are "deeper and bigger" than a year ago and have speed, athleticism and a "great attitude" to further their cause.
Defending champion American Overseas School of Rome, 2018-19 semifinalist Bahrain and fellow Division I transfer Vicenza are among the teams standing in the way of a Wildcat coronation.
Bahrain returns eight players from last year's squad, including one of DODEA-Europe's best inside-outside duos in guard Taz Abdkhair and post Tofunmi Sodeinde, both seniors with considerable tournament experience.
Division III A fourth straight Sigonella championship won't come easily.
All-Europe guard Averi Chandler will miss this Jaguars season due to injury, vastly increasing the degree of difficulty for a dynasty already facing fresh competition for small-school supremacy.
Despite Chandler's absence, Sigonella still has its share of talent with which to work, returning six players and three starters from last year's roster. D'Anna Holland, a 5-foot-9 junior, is a standout member of the Jaguars' tall and versatile lineup.
Former Division II dynasty Spangdahlem, which reached the small-school title game in its Division III debut last season, again ranks as one of Sigonella's primary foils. The Sentinels' dangerous, experienced lineup includes senior power forward Izzy Smith, junior wing Emerson Retka and the talented sophomore backcourt of Lorelai Vargo and Bridget Donovan.
AFNORTH, last year's Division II runner-up, figures to make a Spangdahlem-style immediate impression as the latest school to drop into the Division III ranks.
broome.gregory@stripes.com Twitter: @broomestripes