Panthers hoping to finish season with DODDS-Japan softball title
by
Dave Ornauer
May 16, 2004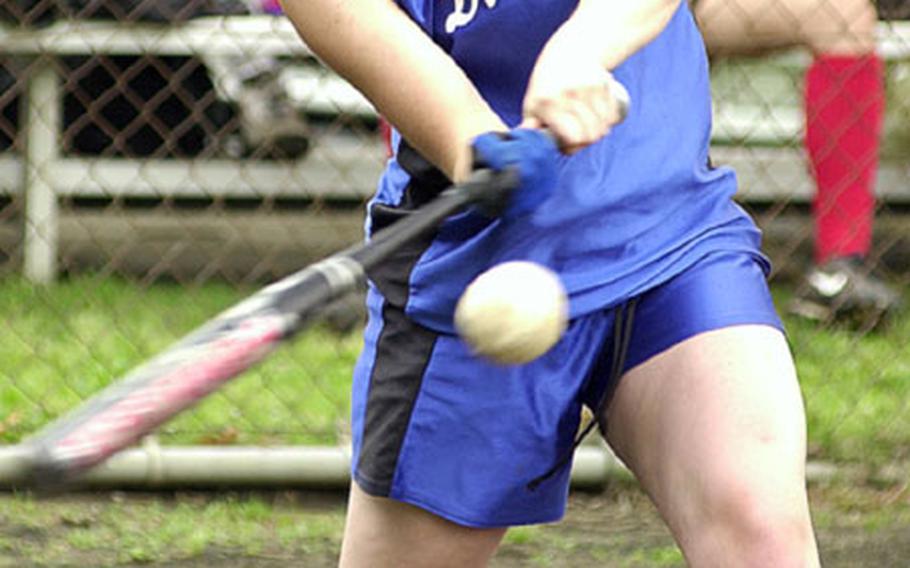 ATSUGI NAVAL AIR FACILITY, Japan — Bonnie Seeley could have been forgiven for being concerned about her team entering the 2004 Japan Girls Softball League season.
She lost nine players, mostly seniors, from a team that won its fifth straight league championship. Yet after a 10-0 regular season, a sixth straight league title and going 5-1 through Friday in postseason tournament play, the Yokota Panthers don't appear to have lost a step.
"I never have been nervous like I have been this season," said Seeley, in her fifth year at the Panthers' helm.
But come through her team has, and Seeley couldn't be happier with her band of softball players, 50 percent of whom are freshmen.
"They're awesome," Seeley said. "They're doing everything we ask."
Players such as Samantha Little, a right fielder who played for Yokota's football JV team and whose play on the diamond shows it.
"She has a football mentality," Seeley said. "She goes 100 percent. Nothing gets by her."
Seeley thought that losing veteran pitcher Sara Boeder would mean "Yokota's reign was over," but freshmen Jenni Jacobs and Laura Bellinger "are doing superbly" in Boeder's place. So, too, is Hannah Hill "doing a fantastic job as a catcher."
Though not a freshman, outfielder Monica Fletcher, a sophomore, has shown good promise, including good power. "She's an awesome left fielder," Seeley said. "She has room for improvement, but is doing a good job."
All that coupled with the play of veteran seniors Lisa Lee, Cari Bruschuk, Darlene Seeley — the coach's daughter — and Brittany Grizzard, along with sophomore Lycell Natividad. "They're all hitting the ball well," Seeley said.
The Panthers a week ago fell short in their bid for a third straight Marist Brothers Invitational Tournament title down in Kobe, losing 15-8 in the finals to Marist Brothers International — Yokota's only defeat this season.
Seeley hopes to make this weekend's Department of Defense Dependents Schools-Japan Tournament the crowning jewel in the season. The team didn't attend last year's tournament, since it was held on Yokota's prom day.
"Eight players are leaving me again," she said, estimating that the team generally suffers a 50 percent annual turnover, but "this year was the worst."
"Every year, the team outshines the last one I had. I keep coming back because of the kids. I'm proud of my ninth-graders."