Panthers have sights set on yet another title
by
Gregory Broome
January 30, 2020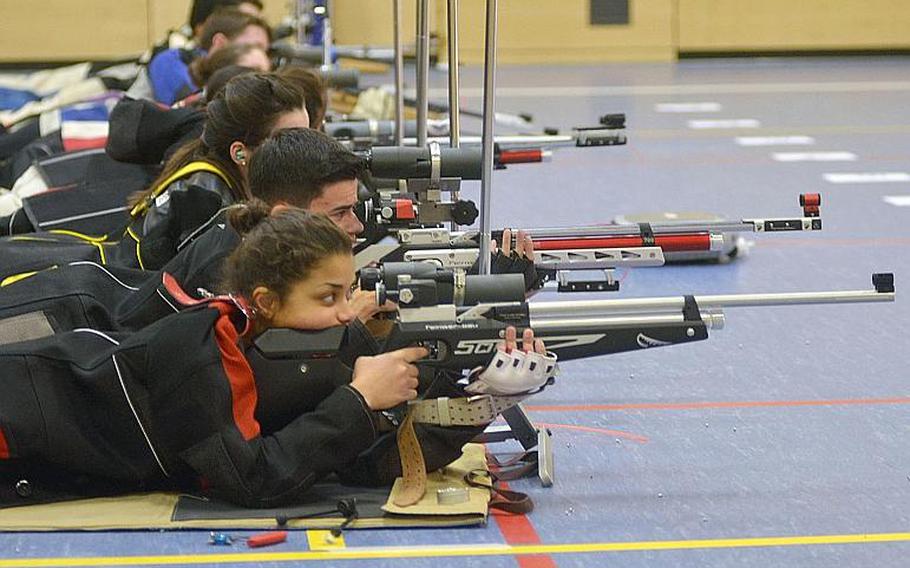 There are two championships at stake at the DODEA-Europe marksmanship finals, set for Saturday at Kaiserslautern High School. One outcome is all but assured, while the other is very much in doubt.
The Stuttgart Panthers are heavy favorites to claim their seventh straight European team championship. DODEA-Europe's longest dynasty has continued to rule the sport this winter, winning all five regular-season meets by comfortable margins.
But while the Panthers' overall dominance is secure, the internal battle within the program is raging on, producing a rather remarkable statistic: a different Stuttgart shooter has posted the team's highest score in each of the season's five meets.
That variety of winners is a by-product of the program's fascinating culture of simultaneous support and competition. More established shooters are expected to share their knowledge with less experienced teammates while defending their status on the team from those same challengers. And rising prospects must respect their superiors even as they strive to supplant them.
It's impossible to argue with the results.
"It pushes each person to do their best each week," Stuttgart coach Raul Pinon said in December.
Defending European individual champion Maria Tortorelli took her turn atop the standings on Dec. 14. Returning runner-up Salome Cook won the regular-season finale with 294 points. Teammates Kayla Boudreaux, Kate Swett and Teresa Roark also took their turns leading the Panthers to victory.
Regardless of who claims individual honors, the Panthers' combined efforts project to be plenty to extend Stuttgart's dynasty into a new decade. But the event's five other competing schools - Stuttgart's eastern conference rivals Ansbach and Vilseck and western conference entries Kaiserslautern, Wiesbaden and Baumholder - have plenty to shoot for on Saturday.
The Ansbach Cougars are looking to cap a successful rebuilding season with a strong showing at the finals. While the team has just four returning shooters, head coach Christopher Buchanan said the program has enjoyed impressive turnout, with around a quarter of the small school's students in grades nine through 12 participating. Eliana Vales, who finished fourth at last year's European finals, has excelled this season as the captain of the group and the high-scoring leader of the Stuttgart resistance.
Eric San Pedro, the new coach of the host Kaiserslautern Raiders, has benefitted from a core of senior leaders who "have been taking care of business" for the program. Former Panther star Isabelle Ploechinger has been the team's centerpiece throughout and produced a score of 292 for a runaway western conference win in last weekend's regular-season finale.
Even if the Panthers remain unreachable, a measure of success is attainable for each shooter taking aim on Saturday.
"If every single one of the shooters shoot their best, that's victory to me," San Pedro said.
broome.gregory@stripes.com Twitter: @broomestripes