Pair of big innings lifts Pacific Force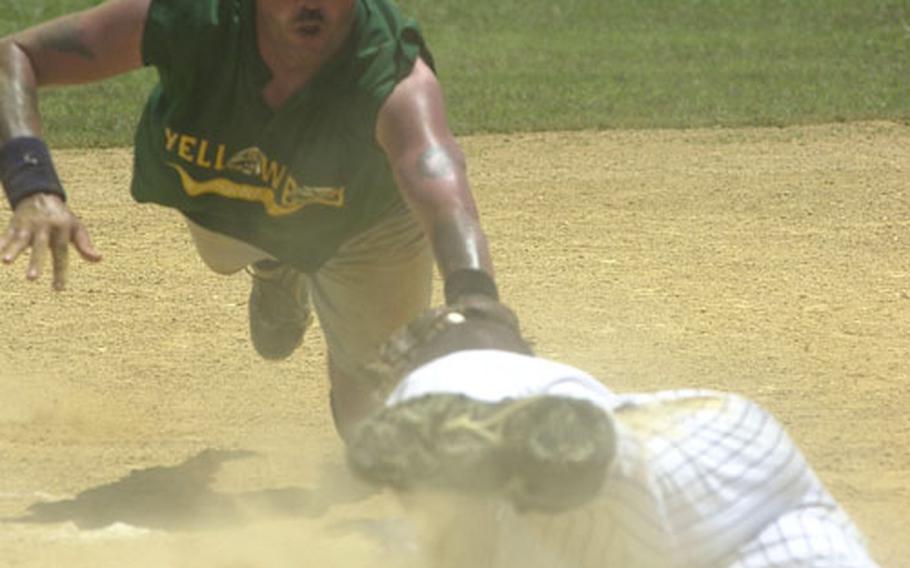 CAMP FOSTER, Okinawa — John Goff tuned up for his first All-Air Force men's softball tryout camp later this month in Florida by helping Pacific Force win its third straight Firecracker Shootout Open Tournament title.
Goff, a first-year Pacific Force third baseman, cranked two homers and went 4-for-5 with four RBIs and Pacific Force poured nine runs across in the second inning and 11 in the seventh to beat Yellow Box 26-12 in a one-game all-Okinawa men's final at Foster Field 1.
"If he plays, if he hits the ball like he did here, he'll make the [Air Force] team," Pacific Force coach Don Field said. "He's a good, young player. We're glad to have him."
Goff is one of four players from Okinawa's Kadena Air Base selected to the Air Force camp, scheduled for July 31-Aug. 17 at Eglin Air Force Base, Fla. He's joined by Pacific Force teammate Scott Roe and Yellow Box's Dexter High and Dan Miller.
"I'm looking forward to it," said Goff, 25, a senior airman assigned to Kadena's 18th Logistics Readiness Squadron. "I'm ready. Every day is a tune-up for me, working hard, hitting the ball every day."
On Sunday, Goff's RBI single gave Pacific Force an 11-5 fourth-inning lead. He belted a two-run homer in the sixth to make it 15-6, then a solo shot in Pacific Force's 11-run seventh.
Gary Chaney was 4-for-5 with two doubles, a homer and three RBIs, and Cherylton McRae went 3-for-5 with two solo homers, a double and three RBIs as Pacific Force won its 37th title in the past 57 Pacific Grand Slam tournaments. Newcomer Gerald Saunders went 4-for-5 with a homer and four RBIs.
High had three hits, including a solo homer, and three RBIs, and Eric Rossignol homered and drove in three runs for Yellow Box.
TPS Diamonds take women's crow
Leadoff batter Mandy Snyder sparked TPS to the Firecracker women's title by batting 4-for-4 with a double and scoring four times in an 18-9 triumph over Yongsan Garrison.
"It all started with her. She was the sparkplug," said coach Al Lozano.
His Diamonds, who won the Yongsan Pacificwide Invitational in May, are now halfway to a seasonal Grand Slam sweep, something no women's team has ever done.
"That's our goal. We set that goal when we went to Korea," Lozano said.
TPS pulled away by scoring eight runs in the second inning, then survived a six-run onslaught by Yongsan in the fifth in a game halted after five innings due to the 75-minute time limit.
Peni Neri, a former Air Force shortstop, went 2-for-2 off the bench in her first action since suffering a knee injury earlier this spring.
Hustlers, Osan win in Korea
Clint Atkinson's walkoff three- run homer with two outs rallied the Hustlers past host Camp Casey 24-23 in the Casey Summer Slam Open Tournament.
Casey won the first game of the the two-game final 35-26 at Camp Casey's Stewart Field to set up the "if necessary" game.
Atkinson's homer came three batters after the Hustlers got new life, when Camp Casey's catcher dropped a popup that would have been the third out of the inning. The Hustlers followed that with two singles and Atkinson's homer.
"We were lucky. Guy catches that and it's all over. They had us," said Billy Laxton, a civilian at Yongsan named the tournament's MVP.
It was the second time in less than 24 hours that the Hustlers, a combination of players from Yongsan, Camp Hovey and Western Corridor, rallied past Casey. The Hustlers trailed Casey 31-20 entering the seventh inning of Saturday's winner's bracket final, and scored 12 times to win.
The Casey Summer Slam women's title went to the Osan Defenders. Led by tournament MVP Sharon Dedeaux and Gold Glove winner J.R. Carrington, Osan downed Casey 12-7 in the second of a two-game final. Casey won the first game 17-6 to set up the winner-take-all showdown.