Page, Steele lead Daegu to D-II championship
by
Dave Ornauer
November 9, 2013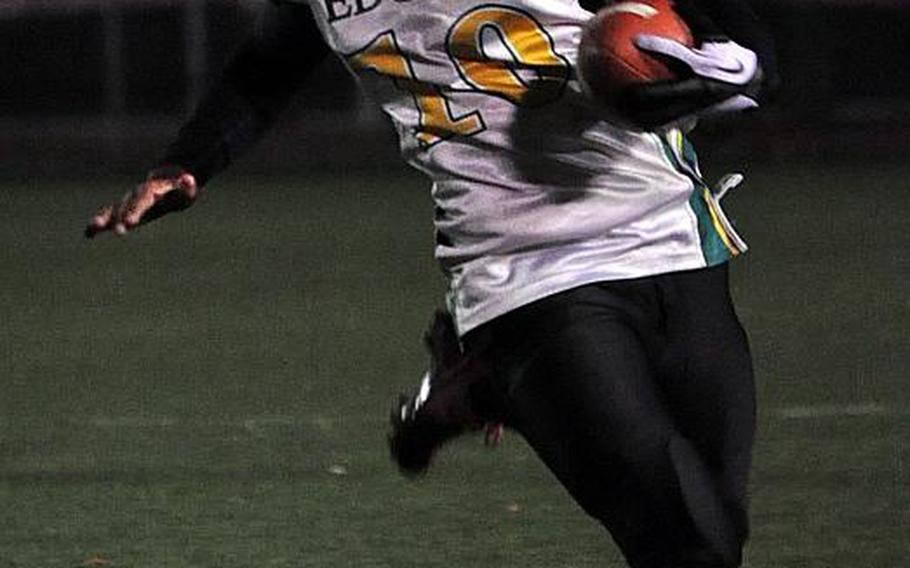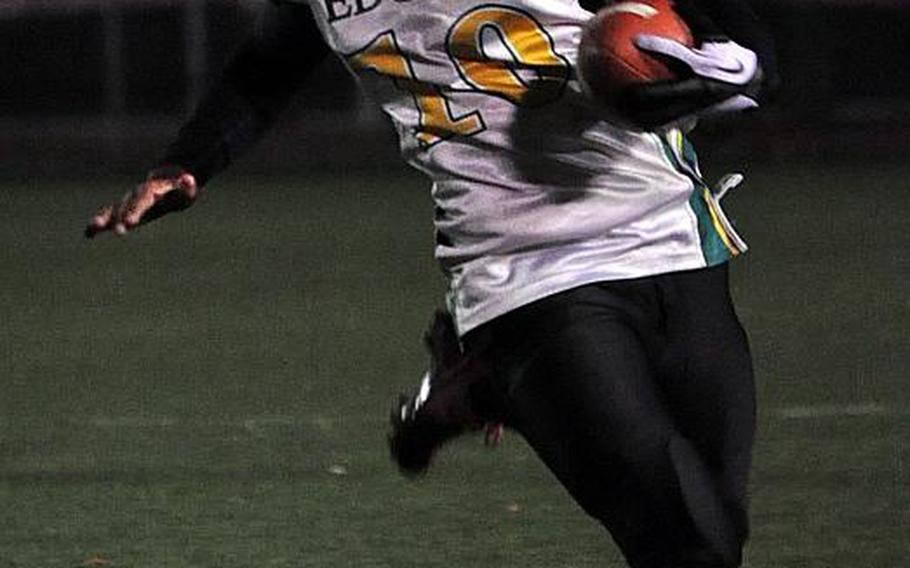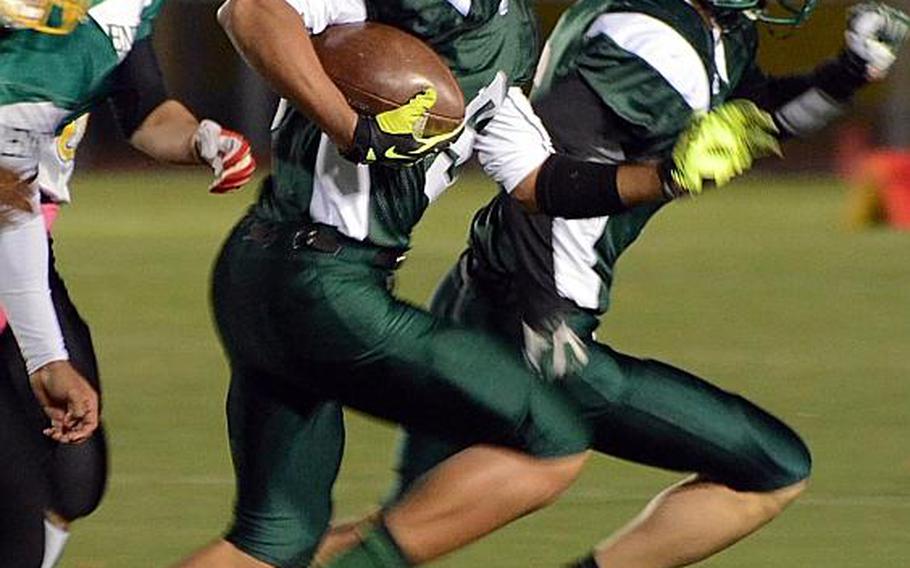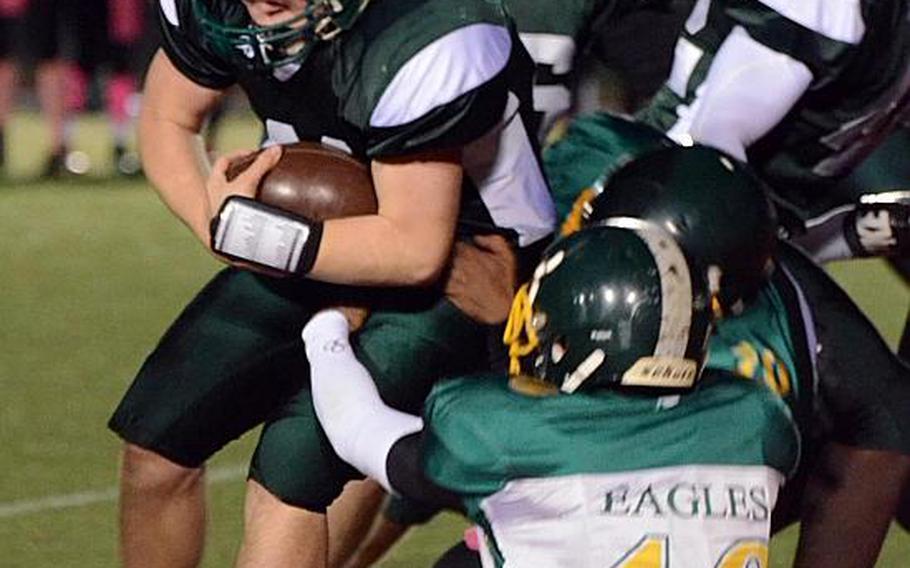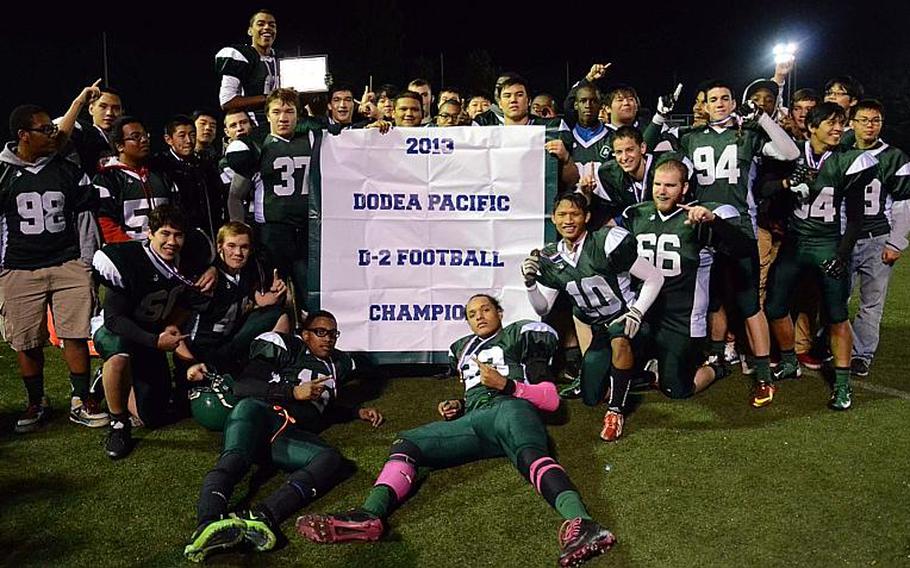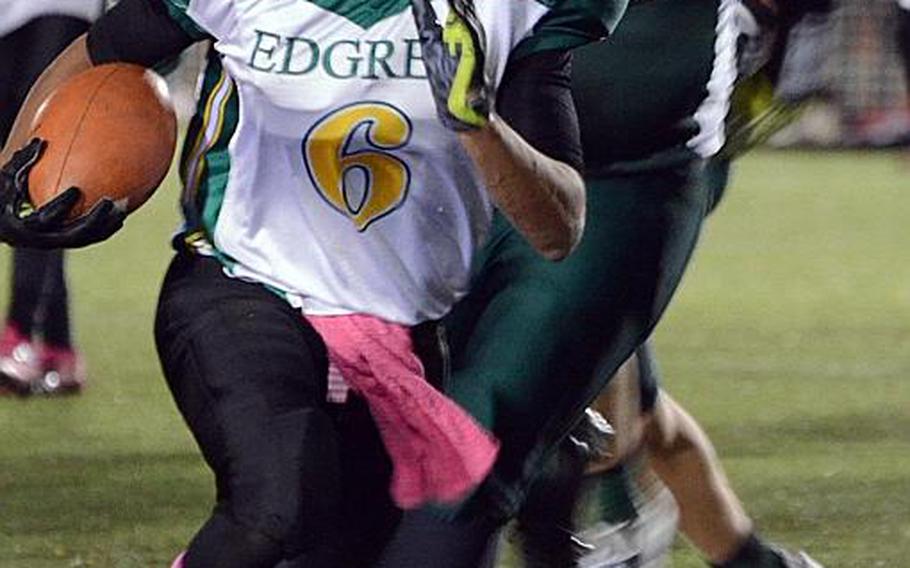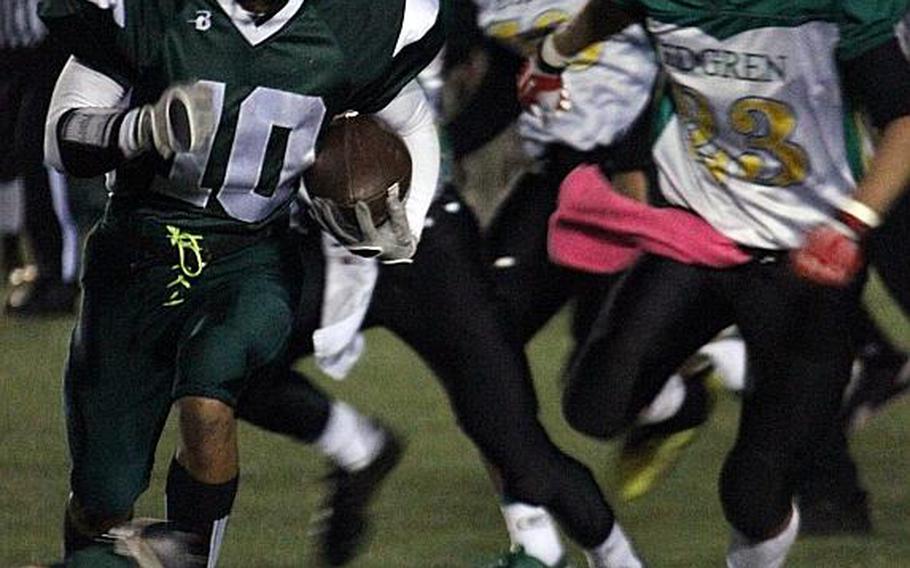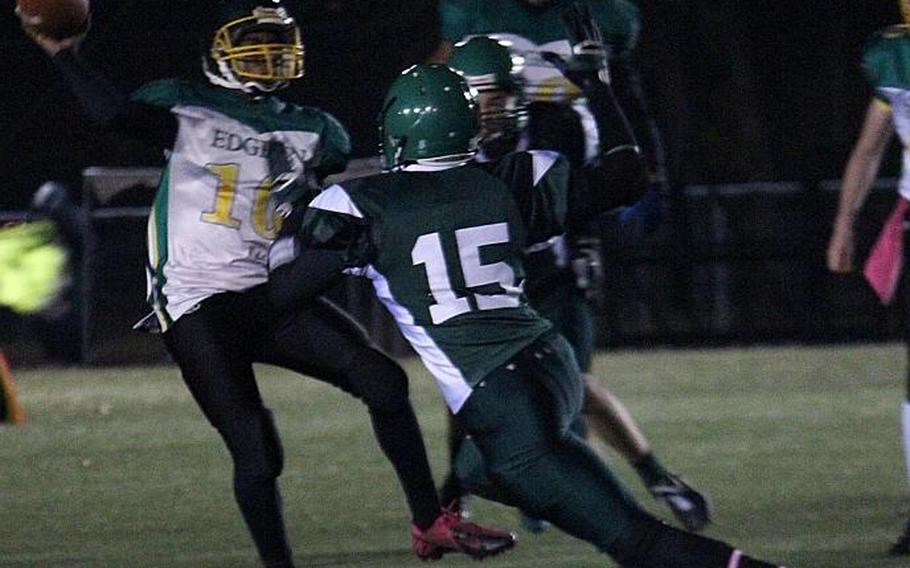 CAMP WALKER, South Korea – Caleb Page came off a knee injury a week earlier to generate four touchdowns and Will Steele starred on all sides of the ball to cap Daegu's run to its third Far East Division II football title in four years.
Page ran 15 times for 86 yards and three TDs and passed 14 yards to Steele for another as the Warriors romped 33-12 Friday over Robert D. Edgren at Kelly Field.
Steele was also involved in three sacks and returned a fumble 16 yards to set up Daegu's first score.
"It feels amazing. It feels great. I'm so proud of these kids," Warriors coach Luke Spencer said, crediting the work of the entire Daegu football community, from rank-and-file players to parents to administration to Area IV command for the season's success.
"I'm proud of what we accomplished together," he said. "It's a team effort. For them (players), it's the best thing. For young men, to build something together is important. I'm proud to be a part of it."
The Warriors (4-3 overall, 3-0 D-II) are now 3-2 in D-II championship games, losing 27-6 to Edgren in 2007 and 46-38 to Zama American in 2009 and beating Zama the next two years 28-2 and 7-3.
The Eagles (1-9, 1-2) have played in a record six title games, going 3-3 including losses the last two years, 35-20 at Zama a year ago.
Spencer heaped praise on Page and Steele, the latter making his last appearance in Warriors uniform.
"What a great performance," Spencer said of Page's effort. "He's been a leader for us all season, one of our key returners. He played one heckuva game."
Of Steele's contributions, Spencer said: "Unbelievable. It seemed like he had six sacks, eight sacks. Unbelievable."
Daegu had punched its ticket to the D-II title game in September by winning 14-13 at Edgren and beating Zama at home 21-14. The Eagles lost to Zama at Naval Air Facility Atsugi 32-6 on Oct. 18, but surprised the Trojans 46-13 on Nov. 1 at Misawa to earn the visitor's berth.
"We just came up a little short," coach Blaine Miller said. "It was a great year for our team to even get this far. I don't know if many people thought we would. It's a good building block for us and two years in a row Edgren's been to the championship game."
Edgren began the evening as if the Nov. 1 magic would continue, scoring on a 64-yard touchdown pass from Khaleem Shabazz to Sean Robinson, who finished with 163 all-purpose yards.
"We knew Sean could have a big game," Miller said, adding that he felt Daegu would likely focus on dangerous return man Tyrone Bacalso. "Sean did some good things tonight."
But the tide turned when Edgren's Tyler Werfel blocked a Daegu field-goal try, only to have Steele recover a fumble two plays later, setting up a Page 9-yard scoring run that tied it up. It remained that way until Steele's TD catch 2:58 before halftime; Daegu didn't trail again.
Page and Patrick O'Houlahan increased the margin to 26-6 on touchdown runs of 13 and 55 yards. Edgren mounted a charge, cutting it to 26-12 on Shabazz's 40-yard TD pass to Bacalso, but Page closed the scoring with a late 46-yard touchdown run.
Daegu's defense forced four turnovers and recorded six sacks, Chris Walker being involved in 1½ of them. Edgren hurt itself by coming away empty on two possessions inside Daegu's 20-yard line.
"We left too many chances in the red zone tonight, and when they (Daegu) loaded up the box our guys didn't get man-to-man and win the battles," Miller said.