Pacificwide basketball: Okinawa Mystics impressive despite player shortage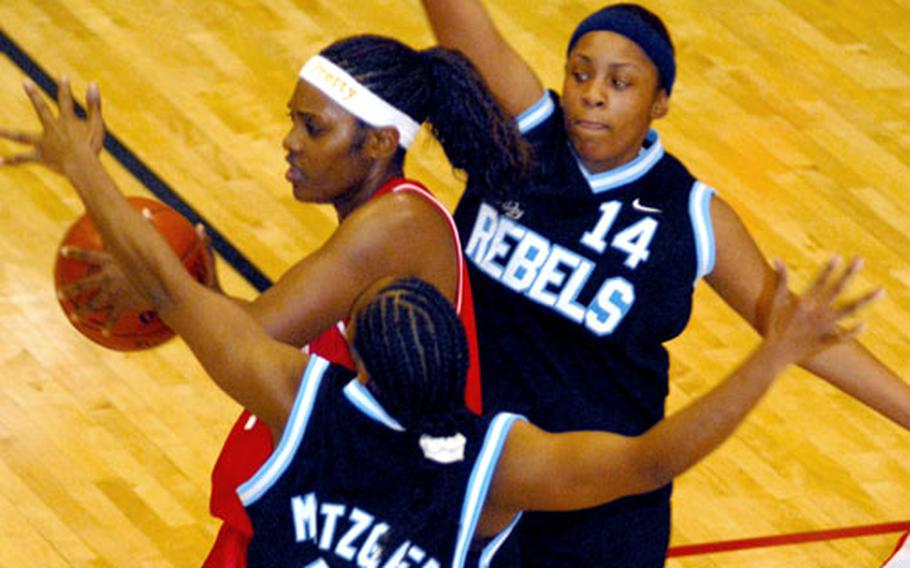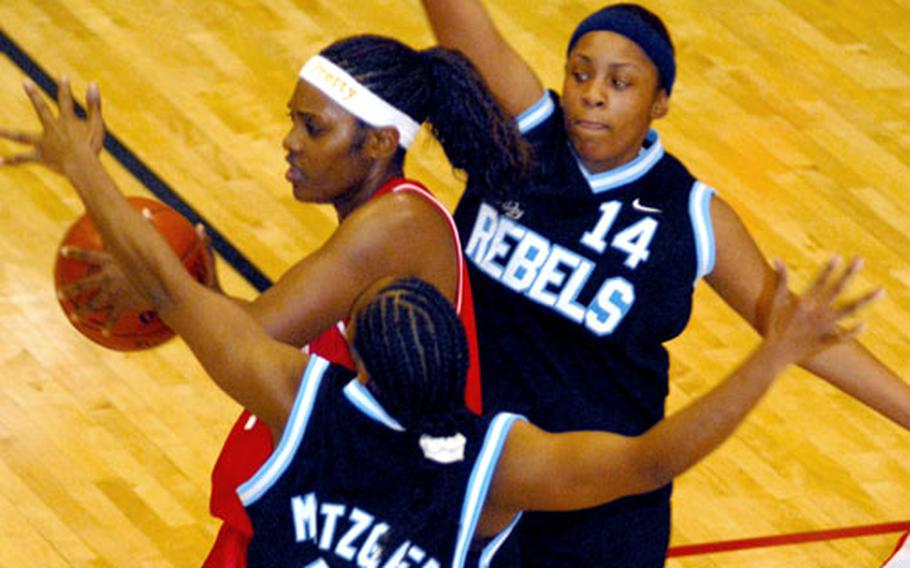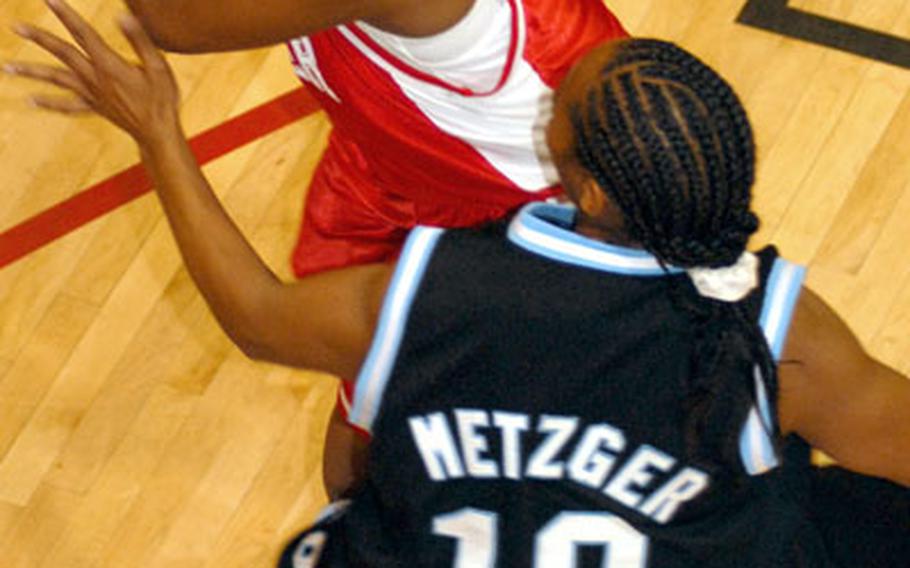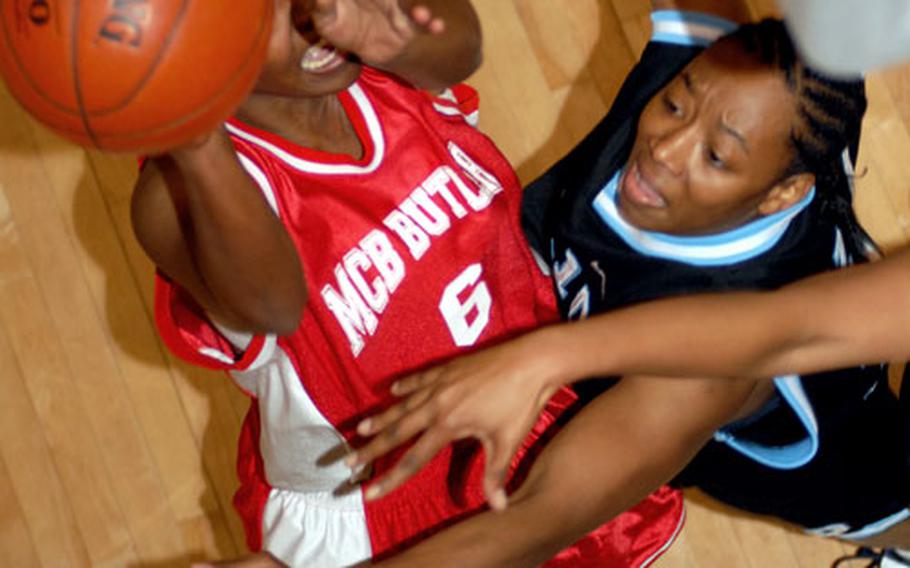 OSAN AIR BASE, South Korea — They'd be proud winners of the James Brown Award for hardest working women's basketball team in the Far East, if organizers of the 20th-Anniversary Pacificwide Open Holiday Tournament gave out such a thing.
The Okinawa Mystics, the lone "open" team in the predominantly post-level tournament, may be thin in numbers. Yet, through four days of play, the team's two soldiers, one airman, one Marine and one ex-Marine had impressed opponents and observers not just by reaching the championship game, but with their ability to play hard all 40 minutes and not seem to get tired.
"They don't need" more players, said Camp Humphreys guard Nieasha Wingster, who has played in this tournament the last three years and said she'd never seen anything like the Mystics. "They could win this thing."
Pretty tall order considering the Mystics are an injury or a foul-out away from falling below the minimum needed just to start a game.
"It's rough, but we don't think about it," said Mystics' swingman Evevetta Crawford, seven times All-Army and All-Armed Forces, whose been stationed at Okinawa's Fort Buckner for two years.
"We go out there and play. A lot of heart. And the good Lord is our sixth man."
Certainly, a good gaze at the Mystics roster reveals a strong pedigree. Besides Crawford, April Moss is a two-time former All-Marine (2003-04), Coco McCray — now a dependent spouse — achieved a similar distinction in 2000 and point guard Amoni Suttice, a soldier, won this tournament two years ago with Korea's Kunsan Air Base.
Thus, the Mystics are "used to hard work," Crawford said.
It's the type of work similar to what she, Moss and McCray endured during their visits to all-service tryout camps. Typically, the three said, a tryout camp runs for three weeks — three practices and conditioning that total 10-hour days.
"Hard work, dedication and concentration," Crawford said. "It's killer, especially on the body. Like at camp, you have to give it all you have here, until the final buzzer sounds."
Despite having to forfeit their first round-robin game to Kunsan on Saturday, the Mystics still earned the top seed in the double-elimination playoffs by winning their next three games. They routed Yongsan Garrison 90-65 in the first playoff round before reaching Wednesday's championship game by outlasting host Osan 67-63.
Of the possibility that the Mystics might carry home the championship hardware despite their thin numbers, Crawford said: "That would be great if we did, really be great."
Interservice basketball20th Anniversary Pacificwide Open Holiday TournamentAt Osan Fitness & Sports Complex Osan Air Base, South Korea
Men's double-elimination playoffs
Monday's games Game 1-Osan Air Base, South Korea, 104, Wonju/Camp Long, South Korea, 37Game 2-Kunsan Air Base, South Korea, 87, Andersen Air Force Base, Guam, 81Game 3-Kadena Air Base, Okinawa, 104, Suwon Air Base, South Korea, 72Game 4-Yongsan Garrison, South Korea, 79, Camp Humphreys, South Korea, 69Game 5-Andersen Air Force Base 87, Wonju/Camp Long 69; Wonju/Camp Long eliminatedGame 6-Camp Humphreys 82, Suwon Air Base 77; Suwon Air Base eliminatedGame 7-Osan Air Base 89, Kunsan Air Base 58Game 8-Kadena Air Base 94, Yongsan Garrison 83
Tuesday's games Game 9-Kunsan Air Base 71, Camp Humphreys 65; Camp Humphreys eliminatedGame 10-Yongsan Garrison 91, Andersen Air Force Base 86; Andersen Air Force Base eliminatedGame 11-Osan Air Base 104, Kadena Air Base 92Game 12-Yongsan Garrison 93, Kunsan Air Base 74; Kunsan Air Base eliminatedGame 13-Yongsan Garrison 75, Kadena Air Base 74; Kadena Air Base eliminated
Wednesday's games Game 14-Osan Air Base vs. Yongsan GarrisonGame 15-Osan Air Base vs. Yongsan Garrison, if Osan Air Base loses Game 14
Women's double-elimination playoffs
Monday's games Game 1-Osan Air Base, South Korea, 66, Camp Humphreys, South Korea, 59Game 2-Mystics, Okinawa, 90, Yongsan Garrison, South Korea, 65
Tuesday's games Game 3-Mystics 67, Osan Air Base 63Game 4-Camp Humphreys 57, Yongsan Garrison 52; Yongsan Garrison eliminatedGame 5-Osan Air Base 65, Camp Humphreys 52; Camp Humphreys eliminated
Wednesday's games Game 6-Mystics vs. Osan Air BaseGame 7-Mystics vs. Osan Air Base, if Mystics lose Game 6