Humphreys runner Elliott taking it to next level
by
Dave Ornauer
June 27, 2020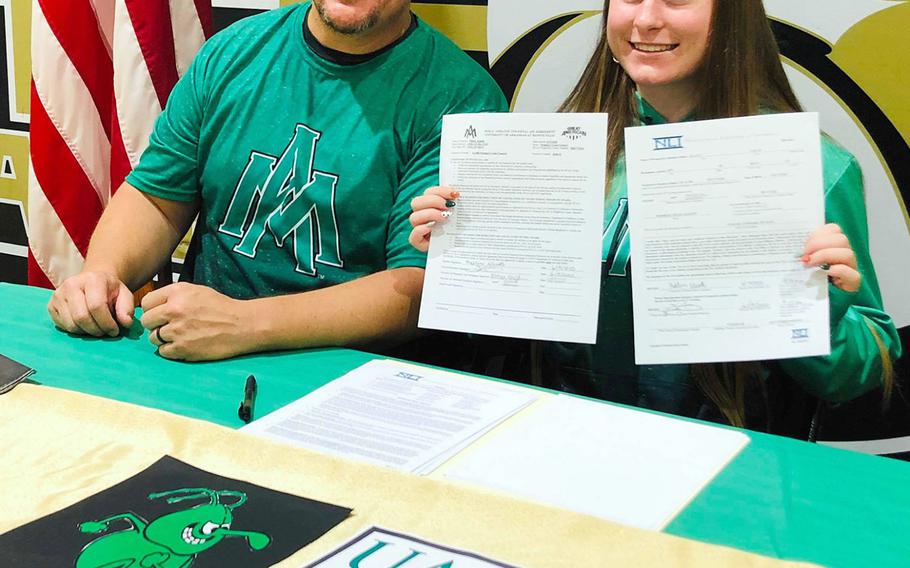 Kaelin Elliott, who graduated from Humphreys earlier this month and ran for the Blackhawks' cross country team for her entire high school career, has signed a National Letter of Intent to run for the University of Arkansas at Monticello.
Elliott, the daughter of educators at Camp Humphreys in South Korea, joins a Boll Weevils team that participates in Division II's Great American Conference. Elliott's father, Steven, the Blackhawks' football coach, attended UAM from 1995-96.
Elliott's personal best time in high school of 24 minutes, 1.0 seconds came last Oct. 8 at a Korean-American Interscholastic Activities Conference regular-season meet at Camp Walker in Daegu. Overall, her best time is 23:27, achieved at an open meet on Camp Humphreys in October 2017.
While not especially fast, Elliott's times put her as the second-fastest runner on the Boll Weevils squad, said UAM's cross country coach Rob Leonard.
"She has a very good academic record and her family is solidly behind her," Leonard said. "I believe Kaelin will love the other ladies on this squad. They all work hard and are very focused on their goals, academically, athletically and spiritually. I think Kaelin will be a perfect fit."
"I'm sure Kaelin will compete and will be very successful at the next level," said Humphreys cross country coach Dean Florio.
"She's been training these past few months and will continue to work even harder so she shows up (at UAM) prepared in the fall, ready to go," Florio said.