Current, former DODEA-Pacific athletes set to play college hoops
by
Dave Ornauer
April 5, 2021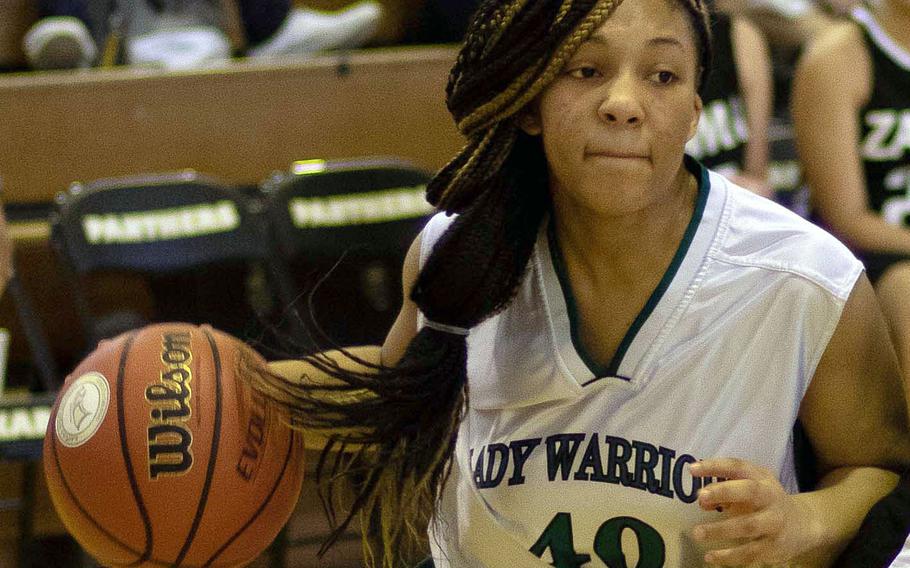 Two former DODEA-Pacific girls basketball players have elevated their game to the college Division I level, while a third is set to take her skills to a Division III school.
Bethani Newbold, a Daegu senior and former All-Far East Division II guard, hasn't played ball since the first day of the 2020 Far East tournament, due to the coronavirus pandemic. But having viewed highlights and game film of Newbold in action, coach Kalin Wynn of D-III Notre Dame of Maryland University said they are taking a chance on her.
"We were instantly drawn to her toughness and her ability to play multiple positions at the guard level," Wynn said by email. "We were specifically looking for guards that can score … and make her teammates better. We feel Bethani fits that bill."
Newbold's old coach with the Warriors, Jonathan Van, said Bethani "will be an instant asset" with the Gators.
"She can flat out score … and she is very respectful to her coach(es) and teammates," said Van, now teaching in upstate New York. "We had a lot of success at Daegu, but without Bethani, I could see us working a lot harder to win ball games."
Newbold will likely face having to learn what most freshmen do, Wynn said. "She will have to adjust to the speed of the college game … and adjust to being away from home and manage her academic schedule. (But) we are very excited and looking forward to having Bethani in a Gator uniform."
The Gators play in the D-III Colonia States Athletic Conference. Their season was canceled due to the pandemic. They went 17-9 overall and 13-5 in conference during their last season, 2019-20.
Other former DODEA-Pacific players at the D-I level include:
-- Ja'la Wade, a 6-foot-3 freshman, is playing for Howard of the Mid-Eastern Athletic Conference. She was an All-Far East forward for Robert D. Edgren in 2017 and finished her high school years at Westwood (S.C.).
"Ja'la will add some much-needed size for us," Bison coach Ty Grace said for Wade's biographical page. "She is a mobile post who can run the floor, block shots and has a nice touch inside. Ja'la has tremendous upside and the best is yet to come."
Her old coach at Edgren, Sarah Richardson, said though Wade was a freshman with the Eagles, "she was very knowledgeable about the game" and described Wade as a "power player."
"Her boxing out and rebounding power will give Howard the edge," Richardson said. "Her competitive nature and determination have always pushed her to the next level."
The Bison went 15-4 overall and 10-2 in the MEAC regular season. They lost in the MEAC tournament final March 13 against North Carolina A&T.
-- Dallas Carter, a 5-11 freshman, was a two-time All-Far East Division I forward for Nile C. Kinnick in Japan, finished her high school at Oxbridge Academy in West Palm Beach, Fla., and is now on the roster at Long Island University in Brooklyn.
She's the third former Red Devil to reach the NCAA D-I level, joining Alyshia Allison, who played four seasons at Campbell (N.C.) in the Big South Conference; and De'Asia Brown, who played at Furman of the Southern Conference for two seasons.
Carter's former coach at Kinnick, Mike Adair, describes her as "tenacious."
"She was probably one of the most aggressive girls that ever played for me," Adair said. "She was aggressive, she took it personally, she took it seriously and she always played with a chip" on her shoulder. "For the most part, that made her a better player."
In the just-completed season, the Sharks went 7-11 overall and in the Northeast Conference.