Zama solves Yokota puzzle at last; Chiarenza earns Player of the Year honor
by
Dave Ornauer
June 2, 2017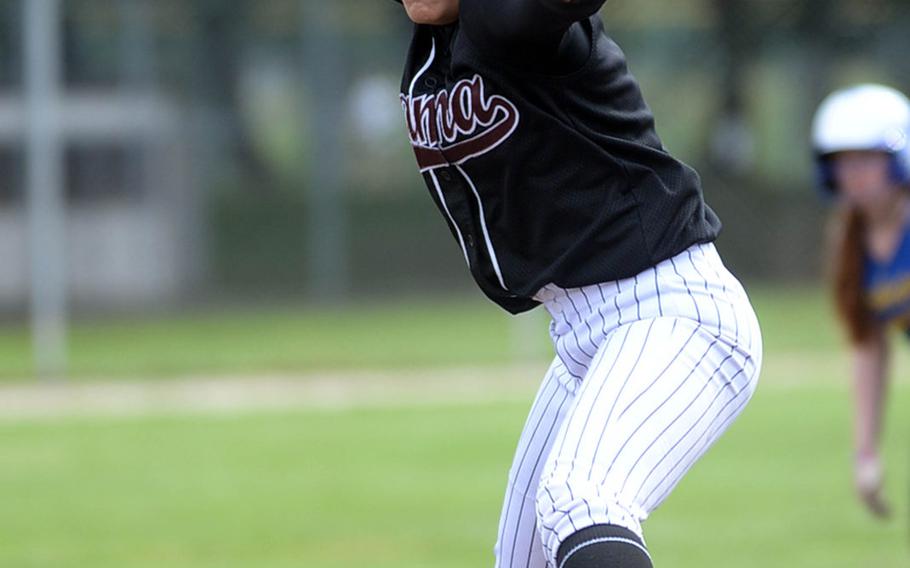 CAMP ZAMA, Japan – Throughout Ally Chiarenza's four years at Zama American High School, it seemed no matter what Trojans team she played for, they were destined to finish behind arch-rival Yokota.
From the moment the Panthers became a Division II program in November 2014, the results were the same. Zama took second behind Yokota in volleyball last fall, basketball in 2015 and 2016 and softball in 2015, all teams with the hard-luck Chiarenza on the roster.
"We kept coming in second in everything," Chiarenza said on May 24, a week after the Trojans finally solved the Panther puzzle and won the school's first D-II softball tournament title since 2012.
They needed three games to do it in a triple-elimination tournament, and the Trojans lost the first two 16-0 and 10-6 to Yokota, but finally reached the summit with a 13-3 triumph over the Panthers on May 17.
"We were always so close and yet so far," Chiarenza said. "It fueled my fire, wanting to take that banner once and end my high school career with a championship."
Through it all, Chiarenza pitched the majority of the innings in Zama's 17 victories. At the plate, the senior batted a team-high .733 with a .785 on-base percentage, 1.187 slugging percentage and 1.972 OPS, with 20 extra-base hits, 45 RBIs, 14 walks and just four strikeouts.
For all that, Chiarenza has been named Stars and Stripes Pacific softball Player of the Year.
"Her durability at the plate and on the mound" made a difference for the Trojans, coach Aaron Wells said. "She was obviously our best pitcher and brought a huge amount of hits and RBIs to the team."
It didn't seem as if the dream season would come to pass at the start, Chiarenza said.
"We had people who had never played before, but they came a long way," she said. "I was worried a lot, terrified, during the regular season that we might not win."
Win they did coming out of the box, by scores of 31-3, 37-7 and 24-15 over Matthew C. Perry, in a weekend series in which Chiarenza drove in 18 runs, hitting a grand slam in the process.
The Trojans did have their struggles against Division I schools, falling three times to Nile C. Kinnick and twice to American School In Japan, and splitting four games with D-II rival E.J. King.
And there was dealing with the Panthers, who tied the Trojans 6-6 during pool play in the DODEA-Japan tournament in late April. But Zama won three other games in that tournament, including the third-place game 10-8 over those same Panthers, which Chiarenza said was key.
"We kept winning games" in the DODEA-Japan tournament, she said. "It showed us we had a chance to go far. When we beat Yokota, I thought we had a chance" in the Far East tournament. Zama backed that with two late regular-season wins over Yokota, 17-2 and 16-5.
Zama opened strongly in its first two Far East games, then survived two close calls with Yokota 15-13 and 9-8, and the Trojans reached the D-II final with no losses, while Yokota had those two defeats.
The 16-0 loss in the first final game threw a scare into the Trojans, Chiarenza said. "I knew we had two more games" against them, but "I was worried that all we had done would have been for nothing. Four years and I'm still not going to go out a winner."
When the clincher came to an end, players, coaches and parents all celebrated as one on the grounds of MacArthur Field at Naval Air Facility Atsugi, site of the D-II tournament. Chiarenza said a cool of the evening feeling swept over her as the celebration ensured.
"It still doesn't feel real," Chiarenza said, adding that coming up short in all those others made winning the banner "mean more to me. The first one in four years. It means a lot."
ornauer.dave@stripes.com Twitter @ornauer_stripes