Zama makes statement in rout of Perry
---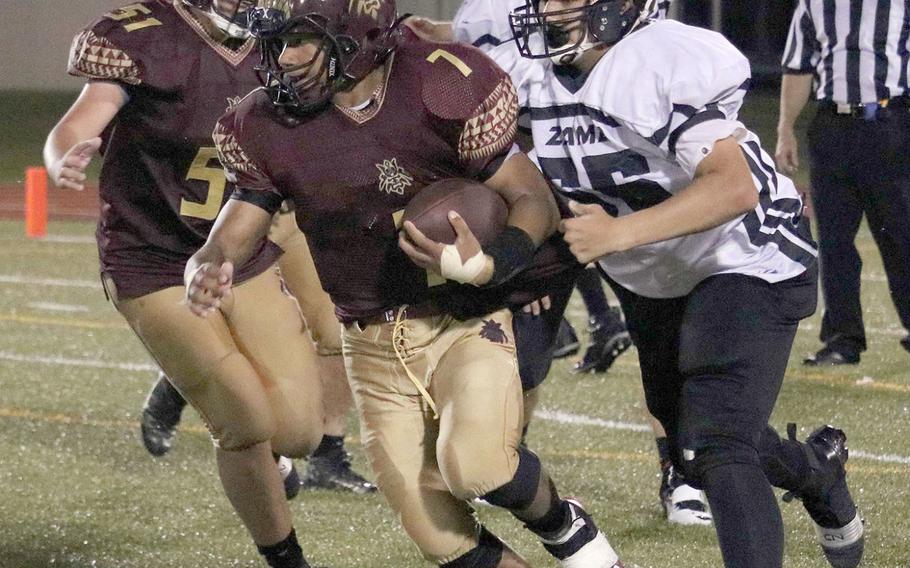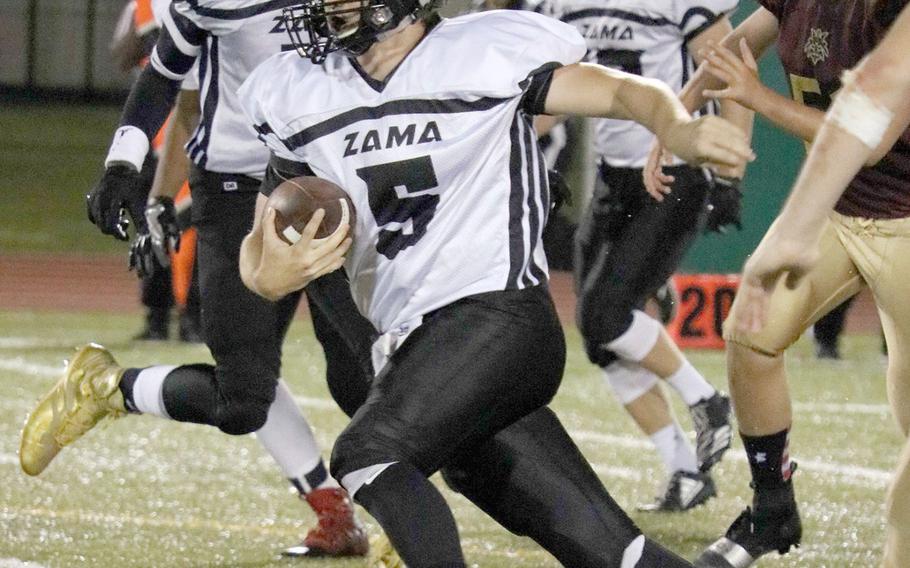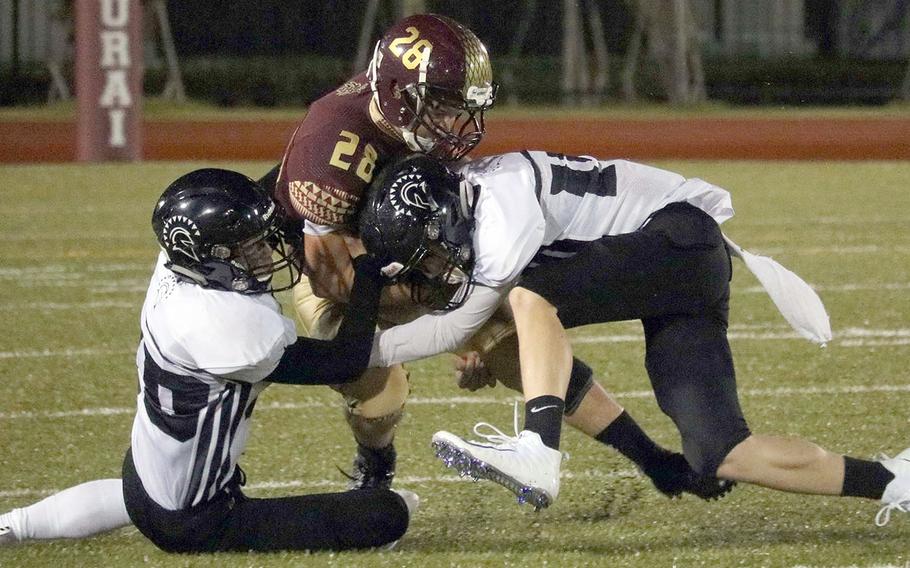 MARINE CORPS AIR STATION IWAKUNI, Japan – It has always been one facet or another lacking in Zama games the past few seasons.
On Friday, the Trojans put everything together for the biggest win in football coach Scott Bolin's four-year tenure.
Nick Canada ran for two touchdowns and tossed a 20-yard strike to his brother Sean plus a 13-yarder to Sean Sullivan, and three other Trojans rushed for TDs as Zama routed Matthew C. Perry 46-0.
"The potential has always been there," Bolin said. "The kids just trusted each other enough to do it … and they did it tonight in a big way."
The offensive line, in particular, stepped up to blow open holes for the running backs and keep Canada protected, Bolin said. That was crucial, he said, for the Trojans had two big obstacles to face in returning Perry linemen Derek Jacques and Marshall China.
"Our line played especially well," Bolin said. "They stepped up to the challenge in a big way and our skills guys executed the way they needed to. Everybody bought in."
Canada's TD runs were for 10 and 20 yards. Jared Sampayan had a 3-yard scoring run, Luke Singer rushed 15 yards for a touchdown and Dominic Peruccio, a freshman, added a 5-yard TD run. Justyn Seraphin, a soccer player, handled placements and also had an interception for Zama.
The win was a sharp turnaround for a Zama program that had gone 6-33 the last five seasons and hasn't had a winning season since last capturing a Far East Division II banner in 2012.
The Samurai had reached the D-II final the last two seasons, winning in 2016, but losing 39-0 last fall at Humphreys.
"You can tell a year of seasoning has done them well," Samurai coach Frank Macias said. "Such is high school sports. We had a good run. Zama got a little payback tonight. They've got a good team."
Cameron Penn led the Samurai with 98 yards on 21 attempts and Kristian Irons added 59 yards on seven carries. China had six tackles, Maverick Graydon a sack and an interception and Micah Rupp and Roy Clayton each had interceptions for Perry.
"We just got outplayed," Macias said.
The Samurai also lost several players to injury, knocking the ranks down to 14 with a road trip to Daegu coming up at 5 p.m. Saturday.
"I'm going to have to recruit some players and we have to get healthy," Macias said.
The Trojans next host Yokota at Naval Air Facility Atsugi's Reid Memorial Stadium at 7 p.m. Friday. The victory gives Zama a solid confidence boost going into the game with the Panthers, the winningest program in DODEA-Japan history.
"We have to get the first one to get the second one," Bolin said. "Now that we have the first one, by having the confidence to take this game, we feel we can take a crack at (Yokota) on our home turf."
---
---
---
---