Yokota wraps up Japan titles, clinches finals berth
---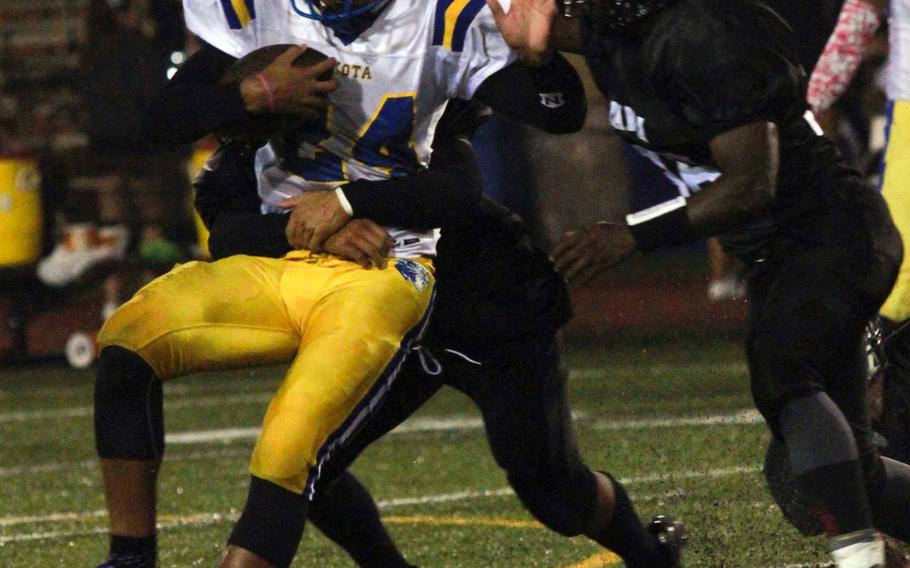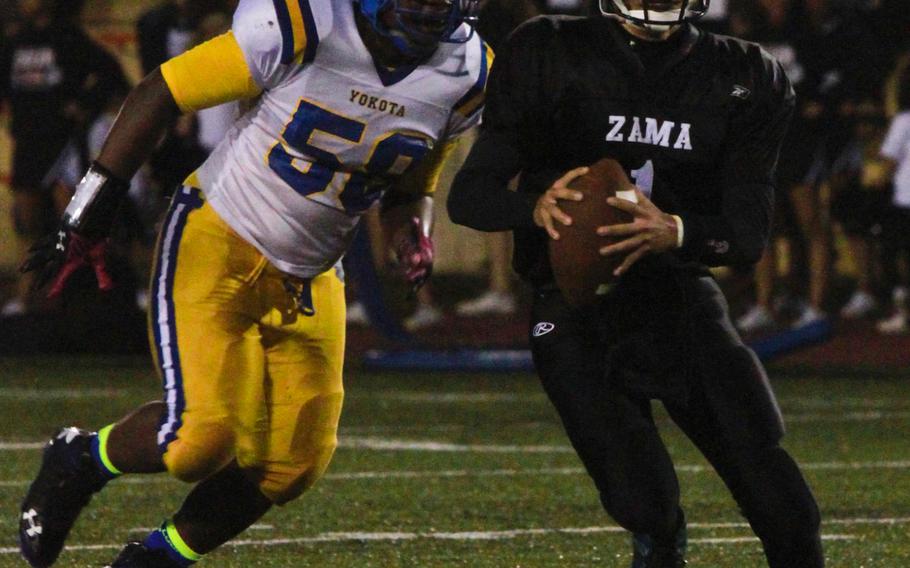 CAMP ZAMA, Japan – A five-touchdown performance by Shota Sprunger and a huge second half Friday by Yokota gave the Panthers their first DODDS Japan and Kanto Plain titles in three years, plus the first Far East Division II title-game berth in school history.
Sprunger ran 11 times for 214 yards, including five TD runs of 23 yards or more, and Yokota broke open a tight game, scoring 28 unanswered points to begin the second half and beating Zama 49-14.
"It feels good. Happy for the boys," coach Tim Pujol said after his Panthers captured the 14th DODDS Japan and Kanto Plain titles on his 17-season watch.
The game remained scoreless through nine possessions, until Trojans senior Keiyl Sasano rambled 12 yards for the first touchdown.
From there, the Panthers could not be caught. Sprunger scored just before halftime to give Yokota the lead for good, Jamarvin Harvey added a TD run to open the second half, then Sprunger added scoring runs of 35, 32, 46 and 53 yards, the first two on consecutive carries.
Marcus Henagan began Yokota's scoring with a 24-yard run, prior to Sprunger's first TD run.
"We scored, then we got a turnover and punched on in before halftime; that gave us some momentum, we made some changes at halftime to some of our strategies and thankfully they worked for us," Pujol said. "The second half went a lot better."
For the Trojans, who also got a touchdown when K.J. Cruz fell on a Yokota fumble in the end zone, it was a "tale of one quarter," coach Scott Bolin said, adding that a bad quarter or two has been something "we've been fighting … all year."
Despite falling to 0-5 overall, "we're moving in the direction we want. We're excited about the future," Bolin said.
Harvey added 75 yards on 12 carries and Henagan 50 yards on six attempts. Shomari Tindal, Jalen Harrison and Easton Gladue each recovered fumbles for the Panthers. Sprunger totaled 307 all-purpose yards, including kick returns.
Cruz posted exactly 100 yards total offense, while Sasano racked up 128 all-purpose yards.
Next up for the Panthers is homecoming, against Robert D. Edgren on Friday; kickoff is at 7 p.m. Zama entertains Matthew C. Perry on Friday; kickoff for that is also at 7 p.m.
---
---
---
---