Yokota romps past Daegu in nine-man debut
---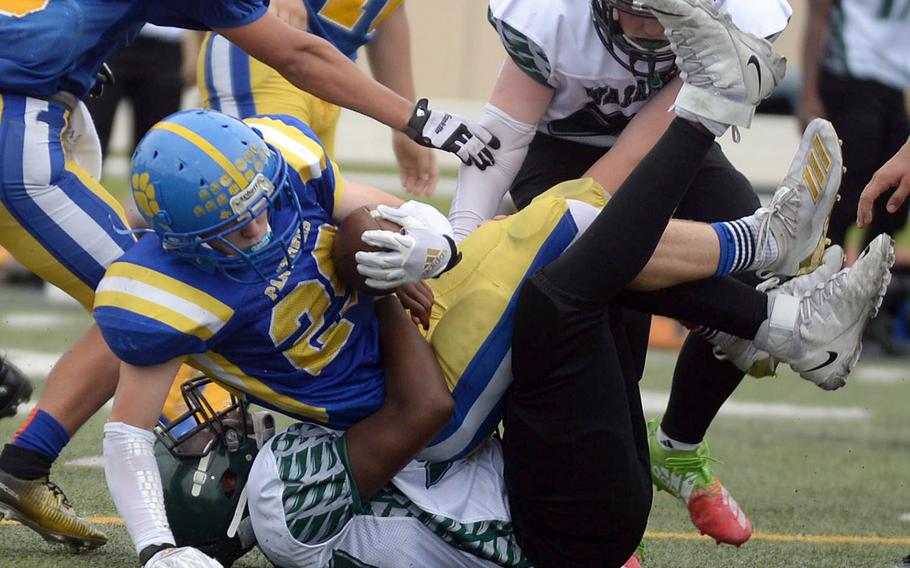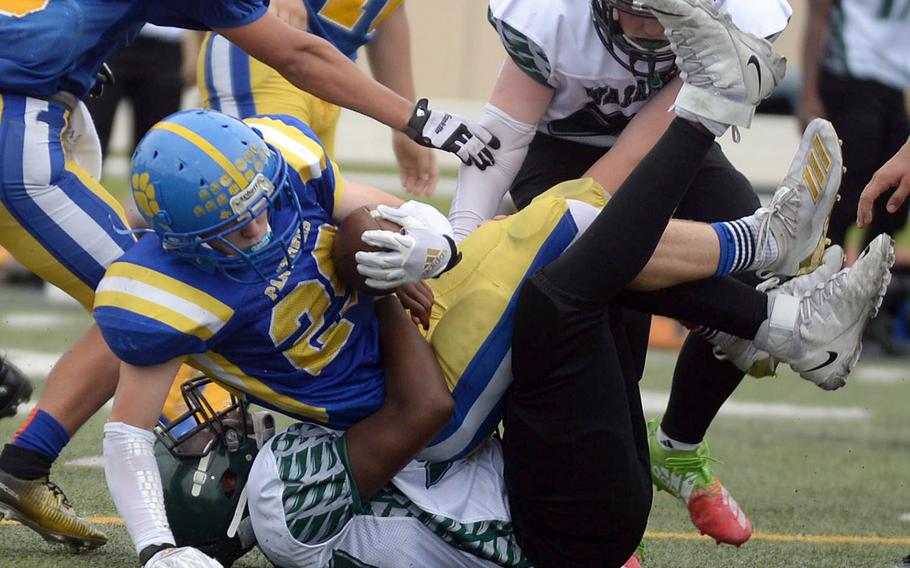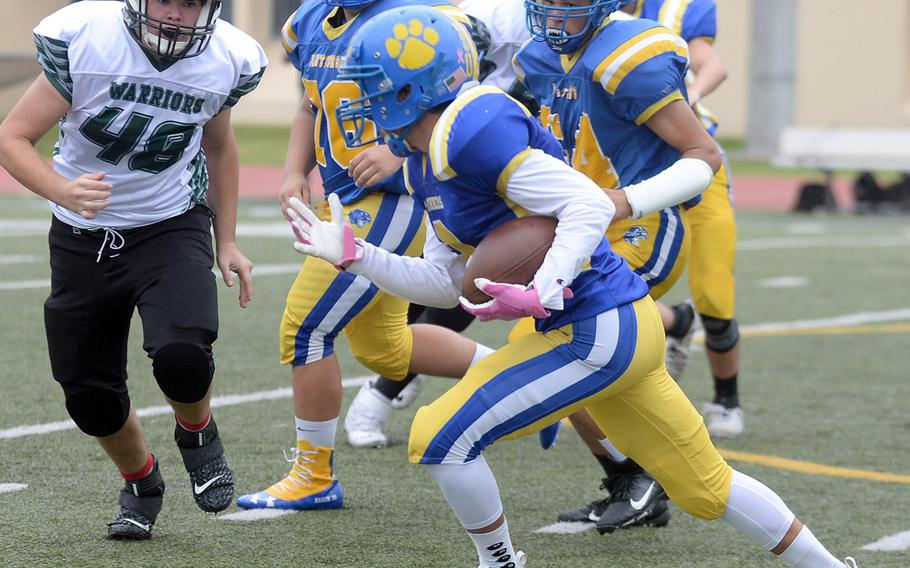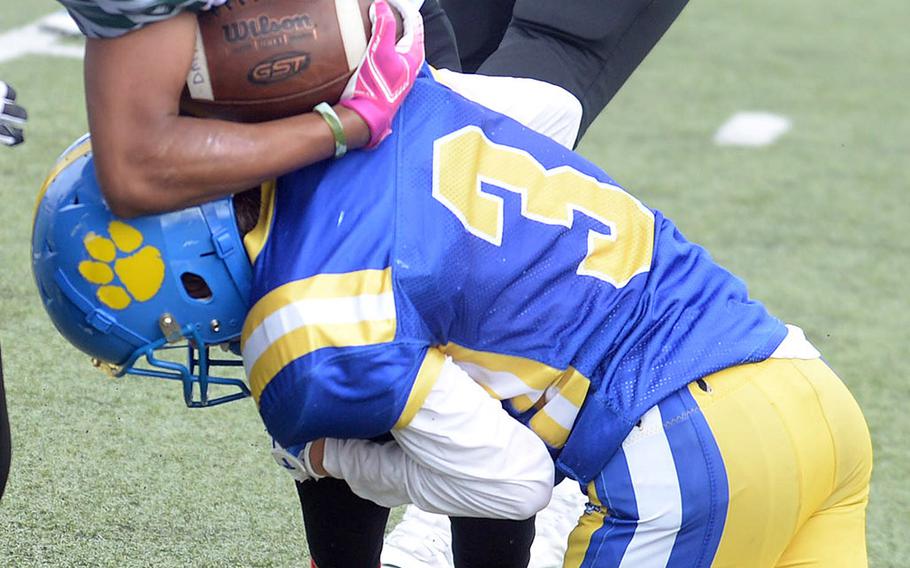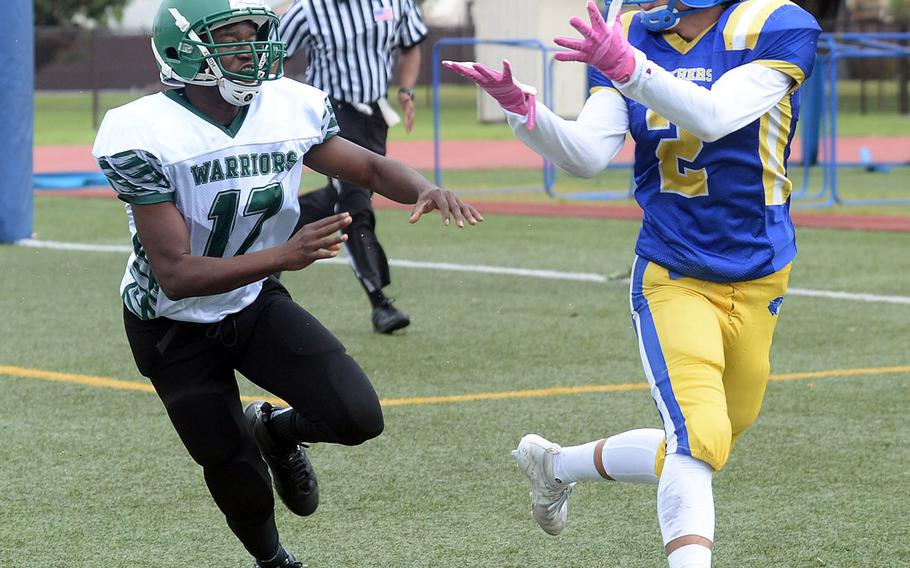 YOKOTA AIR BASE, Japan – Chris Jones suffered a concussion and a back injury in the first game that put him out of action the rest of the season. But the guy who had been destined to start at quarterback for Yokota didn't want to just sit idly by and watch.
The junior transfer from Nebraska assumed a student-assistant coach role, helping mentor some of the younger players such as freshman quarterback Brody Choate and Jones' younger brother, freshman receiver Caleb Jones.
And on Saturday, at least, some of that mentoring paid off handsomely.
Choate threw three touchdown passes, two to Jones, and Kura Sato scored on offense, defense and special teams as the Panthers rolled up 439 yards of offense in a 54-0 home romp over Daegu.
"I have a lot of experience," Jones said. "I have to use it somehow."
Coach Tim Pujol, for one, likes having Jones in his sideline role. "We're happy to have him and consider him an important part of the team," Pujol said.
Choate says Jones has imparted quite a few things to him that have benefitted his game, the most important being leadership.
"A quarterback has to lead the team. If something's wrong, he needs to point it out," Choate said. "It's hard to do that because I'm a freshman, but the team respects me now and I'm happy; we're doing a lot of good things."
Choate went 10-for-18 for 176 yards, including touchdown passes of 9 yards to Sato and 22 and 39 yards to Caleb Jones. Sato amassed 172 all-purpose yards, also running 47 yards for a TD and returning a kickoff 89 yards for a score.
Ethan Smith rushed five times for 112 yards, including a 42-yard scoring run, and threw a halfback option pass 43 yards to Connor Rowan for a touchdown. Caleb Jones also had an interception, and July Williams had a fumble recovery and a sack.
The game was called with 9 minutes, 31 seconds left due to a new DODEA-Pacific rule that mandates that games terminate if a team has a 50-point lead or more. Yokota improved to 2-3 on the season and 2-2 in Division II, while the Warriors fell to 1-4 and 0-4.
The bright spot for the Warriors was Andrue McCall, who had 84 all-purpose yards. Daegu had 175 yards on seven returns, something Pujol said his Panthers must work on in the coming weeks.
"Our tackling was sloppy, our pass protection was sporadic," Pujol said. "I felt like our energy level was a bit lower than it should have been."
This was Yokota's first time to host Daegu, and the first time the Panthers played nine-man format; the Warriors are one of two teams that opted to play nine-man at the start of this season. Pujol once coached Daegu in the mid-1990s when Korea senior football was run by Army Community Services.
The Panthers next play their homecoming game Friday at 5:30 p.m. against Robert D. Edgren, while the Warriors next visit Osan at 6 p.m. Friday.
ornauer.dave@stripes.com Twitter: @daveornauer
---
---
---
---