Prep roundup
Yokota breaks Red Devils' DODEA-Japan volleyball reign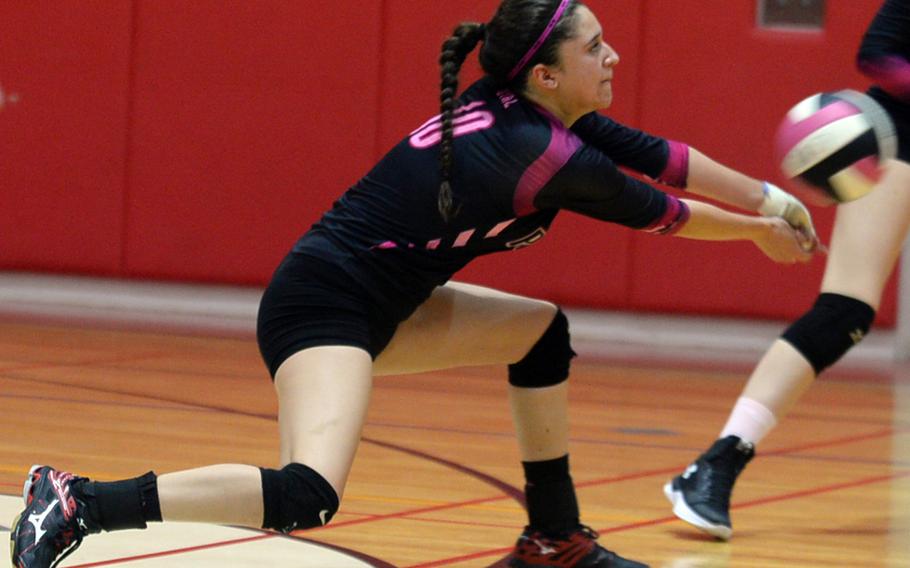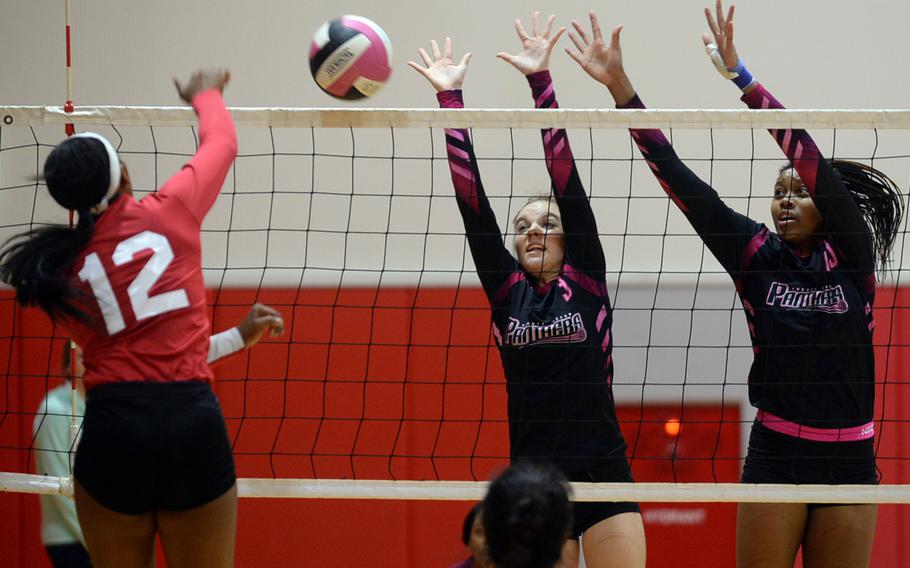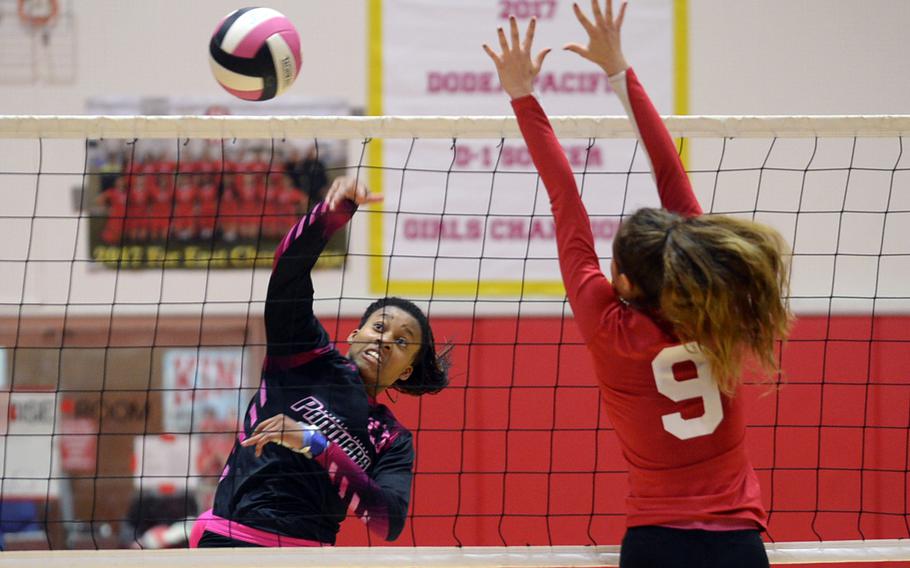 YOKOSUKA NAVAL BASE, Japan – For the first time, a team other than Nile C. Kinnick has won the DODEA-Japan/Pacific-East girls volleyball tournament, ending a 10-year of run of success by the Red Devils since the tournament's inception in 2007.
Britney Bailey had 24 kills and reigning Far East Division II Tournament MVP Kyra Anderson had 37 assists to boost Yokota, the defending D-II champion, past host Kinnick 27-25, 31-29, 23-25, 25-17.
"Britney stepped up today and her teammates were a really solid supporting cast for her," coach Byron Wrenn said. Adrianna Diaz contributed 12 kills and 11 aces for the Panthers. Bailey had four block points and Diaz three.
For senior libero Jamia Bailey (no relation), it was extra special; she's been part of Panthers basketball teams that have won three straight Pac-East titles and now she has a volleyball title to go with it. "It's great to be part of school-change history," Bailey said.
The Panthers overcame a strong effort by Red Devils outside hitters. Exotica Hall, Jade McGinnis and Emma Stevens combined for 31 kills and setter Faith Hughes had 31 assists.
Next for the teams is their respective Far East tournaments, Division I at Kadena and D-II at Zama.
Kinnick turns cross country into runawayTAMA HILLS RECREATION CENTER, Japan – The Red Devils didn't come away empty handed over the weekend. Kinnick swept the boys and girls teams titles and won both individual races in Saturday's DODEA-Japan/Pac-East cross country meet.
Aki Siibo won the boys 2.9-mile race in 15 minutes, 41.5 seconds, Taryn Cates-Beier captured the girls 2.1-mile race in 13:38.3 and Kinnick won the boys team title 20-46 and the girls 10-50, both over Zama.
It was the six DODEA-Japan schools' last tuneup for the Far East meet upcoming Wednesday at Robert D. Edgren.
Absent seeing the strong Kadena boys and girls teams and Seoul American's Tucker Chase and Chloe Byrd, coach Luke Voth of defending Far East Division I champion Kinnick said he feels confident.
"The kids will race well, they've trained hard and they know the task at hand," Voth said. "I'm confident that we'll be competitive. But Kadena will be competitive enough that I'm worried about them."
ASIJ sweeps on GuamUPPER TUMON, Guam – Absent from this year's Far East cross country meet will be American School In Japan, a regular entrant which chose to attend the 15th Asia-Pacific Invitational on Guam and forego Far East, less than five days after API.
Freshman Saga Wihman won the girls 3.12-mile race in 20 minutes, 45 seconds, while Christian Academy Japan's Takehiro Murai took the boys in 17:41.7. ASIJ won the girls and the 6.24-mile relay team titles and the overall school banner.
Guam island champion Isaac Ventura of Guam High took fifth in the boys in 17:47.8. Girls island champion Emma Sheedy, also of Guam High, finished 12th in 22:39.9.
Freshman Gray pulls upset in tennisMARINE CORPS AIR STATION IWAKUNI, Japan – With all eyes on Zama's senior Petros twins, Megan and Marissa, a freshman from host Matthew C. Perry, Madison Gray, sneaked in and upset Megan Petros for the DODEA-Japan/Pac-East tennis girls singles A bracket title.
"I'm really excited," said Gray after beating Megan Petros 9-7 for the title. "I'm happy I got to play her and beat her. She's a great player. Her serves were really good."
The tournament, scheduled over three days, was completed in 1½ days, trying to beat a forecast of heavy rain on Saturday.
The Petros sisters did win the girls doubles title and their senior teammate Reagan Palmer won the girls singles B bracket.
Kinnick's Oliver Doerr won the boys singles A and teamed with Daniel Posthumus for the boys doubles crown. E.J. King's Akira Goodman took the boys singles B title.