Yokota back to D-I schedule despite low turnout
by
Dave Ornauer
August 22, 2018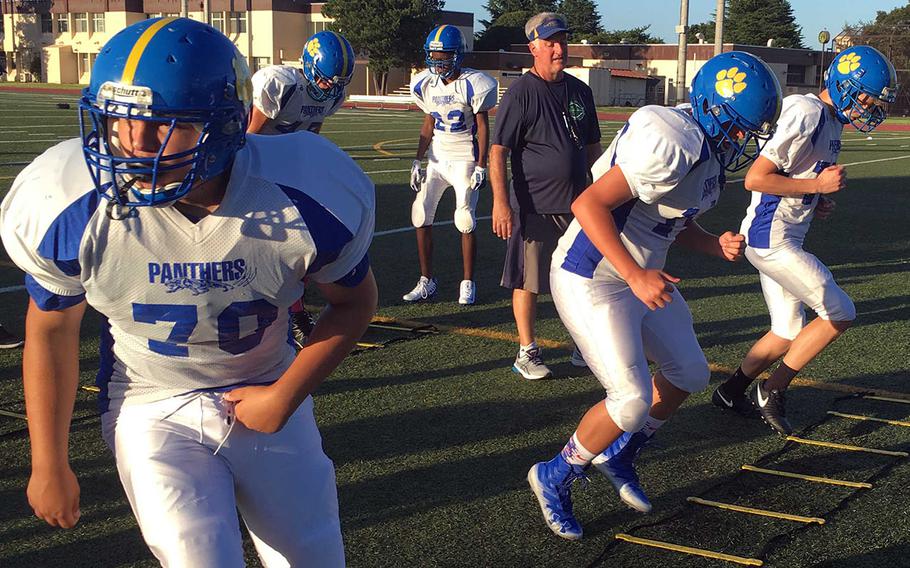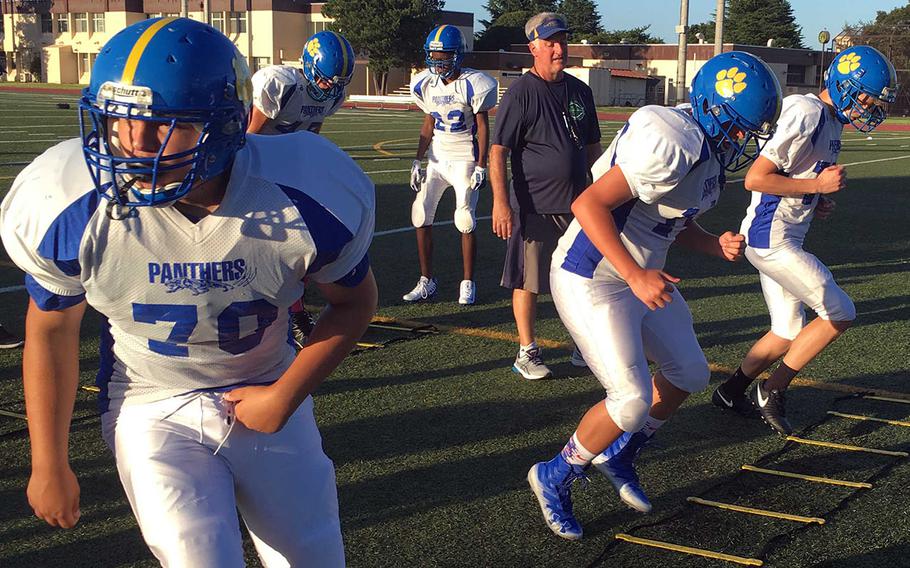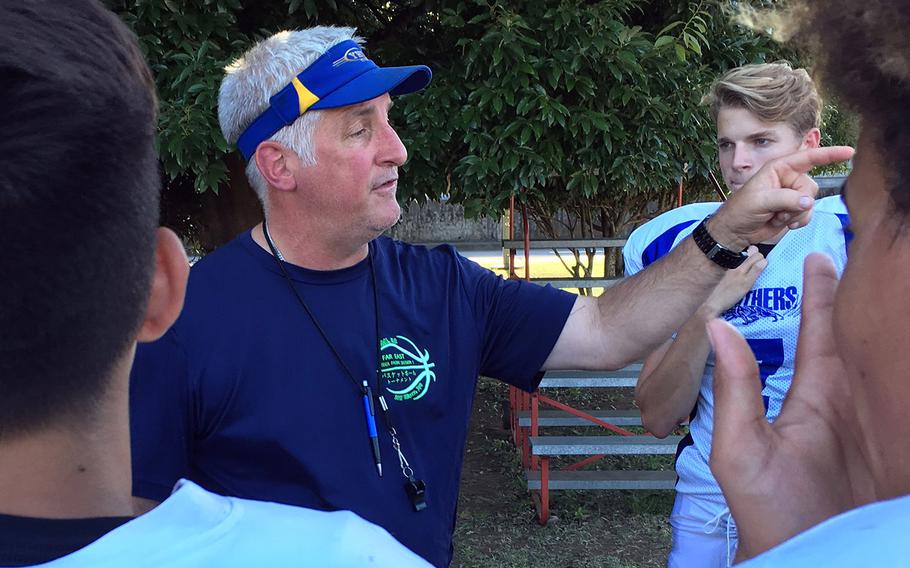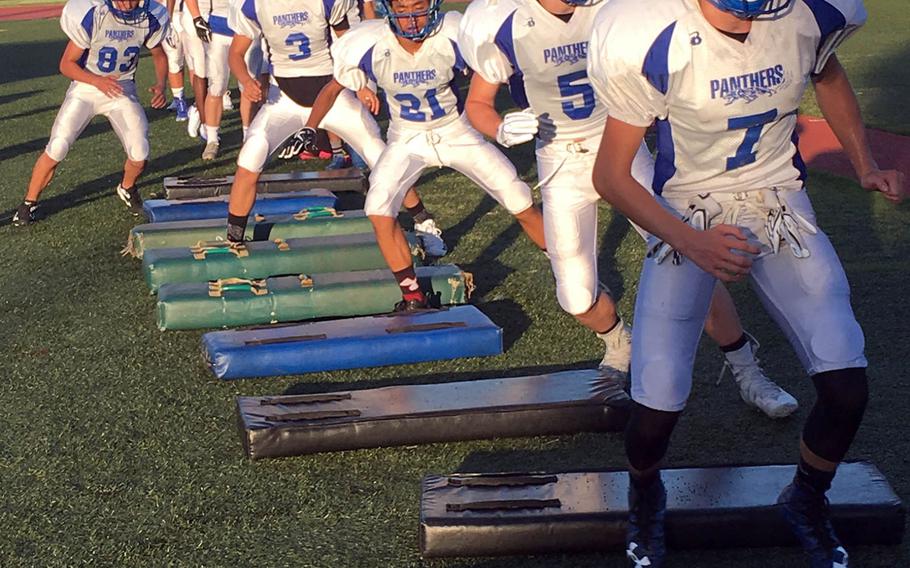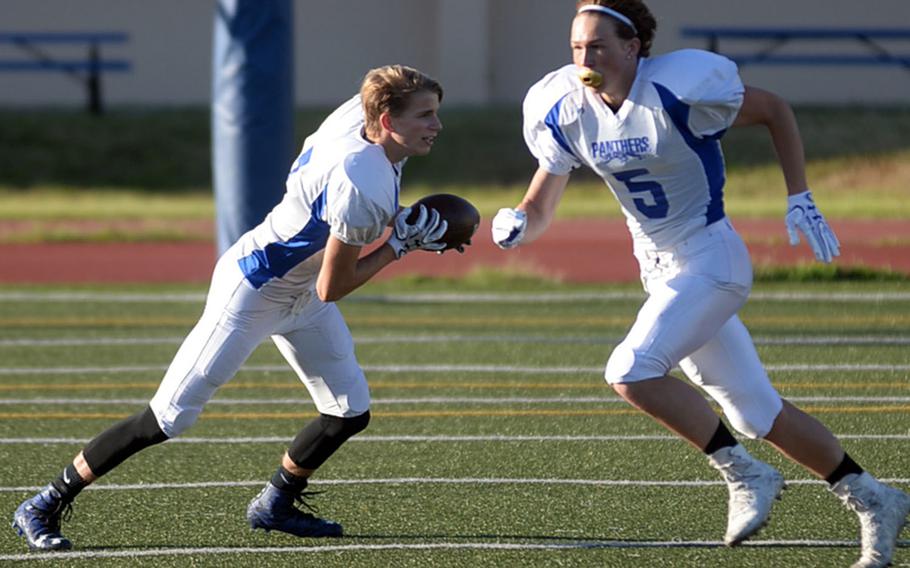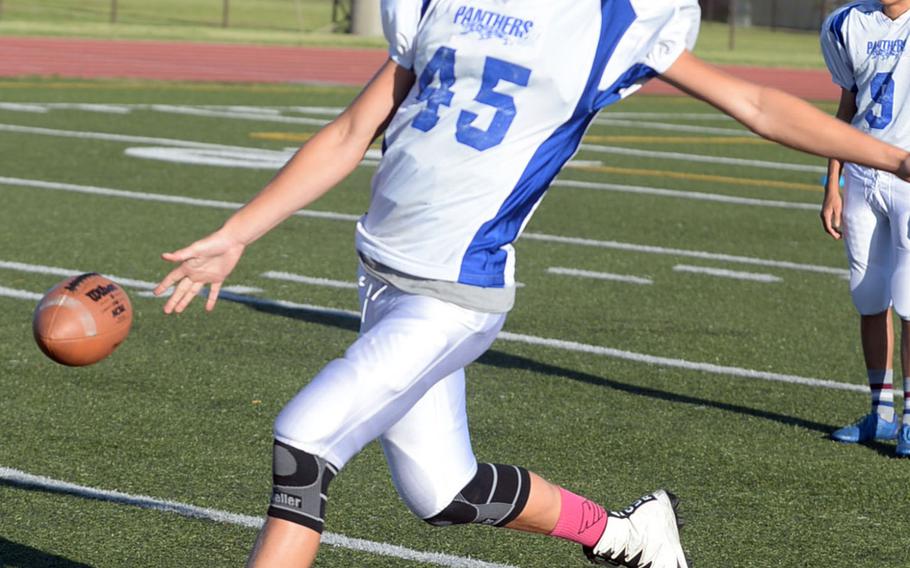 Sixth in a series of looks at high school football camps around the Pacific theater.
YOKOTA AIR BASE, Japan – It's the continuation of a player drought the likes of which had never been seen in Yokota's football program prior to 2017.
Nine days into preparation for the season, the Panthers had just 17 players at Tuesday's practice. Not among them were six players - a tailback, quarterback, split end-kicker, linebacker and two linemen lost to transfer or graduation and responsible for every one of Yokota's 230 points last season.
For the second straight season, Yokota won't field a junior varsity team; that had also never happened before 2017. There's not even enough bodies to hold a full scrimmage during practice.
And all of that coincides with the Panthers' return to Division I, after playing the last three seasons as a small school.
So, how does the dean of DODEA-Pacific high school coaches, Tim Pujol, in his 20th season at the Panthers' helm, handle all that?
"I just show up every day and coach the boys that are here, move on, one drill at a time, one station at a time, one practice at a time, one game at a time, and we're going to rebuild," said Pujol, with a school-record 142 coaching victories and two D-I titles to his credit.
Still, this may be the most stern rebuilding task facing Pujol, who has had just two losing seasons in his two decades at Yokota. "I like working with them, they're coachable, they're willing to learn, but there's not a whole lot of experience here," Pujol said.
The lack of a JV program "has to be the No. 1 factor" causing the player shortage, Pujol said. "We used to have a good, solid JV program, and that coupled with move-ins every year, that was our farm team."
But it's hardly the only reason, Pujol said. For example, many athletes who in past years would play three sports now specialize in one sport, he said. "Back in the old days, they would play football in the fall. Specialization is a driver," Pujol said.
"It seems as if football numbers are down across the board," he said. "It's very hard to come out in the heat, give up those last two weeks of summer vacation; there are fewer players wanting to do it. Plus, there's the fear concussions; that has an effect."
Then, there's what might happen if injuries further thin out Yokota's already slim ranks. "We're just a couple of injuries from the unthinkable," Pujol said. Left unsaid was that Yokota might not be able to finish the season.
The thin roster includes few players with size, but with some speed and quickness.
Senior Ethan Gaume takes over at quarterback for departed Nathan Rundle and is backed up by freshman Nick Yates, who'll also line up at running back and linebacker.
Anchoring the line will be senior Cameron Ewens and juniors Taylor Jenkins and Dwight Phillips. Junior Ethan Smith transfers from Abilene-Cooper (Texas) and will line up at fullback and linebacker.
Junior two-way lineman Austin Fisher won't be available until late September due to a thumb fracture. "That's a huge loss for us," Pujol.
Despite all the barriers to success, "this team works together really well," Ewens said. "It's a rebuild. We have to get the team back to where it was. We may have lost a lot of guys, but we look at it as another obstacle to get past. Motivation to work harder."