Wrestlers get another status check this weekend
---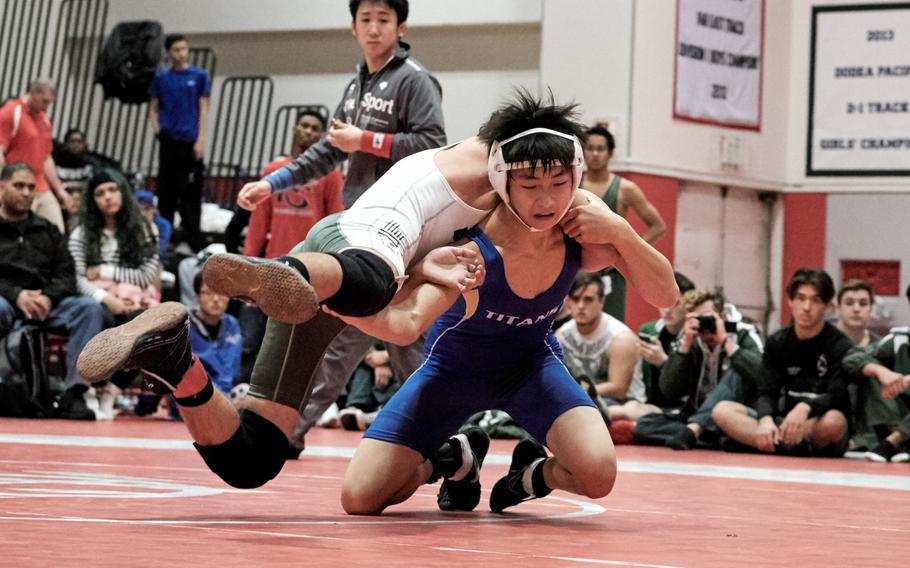 It will have the same familiar Yokota faces that are always around when the school hosts a wrestling tournament. Panthers coach Ty Gaume will direct the Yokota Invitational. Matt Whipple, who has run Kanto finals before, will run operations along with Gaume's wife, Jenny, and retired Yokota teacher and wrestling coach Charlie Capps.
But it won't be at Yokota. Due to a power, water and heat outage Saturday caused by construction of the new Yokota High School, Zama will host Saturday's festivities, starting at 9 a.m. at Trojans Gymnasium.
"We offered to host it and we're happy to have it, absolutely," Zama athletics director Tom Dignan said.
The 11-team tournament is being called "Beast II" by some coaches, a reference to the "Beast of the Far East" Tournament held Jan. 9 at Nile C. Kinnick. It features the same competitors as the first "Beast," minus Seoul American and Shonan and plus American School In Japan.
It will "give us a better look at different guys in different spots to see where we are," Kinnick coach Gary Wilson said, with the Far East tournament upcoming Feb. 15-17 at Osan. "I'm looking forward to it."
Initially, the Yokota tournament at Zama was supposed to only include Kanto Plain teams. But Gaume last month put out feelers to gauge interest from schools elsewhere, including Kubasaki and Kadena on Okinawa, and those two teams will attend, as they did "Beast."
Such mat preparation can only make teams better heading into Far East, Kadena coach Steve Schrock said. "I hope it makes a difference; it can't not help," he said.
"A lot of wrestling, 19 to 25 matches a year, you get a chance to hone your craft," Schrock said.
Elsewhere, Okinawa marks the 10th anniversary of the Okinawa-American Friendship Tournament Saturday and Sunday at the Foster Field House.
Once clear of the weekend, a crucial boys basketball regular-season battle looms Wednesday in Korea, with Humphreys visiting Seoul American – and the Falcons are seeking to avenge a 59-48 defeat, the first in school history, to the Blackhawks.
---
---
---
---