2012 football preview
Veteran DODDS coach plans to 'keep things simple' for Falcons
---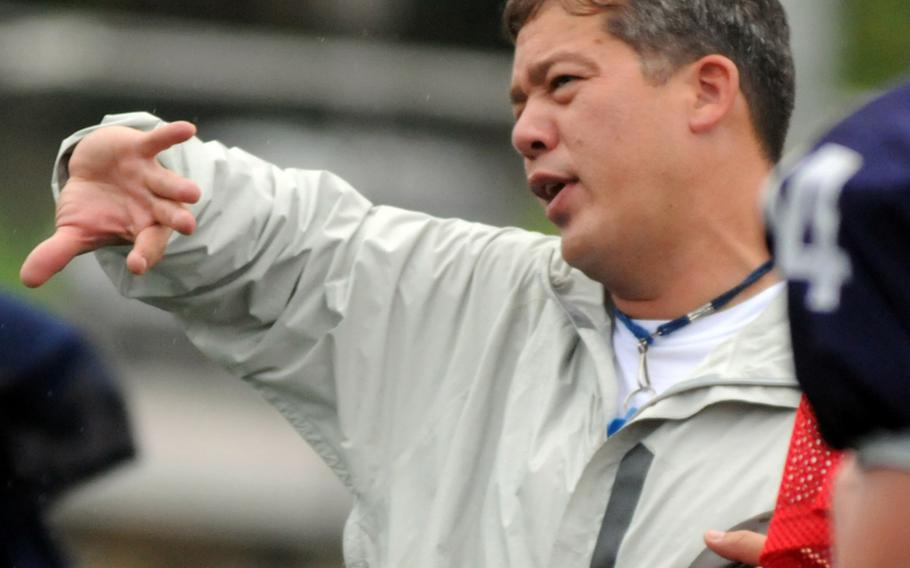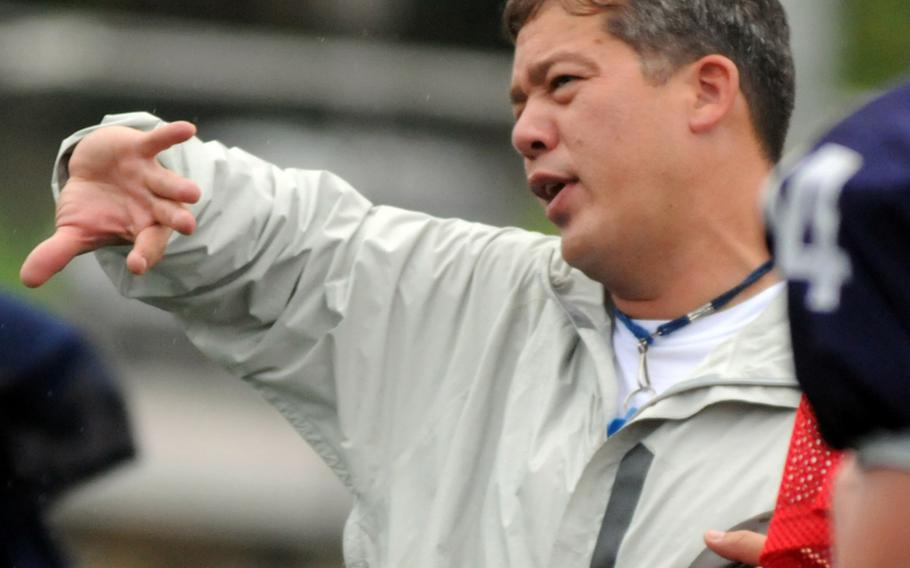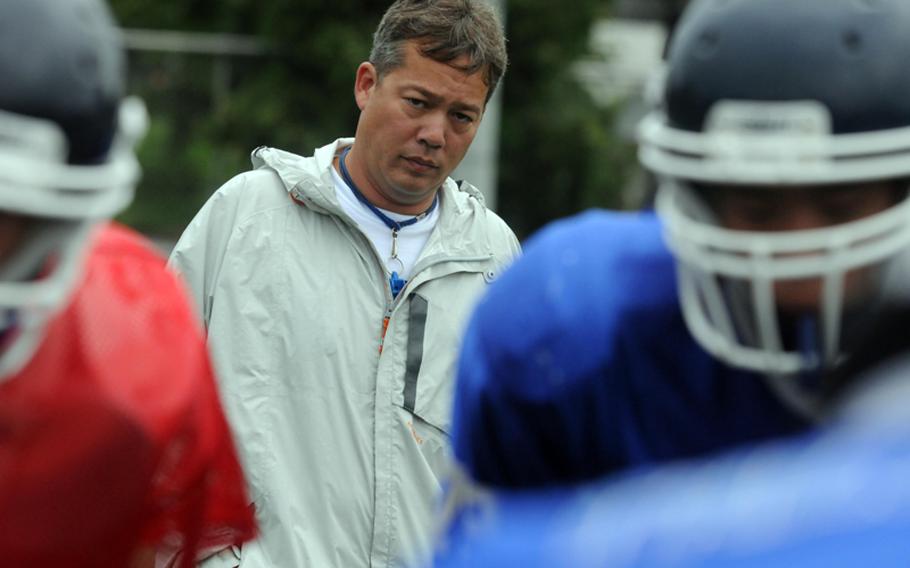 YONGSAN GARRISON, South Korea – For decades as a player and coach, Jim Davis has watched DODDS Pacific high school football programs attain success by doing a few things well instead of many things half-baked.
Davis hopes the same approach will work with Seoul American, which he takes over as its fifth coach in five seasons, looking to complete a turnaround following a two-season slump after the Falcons' last Far East Division I title in 2008.
"It took me awhile to buy into that philosophy, but I keep it simple," Davis said of his playbook, which he patterns after the successes of past and present champion coaches Tim Pujol of Yokota, Jim Hall of Naples and Bill Mierzejewski of Kadena: Keep the playbook to a minimum.
Over the years, he's seen that work: as a player for Nile C. Kinnick in the 1980s, then as a Kinnick assistant and Bamburg head coach in the 2000s, before coming to Yongsan as an assistant.
"Five to seven plays. A dive here, off-tackle there, sweep there and the occasional pass," Davis said. "With the success those guys have had, they're doing something right."
Whether Davis and the Falcons can do the same depends on a young squad that must replace senior triad Harold Martin (quarterback), Tomiwa Akinbayo (end) and Tyrend White (back), three offense stars who led the Falcons to last year's D-I semifinals.
It's also the earliest start for a Seoul American football team in school history. With the new Pacific high school football schedule pitting all Division I teams against each other at least once, the season begins for the Falcons in August.
"It's new for us to start this early," said Davis, whose Falcons hit the field turf at Sims Field for their first workout on Aug. 6. In back-to-back-to-back weeks in September, the Falcons visit Kadena, then host Kubasaki and defending D-I champion Yokota.
Key to any Falcons renaissance will be the play of Martin's replacement, Cameron Harris; running back Brandon Roseborough and a line averaging 200-plus pounds across, featuring in the middle Sidney Mala'ulu, a 6-foot, 267-pounder.
"We're very young," Davis said, adding that "we're ahead of the curve of any other programs I've had at this stage. We have a lot to work on, but to this point, I'm very impressed."
Seoul American FalconsSouth Post, Yongsan Garrison, South Korea2011 season record—5-3 overall, .625, 168 points for, 116 points against. 4-0 DODDS Korea, 1.000, 99 points for, 25 points against, won DODDS Korea title. Won DODDS Pacific Far East Division I play-in game 38-7 on Oct. 3 at Nile C. Kinnick; lost D-I semifinal game 22-7 on Oct. 29 at Kubasaki.
Head coach—Jim Davis, first season.
Returning players—10.
Returning starters—6.
Base offense—Double wing, power I.
Base defense—4- and 5-man fronts.
Key performers—Cameron Harris, Jr., QB; Brandon Roseborough, Sr., RB; Sidney Mala'ulu, Jr., L; Devin Williams, Sr., LB, TE.
Strengths—Interior size, at least 217 pounds across the board; Mala'ulu tips scales at 267.
Drawbacks—Youth, inexperience; team working with fifth head coach in five seasons.
Overview—Rebuilding. Small but experienced leadership core rallying around a longtime presence in DODDS as a player and coach (Davis has coached 12 years, in addition to playing for Nile C. Kinnick four years in the 1980s). A work in progress that could be competitive by the end of the season.
ScheduleSaturday, Aug. 25—at Daegu High, 6 p.m.Saturday, Sept. 1—at Kadena, 2 p.m.Saturday, Sept. 8—vs. Kubasaki, 6 p.m.Saturday, Sept. 22—vs. Yokota, 7 p.m.Friday, Sept. 28—at Osan American, 7 p.m.Saturday, Oct. 6—at Nile C. Kinnick, 7 p.m.Saturday, Oct. 19—vs. Daegu High, 7 p.m.Friday, Oct. 26—vs. Osan American, 7 p.m.
---
---
---
---