Prep roundup
Two records fall as track season debuts
---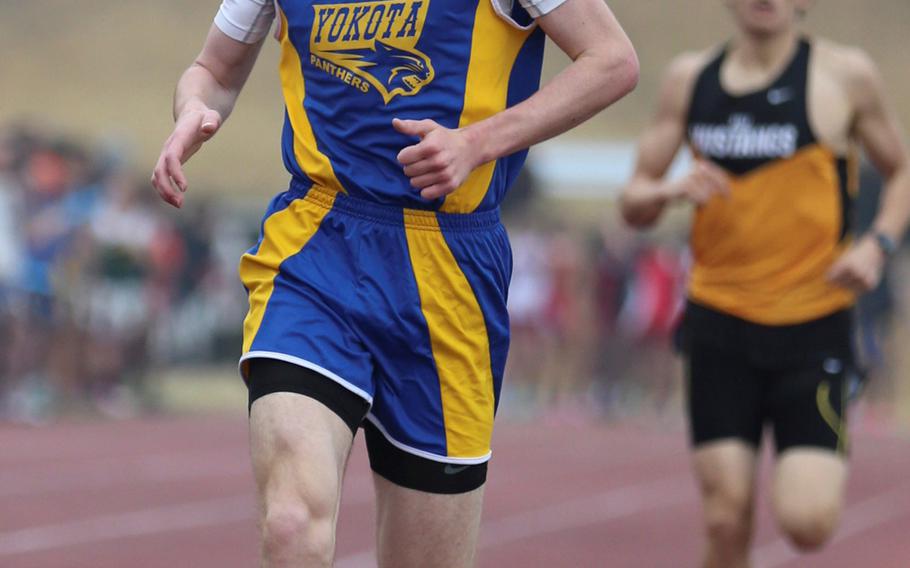 CAMP ZAMA, Japan – Northwest Pacific's track and field season got under way Saturday, with two records falling in a Kanto Plain meet.
Evan Yukevich, an American School In Japan senior, broke the region's 1,600 record held by Yokota senior Daniel Galvin the last two years, clocking 4 minutes, 21.64 seconds.
Jabari Johnson, a Nile C. Kinnick senior, topped his own northwest Pacific record in the 100, clocking 10.78 despite having leg issues and in cold, wet conditions.
"Perfect way to start the season," said Yukevich, a two-time Asia-Pacific Invitational cross-country meet champion who's been chasing Galvin, the reigning Far East cross-country champion, for much of the last two seasons.
In his sophomore year, Galvin set the northwest Pacific records in both the 1,600, at 4:23.42, and the 800, in 1:55.54. With Yukevich shaving nearly two seconds off the old 1,600 mark, "the bar is really high now," he said.
Yukevich topped his old personal best of 4:32.76 by more than 11 seconds. Galvin finished second in 4:23.38 – beating his old Pacific mark by .04 seconds.
"It was an exciting race," Yukevich's coach Ryosuke Suzuki said. Galvin led the race until the final 100 yards, when Yukevich turned it on and overtook him at the finish.
"That's pretty impressive for the first race of the season," Suzuki said. "There's big things in store for both of them. Hopefully, they'll each stay healthy and push each other. I hope we can get them both under 4:20."
Yukevich called his feat the culmination of three years of working with his coaches and teammates.
"I'm happy to be able to break the record," he said. But he also knows that it's a long season and he and Galvin could end up trading the record each week.
"Danny's a great runner, he's fast, super talented and a great guy," Yukevich said. "I'm privileged to be running against him. We'll have more races in the future and the times will be a lot faster."
For his part, Galvin said he felt he went out of the gate much too quickly "and ended up dying on the last lap. I think I opened at like a 60 flat," he said.
Johnson, meanwhile, beat his old region record in the 100 by .14 seconds, topping the time he ran in the Far East meet last May. He beat Christian Academy Japan sophomore Kaito Suzuki on Saturday by .82 seconds.
And one of his coaches, Anthony San Nicolas, says the best may be yet to come. "He's not there yet," he said, adding that despite the weather and leg issues, "he was able to pull through."
"Just a product of hard work and a positive frame of mind," Johnson said. "Everybody around me including my coaches and my teammates, are always looking to make each other better."
How fast does Johnson feel he can go? "We just started the season and I had a good first meet, so hopefully, I'll be able to carry that momentum further into the season."
The meet at Zama was one of two season openers, the other one at Camp Humphreys in South Korea where Seoul American dominated the team standings and won 20 of a possible 28 individual and team titles.
Multiple individual winners included Falcons senior Jezreel Harper in the long and high jumps and sprinter Naija Keith in the 100 and 200. Grace Charnesky of Seoul Foreign won the 800 and 3,200.
One meet that did not come off as scheduled was the Okinawa season opener at Kadena, canceled due to heavy rain and wet grounds. "It's really disappointing," Panthers senior hurdler Tiarrah Edwards said.
Mother Nature hit quite a few figurative home runs on Saturday, forcing almost every baseball game slated in Japan and Okinawa to be called off.
"It's a washout everywhere," said Chad Stark, whose Kinnick baseball team got through one inning against Perry before giving in to the elements. "What can you do?"
Baseball and softball games involving Edgren, King and Yokota at Zama were all called off, save for one: Zama beat King in baseball 4-0 in 3½ innings, a game that was ruled official by mutual agreement of the coaches, Zama athletics director Tom Dignan said.
Yokota and Edgren are slated to make up their postponed games when the Panthers travel to Misawa Air Base next month to face the Eagles.
ASIJ vs. Yokota in softball was suspended in the top of the second with the Mustangs leading 6-0. A makeup date is pending, United Services For Japan Officials Association's Kelly Cook said via Facebook message.
The dawn in Korea saw beautiful skies and plenty of diamond action at Camp Henry, where Daegu and Humphreys split a baseball doubleheader, the Warriors winning the opener 5-4 and the Blackhawks the nightcap 11-10. Daegu swept a softball twin bill 16-0 and 21-19.
Soccer went on as slated in all locales. Bobbi Hill scored four times to run her Pacific-leading total to 15 and pacing Perry past King 9-0. Naomi Ziola also netted a hat trick and Emily Gilbert scored twice.
Bryan Wolf scored his second hat trick in as many matches, powering Kinnick past Edgren 8-0. Niko Russey and Ashley Clifton each scored twice as Seoul American's boys and girls each won at Daegu, the girls 3-1 and the boys 7-1.
The strongest individual performance on the pitch came at Kubasaki, where freshman Myca Ingram scored seven goals to power the Dragons past Naha Kokusai 9-1.
---
---
---
---