Trojans, Eagles prepare to battle for D-II football host rights
by
Dave Ornauer
October 18, 2018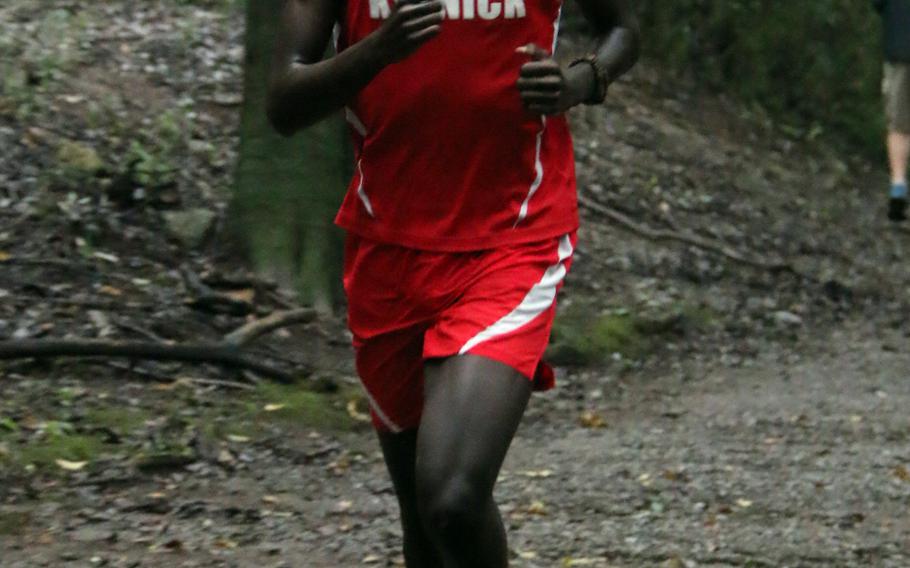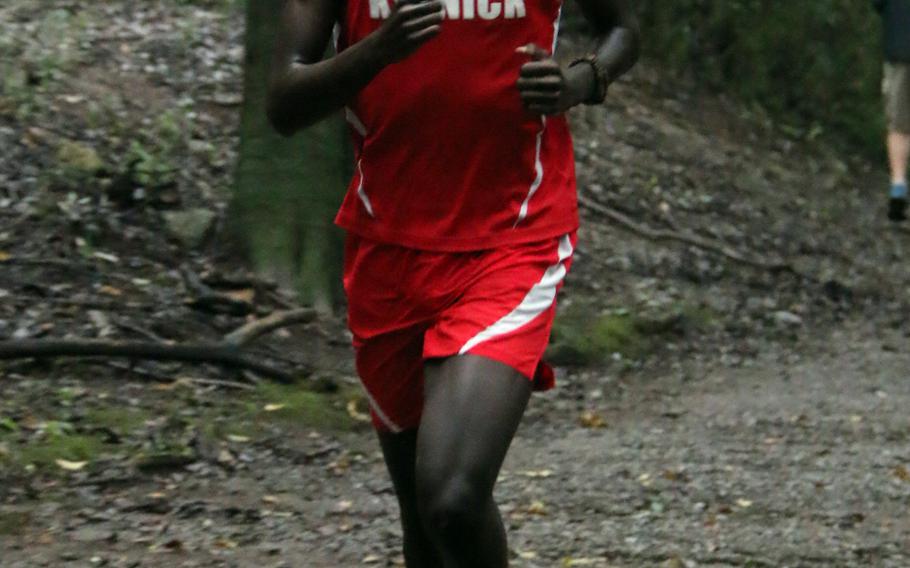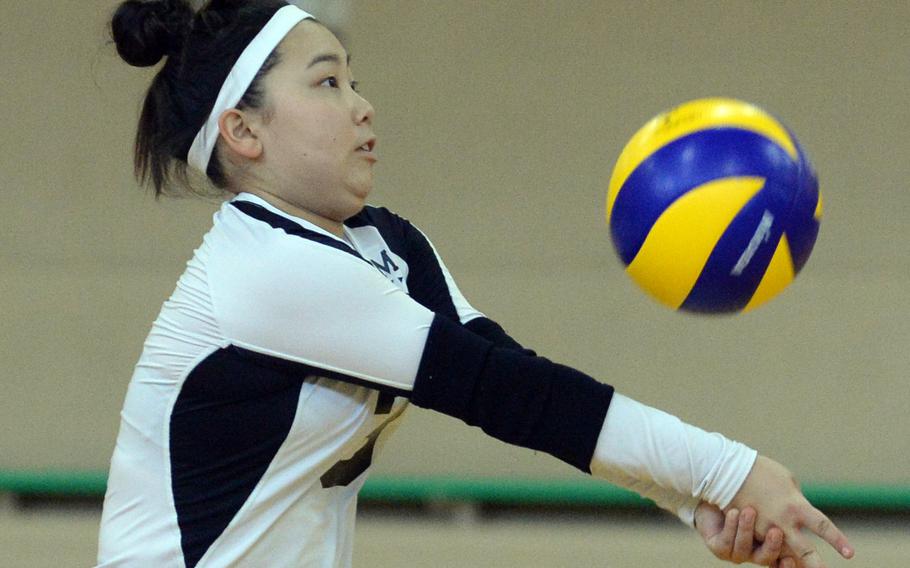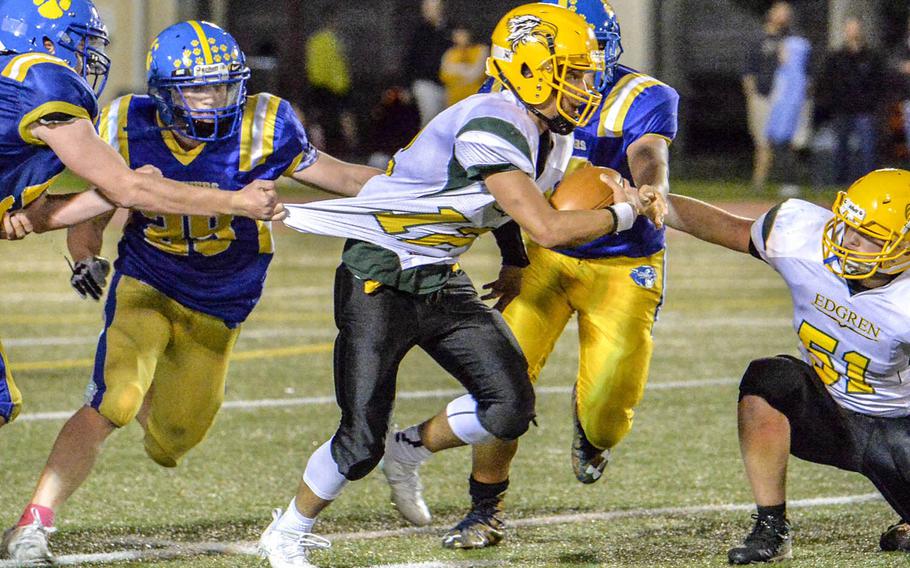 It's a battle of football teams that have not competed for a Far East championship in quite some time.
The winner of Friday's Division II showdown between visiting Zama and host Robert D. Edgren at Misawa Air Base will host the Far East title game on Nov. 10. Thus, Friday's game amounts to a semifinal, with the winner playing Korea D-II champion Osan.
"We want to be masters of our fate," said Scott Bolin, coach of a Trojans team that went 6-33 the past five years and hasn't had a winning season since 2012, when Zama won the second of its D-II titles.
So far this season, the Trojans are 3-2 overall, but 3-0 against Japan D-II foes and have outscored them 136-27.
"We have a goal of going up there [to Misawa] and taking care of what we need to do to host the D-II final and play Osan here," Bolin said on Monday, four days before the game. "The kids are focused and ready."
Edgren, which hasn't reached the D-II final since hosting it in 2008, is also unbeaten in D-II, including a 22-21 road win over erstwhile Japan power Yokota.
Not bad, for an Eagles team that almost wasn't; back in August, they just beat a deadline to have enough players to field a team. Their season began on Oct. 6 with a 50-0 home win over Daegu.
It will take discipline, Eagles coach Jeremy Sanders said, for Edgren to beat what he calls an explosive Trojans team. Sanders said he and his assistant coaches have watched film of Zama and come up with a game plan; it's a matter of staying with it, he said.
"They [Trojans] have some burners at receiver," Sanders said. "If we're disciplined coverage-wise, we should have a good evening. We're going to have to be disciplined in our coverage schemes. If it breaks down, then they're going to be the ones who come out on top."
Just as Edgren's offense is triggered by dual-threat quarterback Raphael Lykins, who's accounted for seven touchdowns, Zama's offense revolves around senior quarterback Nick Canada, who has thrown for eight touchdowns and run for three against Division II opponents.
"We have the ability to vertically stretch the field," Bolin said, adding that Canada has "been the guy, he's been the leader and we want to send him out a winner."
Off the gridiron, DODEA Japan championships are on tap in girls volleyball at Kinnick, tennis at M.C. Perry and cross country at Yokota.
The latter features two of the Pacific's top three runners, Perry's Owen Young (16:25.0) and Kinnick's Aki Siibo (16:32.9); Trevor Williams of Kadena claimed fastest in the Pacific at 16:19 in a meet Thursday.
This will be Young's first meet against schools other than Edgren and E.J. King. "I'm a little nervous about the unknown," said Young, a junior who transferred from Zama. "It's going to be fun to race against Aki. I'm excited."
Likewise, Perry's and King's tennis teams will face different opponents for the first time, other than the Samurai Slam tournament in late September that featured Kadena of Okinawa.
"It's going to be refreshing to see somebody else," said Perry coach and tournament organizer Mark Lange. He cited King's Takumi Kodama and Johnathon Lee as two of the tougher players in the boys singles draw.
"It's hard to beat those guys," Lange said. "They play such smooth tennis. We haven't seen the other teams, but I don't see anybody else who can beat them."
Zama enters the DODEA-Japan volleyball tournament as the No. 1 seed for the first time.
With a couple of starters shelved by injuries, coach Veronica Jones says she's moving up some JV players, who might make the traveling team for next month's Far East tournament at Humphreys. "They've been hungry all season," Jones said. "This tournament will give them that opportunity."