Third time's the charm for Kadena against Kubasaki
---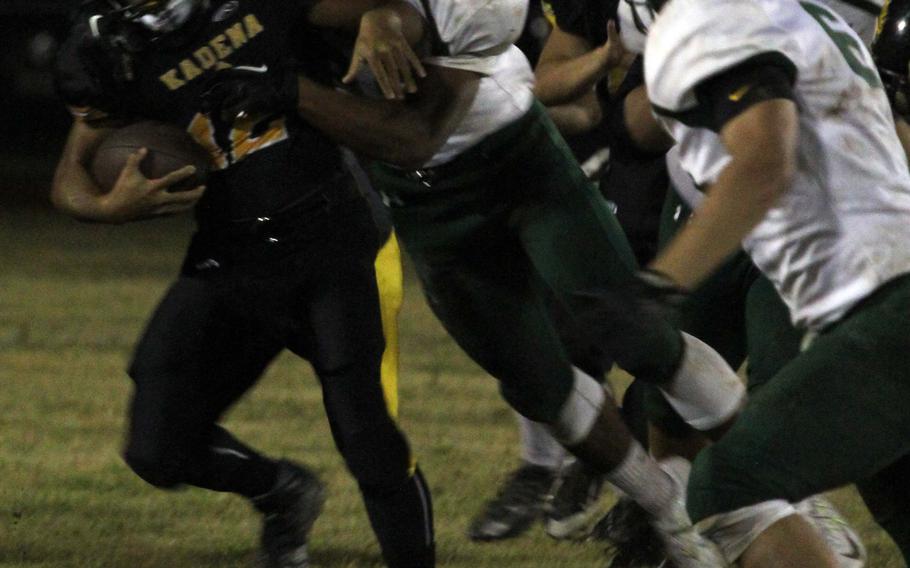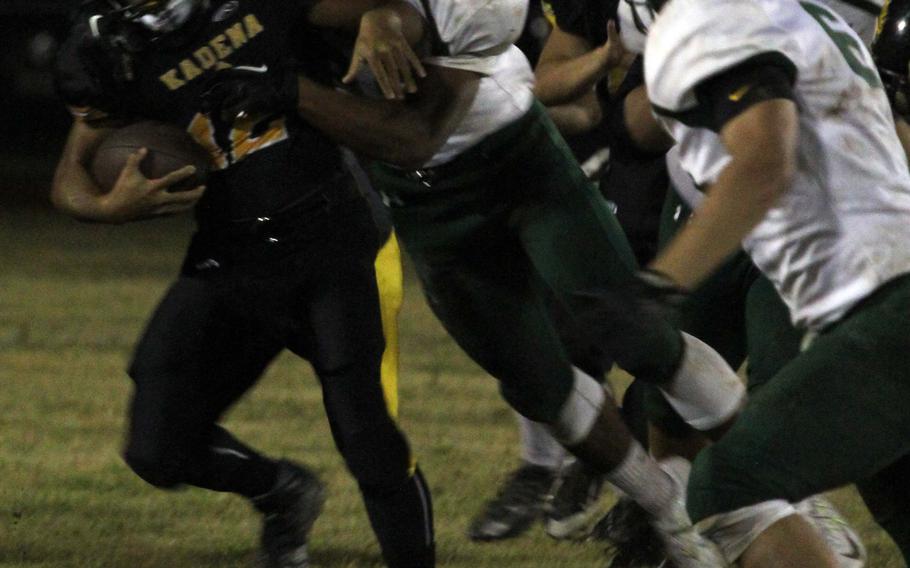 CAMP FOSTER, Okinawa – Thanks to the rushing prowess of Jason Bland and Dominic Santanelli, Kadena on Friday solved the mystery of Kubasaki football that had been its bugaboo all season.
Bland rushed for touchdowns of 15 and 35 yards and Santanelli added scoring runs of 30 and 20 yards to boost the defending Far East Division I champion Panthers past the Dragons 27-14.
Kubasaki had clinched the season series and the Division I standings point by virtue of its 36-6 season-opening win at Kadena on Sept. 4 and its 53-28 home victory over the Panthers on Sept. 18.
Despite the victory, coach Sergio Mendoza termed the team's mood after the victory as "tempered." He cited penalties and the team's three turnovers as reasons.
"We left a lot of points on the field," he said. "We had a lot of penalties. We can play better. The guys are already ready to go back to work. We weren't celebrating after the game." Kadena's performance overshadowed Kubasaki's Javohn Journigan, who had 67 yards on nine carries plus an 86-yard kick-return touchdown; and Jacob Green, who added 59 yards and a touchdown on four catches and 36 rushing yards on five attempts. Isaiah Johnson was 12-for-18 for 210 yards and ran five times for 29 yards, and also had a fumble recovery. Antony Gomez intercepted a pass and Gary Turner recovered a fumble. Trey Pallo led the Dragons with 14 tackles. "We wanted to win; we just didn't have the team ready," Kubasaki coach Fred Bales said. "We won the second half, but we were outplayed and outcoached in the first half. Congratulations to Kadena, they were well prepared and they played a great game." The Panthers next travel to Seoul American for a Saturday contest; game time is 3 p.m. Kubasaki hosts Nile C. Kinnick; kickoff is at 2 p.m. Saturday.
---
---
---
---